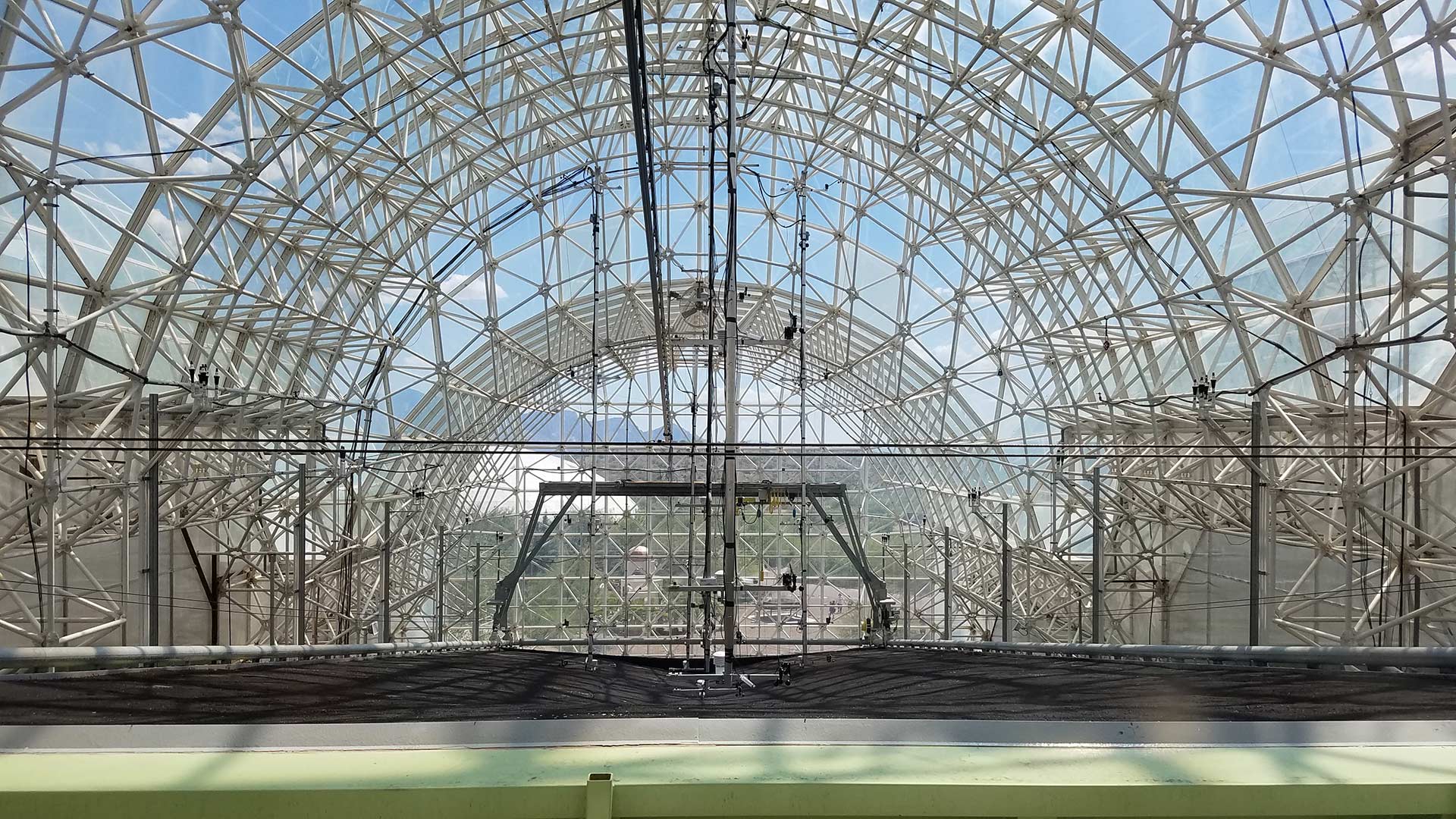 The surface of LEO looking down one of the three slopes. The greenhouse above the slope is the same greenhouse that was used for agricultural purposes when humans lived in the Biosphere 2 in the early 90s.
Emmalee Mauldin/AZPM
The University of Arizona's Landscape Evolution Observatory (LEO) at Biosphere 2 will soon introduce plants into its barren landscapes.
LEO is a unique experiment at the University of Arizona's Biosphere 2 in Oracle, Arizona — a large-scale environmental experiment that tracks how a landscape changes over time.
Aaron Bugaj, a research scientist, says LEO is important in tracking long-term geochemical changes in a landscape.
"We call it the Landscape Evolution Observatory because we're monitoring these geochemical changes in trace minerals and elements. Thinking about how these long-term geological processes that have occurred over millions of years, we're hoping to gain some insight into the drivers of those processes," Bugaj said.
LEO is located inside the former agricultural greenhouses from when humans lived in the Biosphere 2 for two years. There are three identical LEO experiments.
On the surface, LEO might not look like much. Its structure is a large green metal slope, about a football field long, with dark basaltic soil and a sprinkler system above it. Metal sensors sit just above the soil to measure atmospheric conditions and things like CO2 levels. In total, there are about 1,800 sensors in LEO. Bugaj says that the surface of LEO is misleading to visitors.
"I think one of the interesting things about this property is that when people look at the landscape, it feels very dormant, but a lot of the processes that we're studying are very much invisible to the naked eye. It's what's happening beneath our feet," Bugaj said.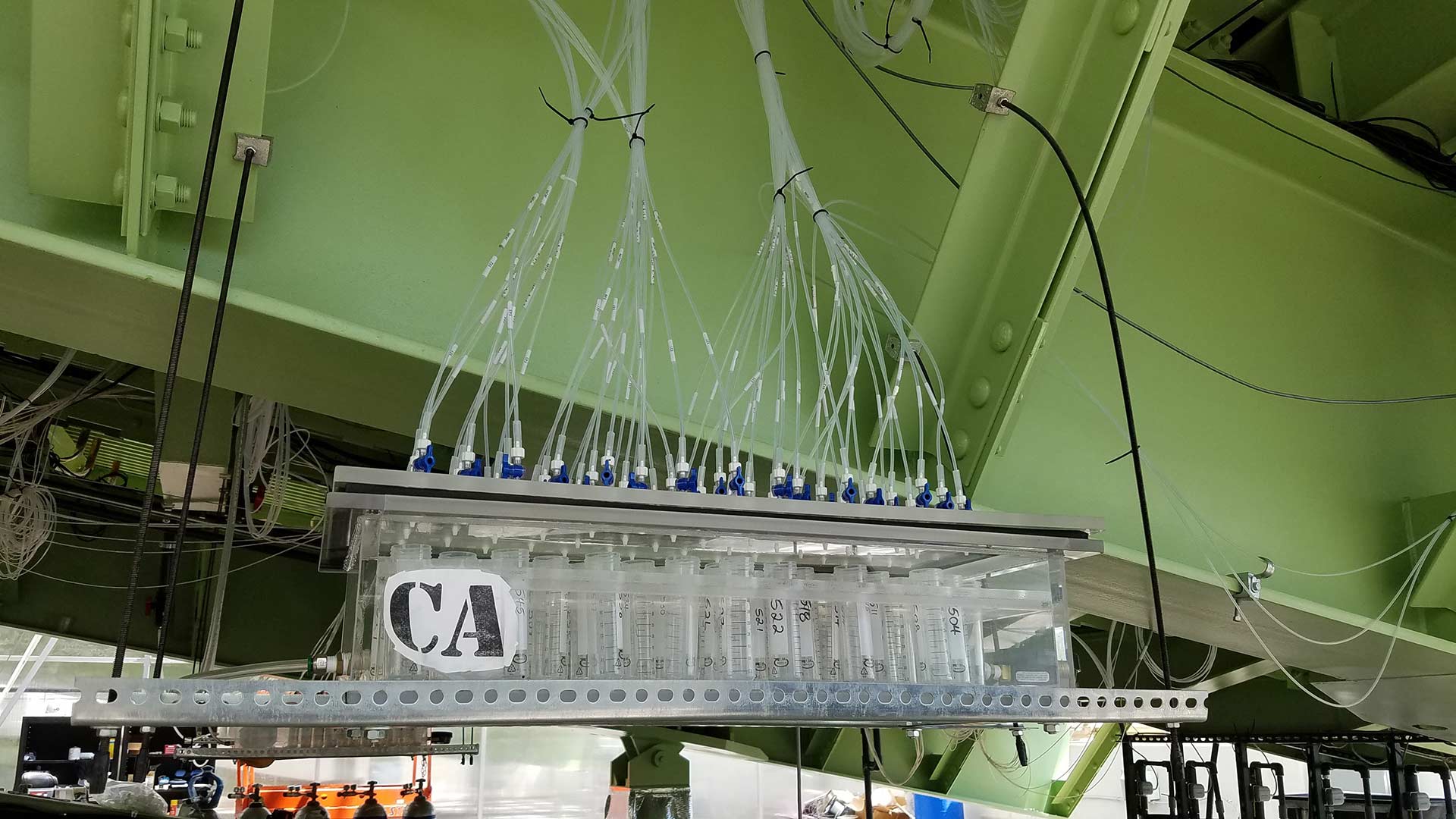 VIEW LARGER One of the many sensors for the slopes. This particular sensor takes samples of gas and water in the soil.

Emmalee Mauldin/AZPM
The surface of LEO is quiet, with only the humming of cooling towers in the background. But underneath the giant LEO structure, it gets much noisier.
Bugaj compares LEO to studying the human body.
"One of the analogies I like to use is that when cardiologists do echocardiograms, they use tracer and dye to follow the blood through the chambers of the heart, and we're doing something similar to follow the water through the landscape and the subsurface, "Bugaj said. "I like to think of all of our probes in LEO as a giant stethoscope that's kind of monitoring health, function and changes in evolution over time, the same way that you go into the doctor's office once or twice a year and the put a stethoscope on your chest."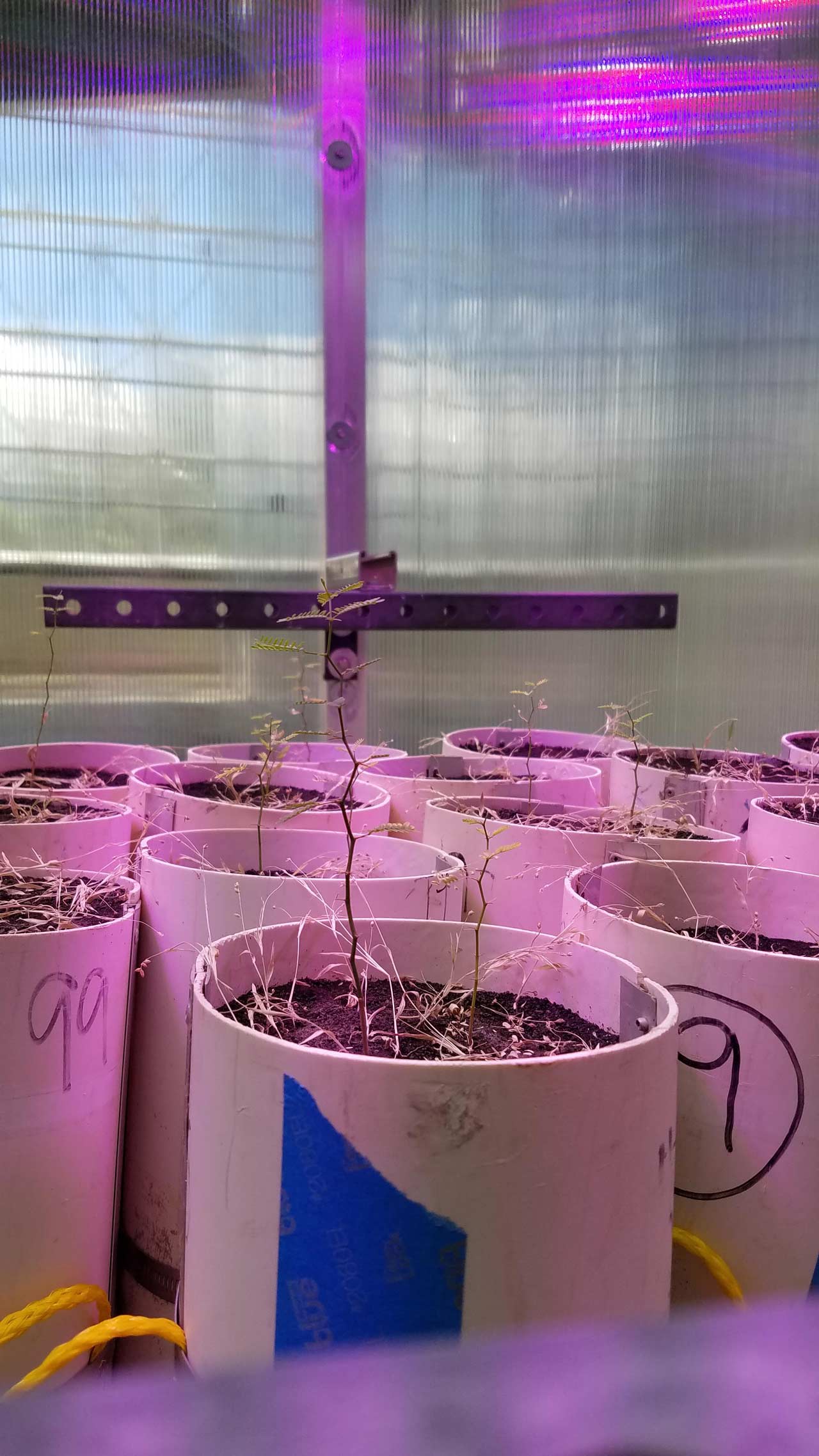 VIEW LARGER Inside these tubes are baby mesquite trees. They're used by LEO researchers to analyze the root systems of the mesquite trees and how that could impact the LEO slopes.

Emmalee Mauldin/AZPM
What is unique about LEO is that it mimics natural landscape evolution in a controlled environment that can be monitored.
Peter Troch is the science director at Biosphere 2 and a professor of hydrology and atmospheric sciences at UA. He says experiments like LEO would typically be smaller in a lab environment.
"The LEO, Landscape Evolution Observatory, basically bridges that gap between small-scale, highly controlled experimentation to study or learn about soil formation, and then the field science, which does not allow for any experimentation — you just had to deal with what is there and how it got there is unknown," Troch said.
The research coming from LEO is important because it studies the ecological and hydrological systems that happen in a natural landscape, in a controlled environment. It helps determine erosion, soil degradation and water flow, which can be applied to agriculture and future development.
Troch says that the research at LEO is important for sustainable food sources as human populations increase.
"We are currently facing vast amounts of soil loss and degraded landscapes, partly coupled with climate change. At the same time, by the mid-century, we will have to feed 9.5 billion people. And so there is this reduction in arable land and increased population, and so we need to develop technology based on science that allows us to convert those degraded landscapes back into places where we can grow crops or where we can re-establish ecosystems," Troch said.
Luke McGuire is an assistant professor of geomorphology at UA and not associated with the LEO experiment. He says that having a large experiment like LEO often leads to the biggest advances.
"I feel like that's where the big advances come, and so to have something like that here at the UA, even though I'm not directly involved with it, I'm really excited about it and I always enjoy talking with the scientists that are out there," McGuire said.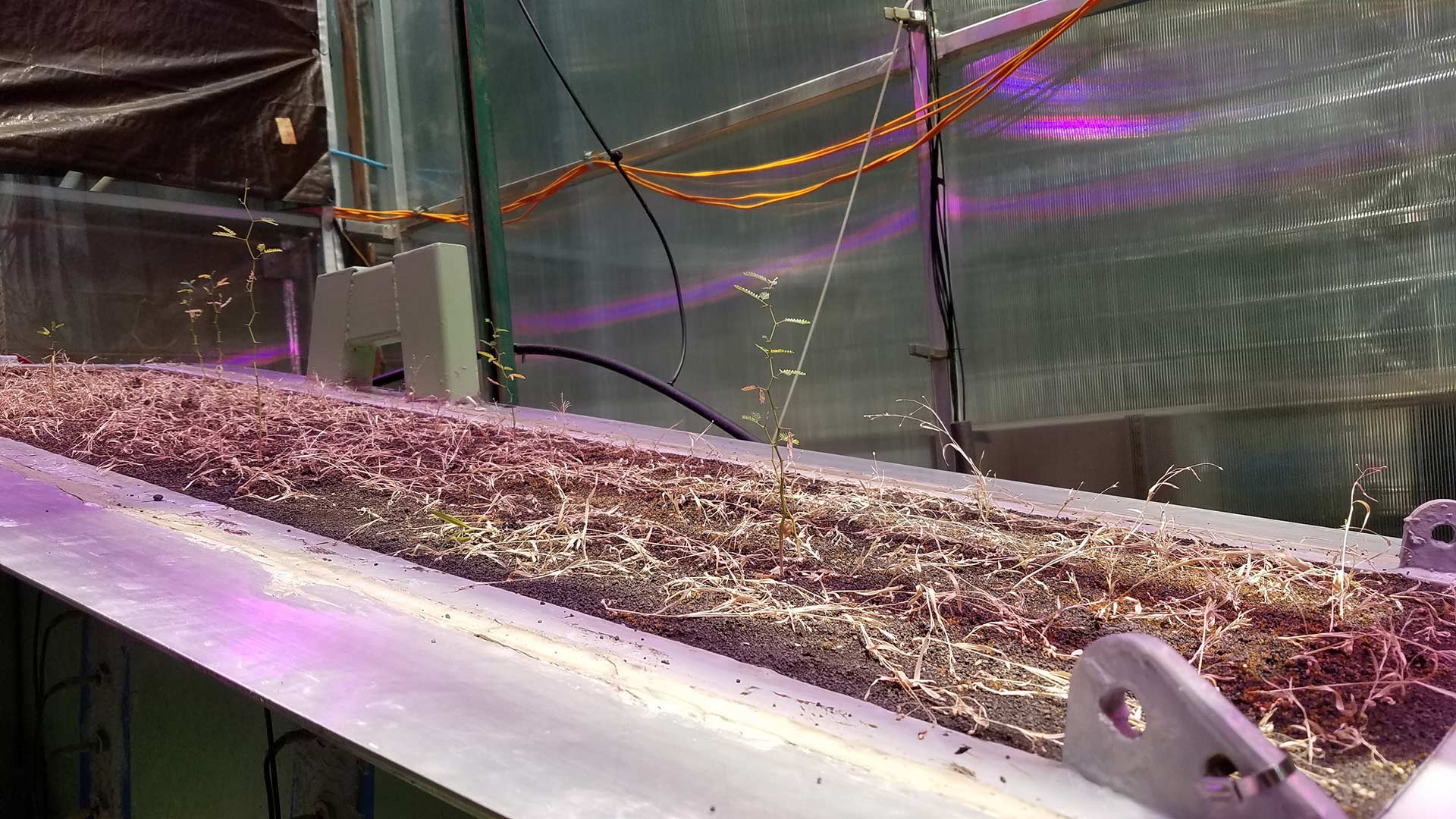 VIEW LARGER A miniature LEO test slope that has undergone the addition of plants, particularly mesquite trees and panic grass.

Emmalee Mauldin/AZPM
Later this year or early next year, LEO researchers will add plant seeds into the landscape. Smaller tests with mesquite trees and panic grass are currently being conducted beneath the LEO structure to guess how the landscape will react to the addition of germinated plant seeds. Final decisions on which plants will be introduced will be made later this year.
Emmalee Mauldin is an Arizona Public Media intern and a University of Arizona journalism student.