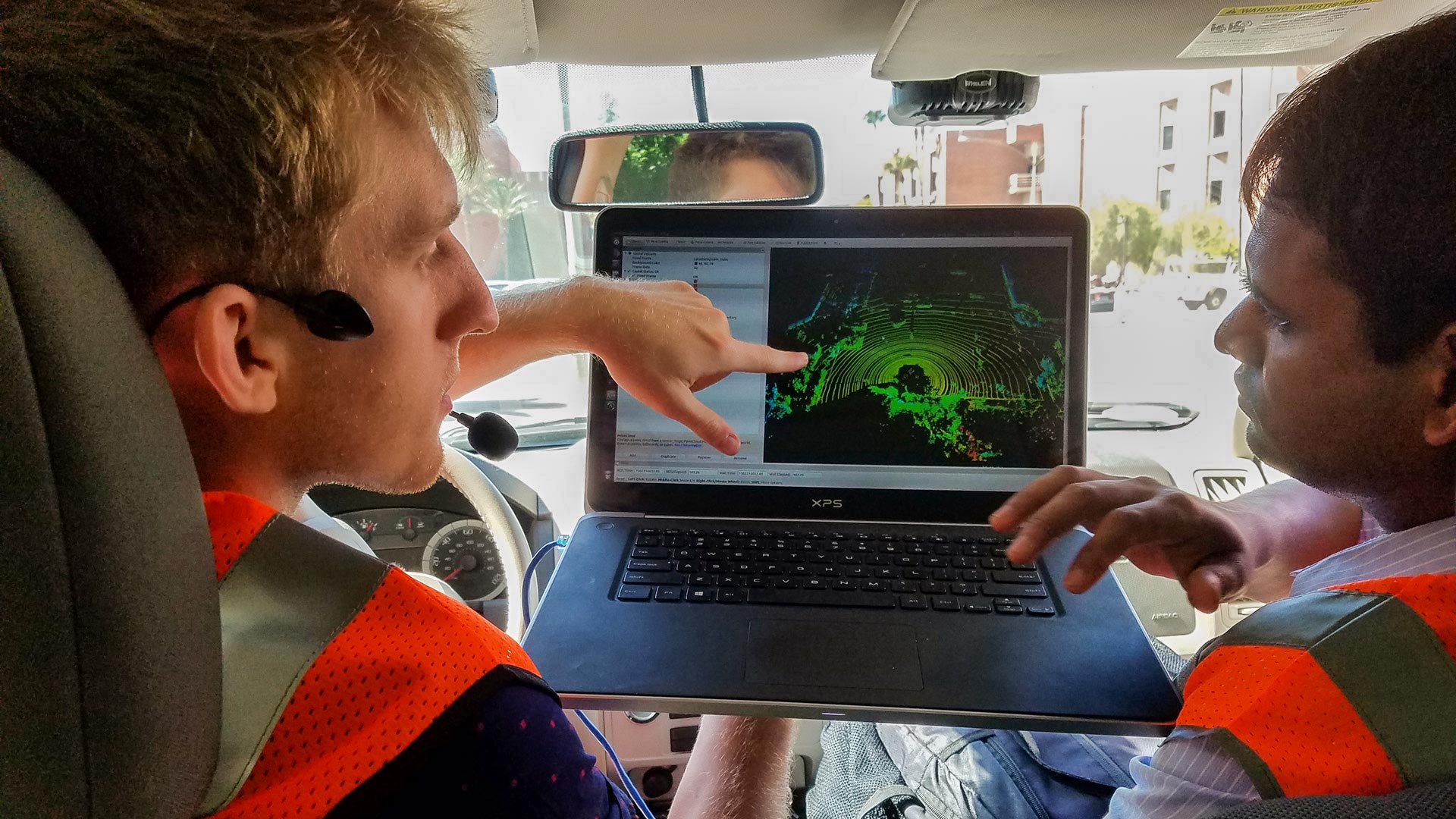 George Gunter (left) and Rahul Bhadani (right) show the data from a more advanced sensor attached to the roof of the "cognitive and autonomous test vehicle." The goal of their project was to get similarly accurate data with a sensor that records less data.
Zac Ziegler, AZPM
Nine college students from around the country wrapped up a summer program Tuesday at the University of Arizona Department of Electrical and Computer Engineering, where they worked on programming driverless cars.
The students spent the past 10 weeks working with faculty and graduate-student mentors on the UA's "cognitive and autonomous test vehicle," learning how to program some aspect of the car.
One group of students worked with a basic sensor that the car uses to judge distance.
"The aim of our project was: 'Can we really use this very lightweight sensor to get some more information other than just finding distance?'" said Rahul Bhadani, a UA doctoral student and mentor in the program.
The goal is to figure out if the sensor can get enough information to allow the car to travel rather than using a sensor that takes in an amount of data that is difficult for a computer to process quickly.
The students are not all planning on studying autonomous vehicles, but such studies are meant to teach them about research.
"I think that's going to become a big aspect of trying to engineer traffic in the urban environment," said George Gunter, a civil engineering student at the University of Illinois. "Especially as autonomous vehicles become more popular, trying to have them cooperate and drive together is going to be a big part of our transportation problem."
---
Hear from more students in the project
---
Another group of students worked on making the car's software easily programmable.
In the process, they built a program that allows the car to follow their mentor around the parking lot.
"I definitely didn't think that I could do all that we've done in a 10-week period," said Lauren Lusk.
"It's kind of cool to know that as long as I put my mind to it, I can do anything," said Marty Hans. "And I feel like I learned that here."
The course is part of a National Science Foundation program designed to entice undergraduates to continue their education in research-based graduate programs.