A Tucson police officer stops motorists from crossing a flooded wash on the east side.

Courtesy: Tucson Police Department
Tucson's wet week was punctuated Tuesday with heavy rainfall as early as 6 a.m., the National Weather Service reported.
Up to 20 roads were closed, with washes barricaded because of flooding, throughout the metro area. Public safety officers reporting making six rescues of people from floodwaters and two schools in the Vail Unified School District were evacuated because of flooding.
The Tucson Police Department stationed officers at some roads to remind drivers not to enter flooded areas.
The storms were expected to continue through Wednesday, said Dan Leins, a meteorologist at the National Weather Service Tucson office.
"The bottom line is we've got a lot of showers across the area, a lot of water in places where it's not usually," he said. "It's a good day to either stay inside or at least be aware of the weather and keep a head's up on what's going on."
The ground is saturated from the rainy week, he said.
"When you start to see day, after day, after day of really heavy rain, the ground really can't absorb more, it's saturated. So any new rain that falls just tends to run right off into washes, and then that's when you start to see flooding occur."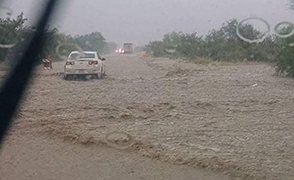 A driver tries to ford a flooded road.

Courtesy: Tucson Police Department
The ground cannot absorb more water after more than two inches fell in some parts of town, Leins said.
"When you've been in a pretty dry period like we were, the ground can absorb some degree of rainfall," he said. "When we've had this much rain it's not uncommon to see a lot of it just run right off."
Those who prefer the hotter, drier part of monsoons will have to be patient.
"There is going to be a gradual drying trend," Leins said. "It's just going to take a day or two to get there."
Beyond that, it's hard to predict what the rest of the monsoon will bring, he said.