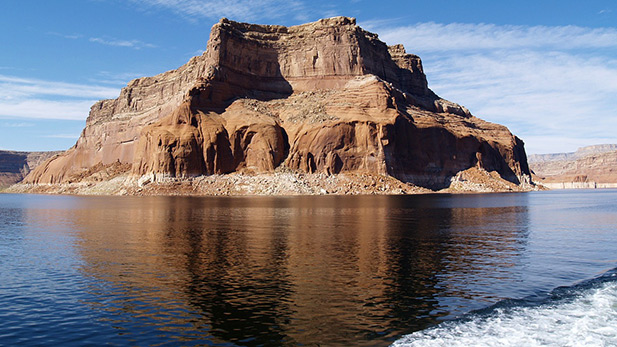 Rock formations at Lake Powell, AZ

TUCSON, AZ – June 28, 2016 – American Public Television (APT) announced last week that it will distribute Beyond the Mirage: The Future of Water in the West nationally. Next month, the documentary will be made available to Public Television stations who belong to APT Exchange. Those stations will then decide whether to include it in their programming lineups. 
American Public Television is a leading syndicator of high-quality, top-rated programming to the nation's public television stations.
Beyond the Mirage: The Future of Water in the West is a collaborative project between Arizona Public Media (AZPM), the University of Arizona College of Agriculture and Life Sciences (CALS) and the Water Resources Research Center (WRRC). Award-winning filmmaker Cody Sheehy reveals new technologies and challenges old ideas through interwoven stories that connect the Colorado snowpack to the bright lights of Las Vegas; presents the challenges facing and competition between the desert cities of Arizona, California and Nevada and potential solutions being developed in Israel and China. ​
Beyond the Mirage: The Future of Water in the West is the documentary component of a multi-media effort to engage people of all ages in water sustainability with the goal of making everyone in Arizona a water expert.  More information is available at beyondthemirage.org 

About APT Exchange
APT Exchange acquires programming from both public television stations and independent producers and distributes these titles to public television stations nationwide. Virtually all U.S. public television licensees subscribe to the APT Exchange service.  
APT's ever-growing catalog contains highly rated and award-winning cooking, travel and lifestyle series hosted by some of public television's most-recognizable faces; high-profile primetime programs; fully packaged pledge events for fundraising purposes, as well as strong documentaries, music performances, children's programming, and news and public affairs series. 
Additionally, many of Exchange's signature series appear on Create® and WORLD, two of public television's most popular multicast channels. For Create®, these include the long-running lifestyle series America's Test Kitchen From Cook's Illustrated, The Best of the Joy of Painting (Bob Ross), Lidia's Italy, P. Allen Smith's Garden Home and Rick Steves' Europe. aptonline.org

About AZPM
AZPM is an Emmy® award-winning, member-supported media organization serving all of Southern Arizona. AZPM has six public television channels and three radio stations, including PBS 6, PBS Kids and NPR 89.1. AZPM produces local content from its digital studios on the campus of the University of Arizona and is provided as a community service and educational resource. More information about AZPM, including program schedules and Video-on-Demand offerings, can be found online at azpm.org.
Arizona Public Media® and AZPM® are registered trademarks of the Arizona Board of Regents.
Twitter: @azpmnews, @azpm | Facebook: azpublicmedia | You Tube: arizonapublicmedia