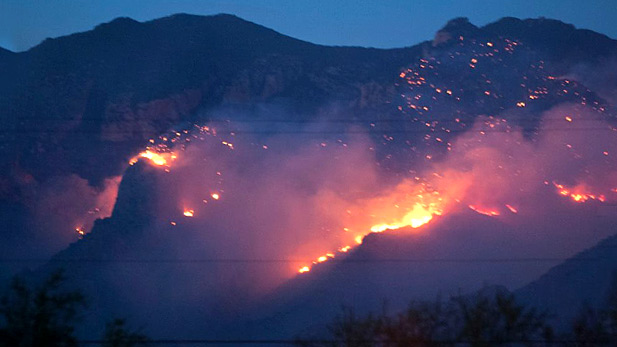 A lightning-caused fire burns near Finger Rock in the Catalina Mountains; August 5, 2015.

Kevin Raubenolt, AZPM
Independence Day means a day off of work to most people, but to those who worry about fire potential, it is a concerning day.
Among the top worries for fire officials are amateur fireworks.
"Fireworks are explosives, explosives burn and any time we get people using those we always have the chance that fire can take place," said Tucson Fire Department Captain Barrett Baker.
Ground-based fireworks have been legal in Arizona for more than two years now.
"If they go up into the air and explode, then that's where we want to let the professionals do it," said Baker.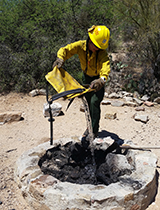 Firefighter Kristina Rask demonstrates how to properly put out a campfire. (PHOTO: Zac Ziegler)
Any kind of firework is barred on Coronado National Forest land, but that does not preclude the area from Independence Day fire issues.
Campfires carry a large potential for risk, even though recent weather may have people thinking otherwise.
"There's a lot of folks that may have kind of a false sense of security because we've had some clouds, we've had some rain, but we're going to need significant precipitation before our fire danger is decreased in the Tucson area," said Coronado National Forest's Heidi Schewel.
Fire safety guidelines should still be practiced, Schewel said. Fire pits should be cleared of vegetation before use. Fires should not be left unattended, and plenty of water should be used when extinguishing a fire. Do not rely on dirt or rocks to put out a campfire.
She said such concerns are not limited to just Coronado National Forest land. Any undeveloped land in the area could have the same issues with fire starts.