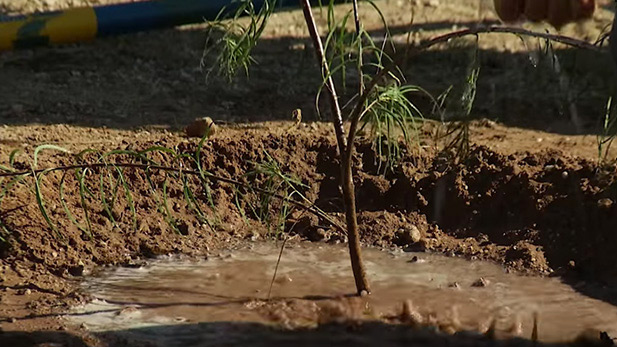 Watering a newly planted tree.

AZPM Staff
City of Tucson water usage data show a lot more about residents' water use habits, including when they leave town.
Tucson Water customers use more when it's hot and less when it rains, and they even reduce water use on cloudy days, said Fernando Molina, a Tucson Water spokesman.
"They're very reactive to the rain, very reactive to the heat, and because we've been tracking this for so long we've gotten good at predicting what we can expect over dry periods, hot periods and wet periods as well," Molina said.
It's also obvious to the water department when people flee the area to beat the heat for a weekend, he said.
"When they return on Sunday or Monday they probably have to catch up on some watering and laundry that they didn't get done on the weekend, so it always generally tends to be a little bit higher on the Monday after a hot weekend," he said.
Sunday was the hottest day in two decades, and sure enough, Tucsonans used more water Monday than any other day this year, so far. Monday's usage was 120 million gallons, compared with the average June 2016 usage of 109 million gallons.