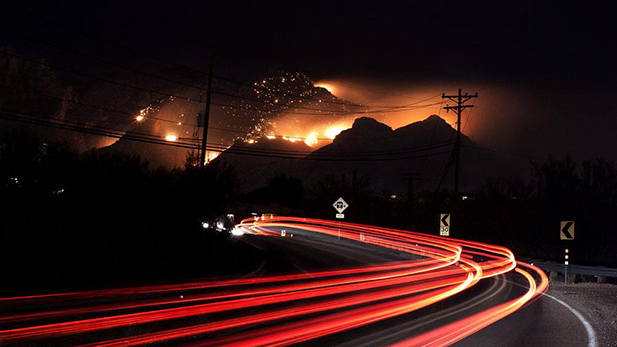 The Finger Rock Fire on Wednesday, Aug. 5, 2015.

Steve Riggs, AZPM
Mac Tippins reported for duty at Lemmon Rock Lookout on April 3rd. This is the third summer he will spend watching for fires from the post on the west side of Mt. Lemmon on the Coronado National Forest.
With two months down, he has not seen much in the way of fires.
"I can only claim one real fire that we've had up here," said Tippins.
That would be the Montrose Fire, which was spotted on May 12th in a northern stretch of Sabino Canyon.
"It ended up being a 13-acre fire that we hit very, very hard with four helicopters," he said.
The fire was extinguished in three days, keeping it from spreading up canyon towards the community of Summerhaven.
Things have been quiet since then, and that is not out of the ordinary in the Santa Catalina Mountains this time of year.
"Is it any slower than last year or the year before? I would say no, it's about the same. It just tends to start off slow here," Tippins said.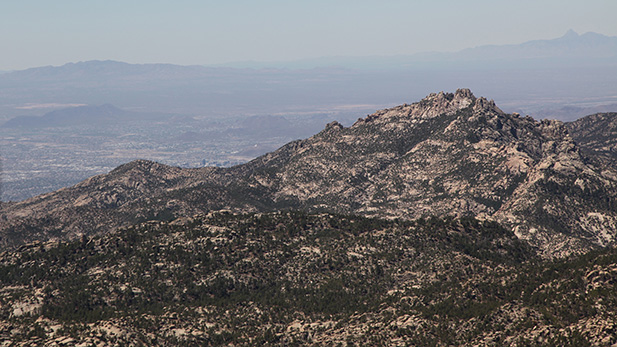 The view from Lemmon Rock Fire Lookout shows plenty of green plants still covering the Santa Catalinas mountains.

Zac Ziegler
This fire season's slow start has been assisted by Mother Nature.
"The spring weather pattern was generally cooler much of April and May with periodic bursts of moisture and some storms," said Rich Naden, a fire weather meteorologist with the Southwest Coordination Center, the office that oversees wildfire efforts in Arizona, New Mexico and western Texas.
"When you get one or two big storms in April into May, that really knocks us back several weeks," said Naden.
Moisture and cool temperatures mean grasses and shrubs retain their moisture, and that means a less abundant supply of kindling for any sparks that occur on open land.
But those days are behind us.
"As we get into the later part of June, we're going to have another big warm up, probably a little more prolonged, pretty intense, many days of triple-digits plus," said Ken Drozd, meteorologist with the National Weather Service's Tucson office.
And weather forecasts for upcoming days show exactly what Drozd means.
An excessive heat warning goes into effect Sunday for all but the highest elevations in Southern Arizona. It lasts well into next week.
If forecasts hold true, Sunday tie for the fifth hottest day in Tucson on record.
While upcoming days may be an extreme example, a big warm-up is not an uncommon occurrence this time of year.
"It's almost like clockwork, that last week of June is normally the hottest and driest time of the year for all of the southwest area, especially Arizona," said Fire Weather Meteorologist Naden.
Triple-digit heat could soon lead to conditions in the Catalinas being a little closer to those of the lands managed by the Arizona Department of Forestry in Southern Arizona.
"We do not have a lot of the pine forest here, a lot of it is that desert influence," said Southwest District Manager Steve Millert.
"We've been fairly busy, we've been averaging a couple of fires a week for our crews and engines. It has been a fairly active fire season."
Most of the fires Millert's crews have worked this year have been lightning caused.
On Coronado National Forest lands, the concern has been with human-caused fires.
Crews have routinely found improperly extinguished campfires, and many of the wildfires that have occurred this year are thought to be human-caused.
But campfires are not the only way humans can cause wildfire. Discarded cigarette butts, improperly secured tow chains on vehicles, or activities such as welding can all spark a blaze.
The human caused fires that have been popping up around Southern Arizona will soon be accompanied by naturally occurring fires.
The high pressure zone that turns up temperatures this time of year eventually acts as a means for drawing up moisture from Mexico, leading to the start of the monsoon.
The storms that move into the area do bring large amounts of rain, but they are also accompanied by plenty of lightning.
"Somewhere in there, there's a place where you get a lot of lightning strikes and not a lot of moisture. That can be an area of concern," said local Meteorologist Drozd.
Monsoon can either end fire season, or increase the number of fires dramatically.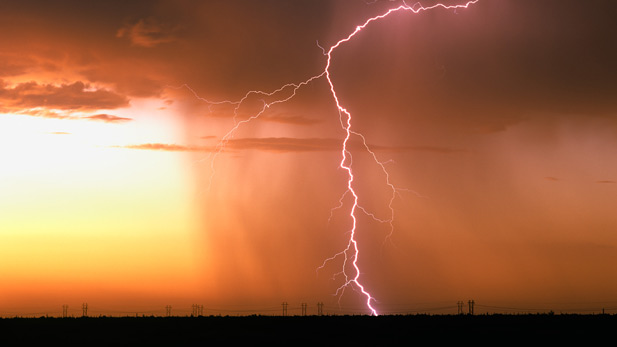 Photo by A.T. Willett

A.T. Willett
"Typically when that moisture arrives from the south, southeast, it can arrive in small spurts or it can arrive in just one giant swoosh from the south," said Fire Meteorologist Naden.
If sporadic dry thunderstorms start the season, more fires can be expected, but if large, wet storms roll in, the opposite can be true.
"We can go from ongoing large fires to virtually nothing going on in less than a week depending on how the moisture intrusion occurs," Naden said.
While rain is important, the humidity brought by a storm is even moreso.
Naden said once monsoons bring up relative humidity, fires tend to stop burning. And a streak of five days or more where the relative humidity is above 20 percent will reliably bring Arizona's fire season to a close.