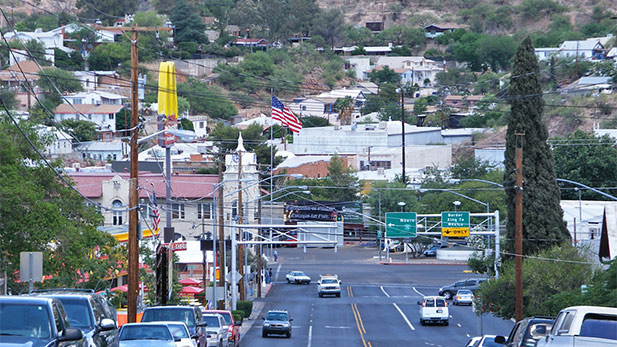 Crawford Street in Nogales.

AZPM Staff
A new mobile phone app will help more residents when to stay indoors in Nogales, where cooler weather and a curtain of mountains can be dangerous to those breathing the air.
Nogales sits in a basin surrounded by mountain ranges. When the weather cools, the air quality on both sides of the border can become a health hazard to the elderly and those who suffer from lung related problems.
Pollution caused by high automobile traffic on the Mexican side often drifts into the U.S. Then there are the dirt roads that surround the area and a recent increase in construction projects. Pollution particles can be trapped in the basin for days, making the air unhealthy.
Most at risk are older adults, children and those with heart or lung problems, and it's not always easy to tell when the air in Nogales has reached dangerous levels.
A new free phone app from the Arizona Department of Environmental Quality can send a warning to those at risk. The app, called Nogales Air, can be downloaded from iTunes or the Google Play Store