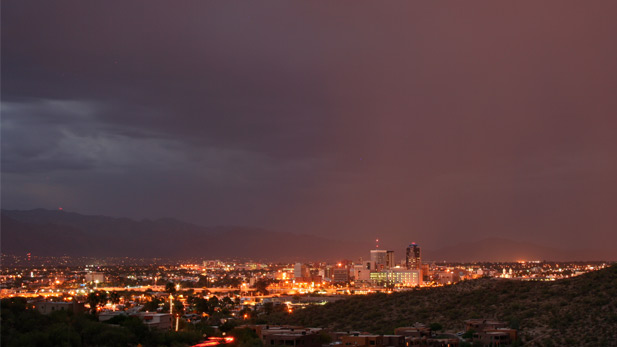 Overlooking the Tucson skyline at night.

Andrew Brown, AZPM
A year ago the Environmental Protection Agency lowered the level of ground-level ozone it considers harmful to health from 75 parts per billion to 70.
According to the Pima County Department of Environmental Quality's Beth Gorman, the Tucson region came in just below the EPA's new standard, at 68.
"And in this case, being below the standard is definitely where you want to be," she said.
Ground-level ozone is formed by emissions from cars and electricity, and is exacerbated by sunlight. Its levels are the highest from May through September, when the sun is the strongest.

Gorman said in recent years there has been a slight downward trend in the ground-level ozone count in the region.
"Our motor vehicles are getting cleaner, and we think that people are taking more and more actions to reduce these emissions."
Still, she said, people should continue to cut their emissions footprints by driving less or getting out of the car at Starbucks rather than waiting in the drive through.