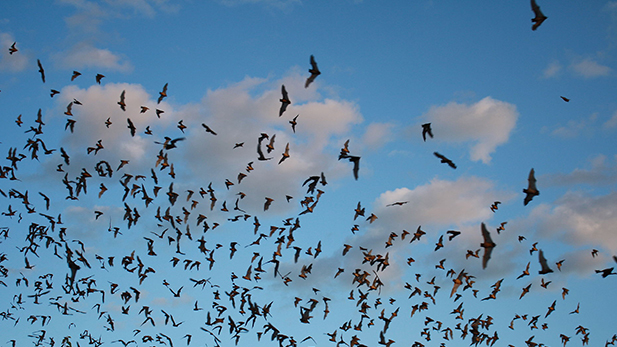 Image courtesy U.S. Fish and Wildlife Service Headquarters via Wikimedia Commons
Listen:
Tucson's population swells by the thousands during winter, but the city has been experiencing a different kind of population boom over the last few months and the city's summer guests are really only visible just after sundown.
It's then that bats begin to wake from their day's rest and venture into the darkness on their quest for food.
Up to 10,000 of them roost in the cracks under the bridge that spans the Rillito at Campbell Avenue.
"And when they drop down out of their daytime roost, they'll fly around in circles kind of frenetically," says Wendy Burroughs, Pima County's environmental education program manager.
This has been their nightly ritual since they arrived in Tucson in early May. Later this month the bats will begin their migration south to Mexico or Central America.
The county is hosting a viewing event at the Campbell Avenue Bridge Friday, to give Tucsonans a chance to see the bats before they leave for the winter.
Experts will be there to answer all bat-related questions.
In case the thought of getting smacked in the face by one of those frenetic bat wings is deterring you from heading out, Burroughs said not to worry.
"They can maneuver so well that they can catch a tiny little insect," she said. "So they know you're there. That would be like running into a wall for them."
The event is free and open to all and will begin just before the sundown. But be punctual – the bats fly in circles for only about ten minutes before they disappear into the night.