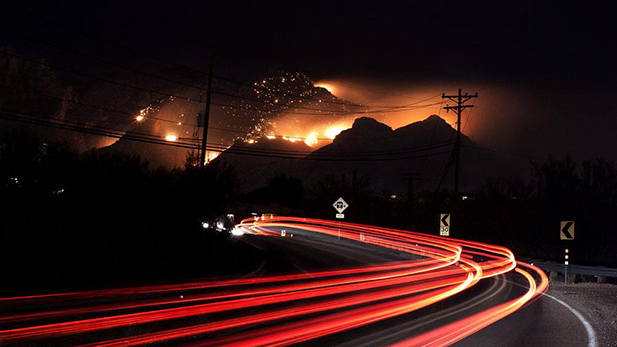 The Finger Rock Fire on Wednesday, Aug. 5, 2015.

Steve Riggs, AZPM
Listen:
A wildfire clearly visible from Tucson has burned 500 acres in Pontatoc Canyon in the Santa Catalina Mountains north of the city.
Forest officials said Thursday that crews have not been sent to fight the fire, though they are on the ready.
"It's burning at a relatively high elevation away from any homes or any human values at risk," said Coronado National Forest spokesperson Heidi Schewel. "Should it begin burning down in the direction of homes, we do have a plan. We do have firefighters ready to respond. It's not really just letting it burn, it's managing it to meet some objectives."
The fire is burning primarily in Pontatoc Canyon with some spots spreading into Finger Rock Canyon. Fuels in the area consist of grass and brush in steep terrain that is part of the Pusch Ridge Wilderness.
Fire has not burned in the area for more than 80 years, according to Schewel.
The Finger Rock Trail was closed because of the fire.
The fire started July 29 but didn't flare up until high winds pushed it Wednesday afternoon, a report on the national wildfire website said.
"We may experience another active burning day today, depending on the weather, with decreased activity this afternoon and tonight, through tomorrow," the Information System website report said.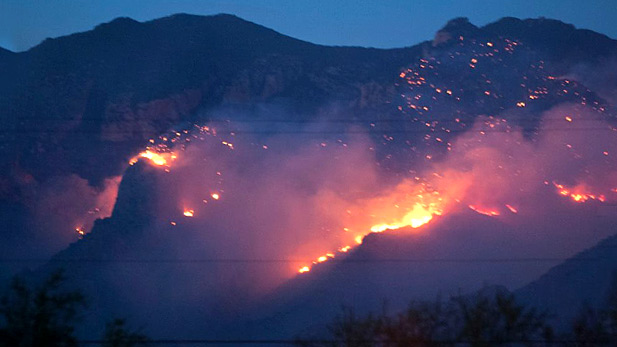 A lightning-caused fire burns near Finger Rock in the Catalina Mountains; August 5, 2015.

Kevin Raubenolt, AZPM