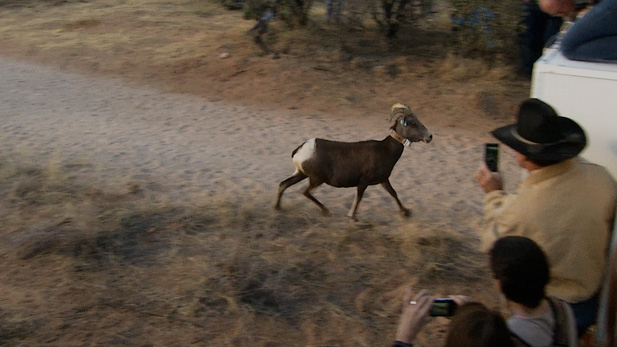 Listen:
Three ewes that died in the Catalina Mountains north of Tucson in late July and early August were infected with pneumonia, the Arizona Game and Fish Department announced Friday.
"Pneumonia can have serious impacts on bighorn sheep populations and it's possible that we may have additional mortalities in the coming months," said Mark Hart, a public information officer with Game and Fish.
There's no effective treatment or vaccination against pneumonia for bighorn sheep.
The animals are prone to bacterial infections that cause pneumonia and, according to Game and Fish's website, the illness has caused severe losses in bighorn sheep herds throughout western states.
The three sheep were relocated to the Catalinas from the Tonto National Forest in November last year, part of a two-year old program to reestablish a herd in an area they disappeared from in the 1990s.
Hart said the presence of pneumonia threatens plans to reintroduce additional sheep to the herd later this year.
"That doesn't mean we couldn't come back later and do an introduction in 2016 or 2017, but until we're sure how widespread the disease is among the population up there, we're going to have to take a wait and see attitude," Hart said.