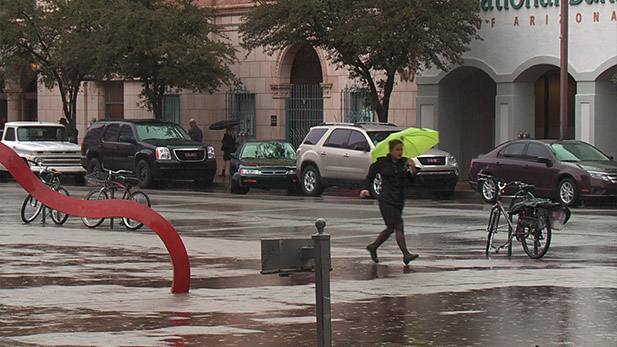 A woman with an umbrella tries to avoid the rain in Downtown Tucson.

AZPM Staff
Listen:
For the first couple of weeks of the monsoon, it appeared southern Arizona would be in for a strong season.
In June, southern Arizona saw .25 inches more rain than normal.
But since then, storms have stayed mainly in the mountains, and July and August totals for the Tucson area are falling 1-2 inches below average.
National Weather Service Meteorologists in Tucson think the dry trend could be coming to an end.
"Scientists at the Climate Prediction Center have projected that the month of August and the period of August through October are more likely to be wetter-than-normal than they are to be either drier-than-normal or experience near-normal precipitation," said Meteorologist Ken Drozd.
Above average moisture could carry beyond the monsoon. Climate Prediction Center models show the area should get more rain than normal through the winter.