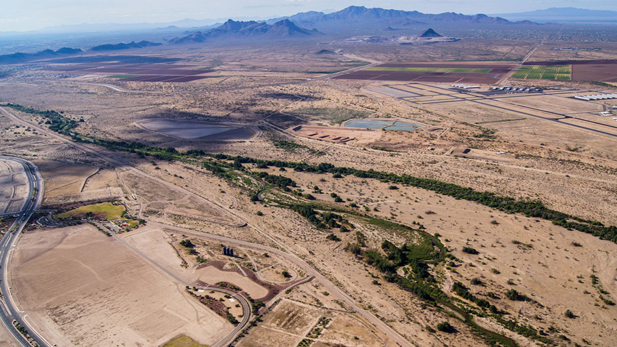 An aerial view of the Santa Cruz River near Marana.

AZPM
Listen:
The second annual Living River report shows the quality of water pumped into the portion of the Santa Cruz River that runs through the Tucson is improving.
The report, issued by Pima County and the Sonoran Institute, cites numerous signs of improving river health.
They include lower levels of elements such as nitrogen and ammonia, more diversity in wildlife and fewer odor complaints along the river.
All of those add up to healthier water for wildlife and a more aesthetically pleasing Santa Cruz.
"Now the water is not only cleaner for the fish living in the water," said the Sonoran Institute's Claire Zugmeyer. "It's also clearer so you can see into the water."
The water is also seen on the surface less frequently now too. That's because clean water infiltrates aquifers quicker than dirty water.
Zugmeyer said the improvements are due to recent work done at sewage treatment plants along the Santa Cruz on Tucson's northwest side.