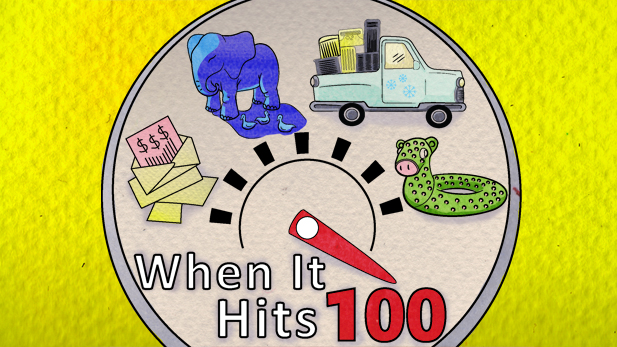 Illustration by M. Roxbury, AZPM
Listen:
Swelter, sweat and searing outdoor temperatures mean summer is upon us. And with it, AZPM is looking at what happens when it hits 100. In the second installment of this week-long series, we're going to an outdoor hot spot: Tucson's Reid Park Zoo.
One question Jason Jacobs, the Reid Park Zoo administrator, gets so often he almost knows it's coming before you ask: What do you do for the animals in the Tucson summer heat?
When you think about it, it makes sense that people ask. They start to think about how much they sweat, and how much energy the heat zaps from their bodies, and they wonder how the animals and zookeepers deal with it.
It's also reasonable that Jacobs feels like a broken record answering that simple, but so repeated question: Many of the animals are already acclimated to the heat. Several species come from Africa, including the lions, elephants, giraffe and rhinoceros that live in midtown Tucson.
Plus, they have accommodations all year long, Jacobs said.
"Really, it doesn't impact them all that much, because when we design a habitat here at the zoo we make sure that there are elements designed into that habitat, whether it be shade, mud wallows or pools, or areas that the animals can go to cool off so that they can take care of themselves," he said.
Animals know when they are hot, and they make an effort to cool down, he said. For a little mental stimulation, sometimes the zoo freezes animal food into ice as an activity that also provides coolness in the heat, he said.
It turns out those of us asking questions about whether the animals are hot should turn the mirror on ourselves.
"I would say our human visitors are most affected by the hot weather, not our animals," Jacobs said.
The zoo shifts to earlier hours in the summer, opening at 8 a.m. and closing at 3 p.m., he said. Most of the animals are more active in the morning, just like Tucsonans in the summer, he said.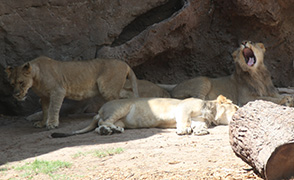 Reid Park Zoo lion cubs rest in the shade in May 2015.

Andrea Kelly, AZPM
The zoo offers shade for visitors at the entrance, while they get their bearings and plan their visit, and also at many of the best viewing points for the animal habitats.
It sells cool refreshments in the snack bars, too, Jacobs said.
Heather Rauch has a zoo membership, which means she and her daughter Phoebe visit often.
On a recent morning, the two were watching the lion cubs saunter across their habitat, shifting from sun to shade and back again.
Rauch said she plans to visit the zoo earlier in the summer because of the heat, and because she's a member, she won't feel obligated to stay for several hours at a time.
"I can imagine this summer, being here quickly in the morning at 8 and then going over for a swim would work well," she said, referring to the city pool in the Reid Park complex.