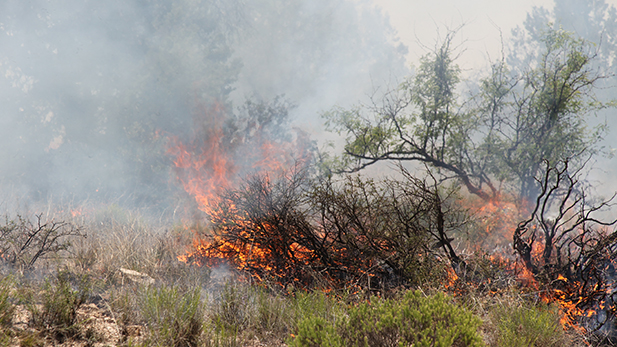 'Fire does have a role in natural landscapes.' - Coronado National Forest Spokesperson Heidi Schewel

Zac Ziegler
Listen:
Drought conditions and lack of snow pack on mountaintops are being cited as reasons the 2015 fire season has the potential to be worse than average.
The most severe conditions are forecast through southern Arizona, including the area around Tucson, and along the state line with California.
But, the start of the season could be delayed as small low pressure systems, such as the one that passed through the Tucson area last weekend, keep temperatures low and add a small amount of moisture.
"What these systems are doing is putting things at bay," said Rich Naden, a fire meteorologist with the Southwest Fire Coordination Center. "It's not allowing the fire season to get going in an expedient manner."
He said the spring weather could keep temperatures relatively cool and bring occasional moisture through mid-to-late May.
If models hold true, it could help delay the driest conditions that create the time when wildfires are most likely to be sparked.
An on-time start to the monsoon season, which Naden said current models predict, could mean the worst part of the fire season is shorter than normal.
"Right now, it's looking to me like six or seven weeks maximum for our big, peak fire season coming up," Naden said.
The possibility of a shortened fire season does not decrease the need for fire prevention though.
On Thursday, Arizona Governor Doug Ducey met with officials from the Arizona Forestry Division for a briefing on the season.
Ducey and State Forester Jeff Whitney spoke about fire prevention.
Ducey emphasized the importance of fire safety to state residents. He reminded them to follow state laws regarding fire use and to act wisely when utilizing fire outdoors.