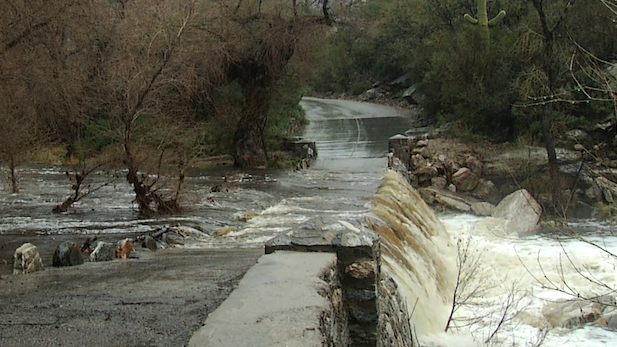 At Sabino Canyon's first bridge, on Tucson's northeast side, Jan. 30, 2015.

Steve Riggs, AZPM
Listen:
More than four inches of rain fell in Tucson and nearby communities in the last two months, twice as much as the same period a year ago.
More rain is expected in February.
"Last year we were very dry. In fact last January we barely had any precipitation at all, and last December (2013) just had a small amount, enough to bring it near normal," said J.J . Brost, a metrorologist with the National Weather Service. "This year, on the other hand, we've been very wet."
"Normally between January and February we have right about two inches of rain but in the year, this winter, we've had four and ¾ of an inch of rain so more than double what we normally see as far as rain goes in the Tucson area," Brost added.
He said winter rain makes up about half of the approximately 12 inches of annual rainfall in Tucson.
The rest of the precipitation can usually be expected during the summer monsoon, which typically begins in July.
But rain is only part of the equation.
"What we really like to see is snow pack in the mountains, especially up through the White Mountains, the mountains in New Mexico and even southern Colorado," Brost said.
"We like to see those mountains really receive a lot of snowfall because that will eventually work itself down into our reservoirs and help mitigate some of the longer-term drought issues that we have when our reservoirs start to dry up."