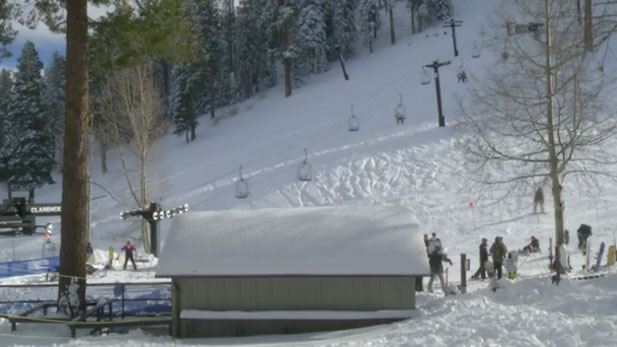 Mount Lemmon Ski Valley, north of Tucson, in January 2012.

AZPM
Listen:
Southern Arizona is benefiting from abundant rainfall this winter, but the mountain snow pack is not enough to put a damper on wildfires next summer, forest experts said Tuesday.
Recent storms have kept rain levels for the winter above normal, said Lee Carlaw of the National Weather Service. He said that January and February rainfall was about 2.95 inches.
"So really, January is the winner here in terms of keeping us pretty substantially above normal," Carlaw said.
While important, rainfall is only one of the many elements the Forest Service considers when preparing for wildfire season, Coronado National Forest spokeswoman Heidi Schewel said. She said precipitation only temporarily affects the grasses and brush in the area surrounding Tucson. Schewel said the snow pack in the mountains is more important, and this year has not been good.
"This year, we've had a lot less snow pack than we normally do, and in fact some of the mountaintops now have no snow when they should have a good snow pack," she said, "and they will probably dry out more quickly come spring and summer unless some good snowfall is received."
That's unlikely to happen, Carlaw said.
"From the end of January through where we are now it's been startlingly warm," he said. "About 84 percent of the lows have been above normal, and about 80 percent of the highs have been above normal."
Schewel said preparations for wildfire season are already under way for the Forest Service.