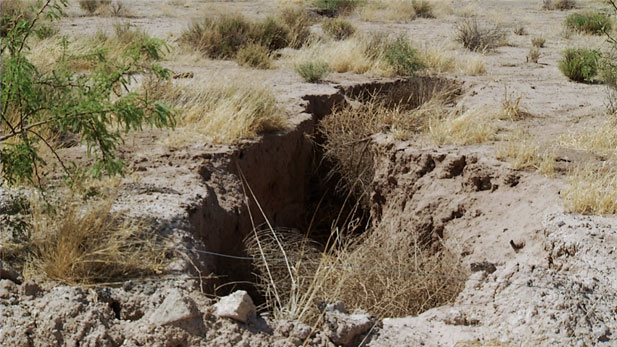 An earth fissure. Fissures in the earth surface, caused by record lowering of the acquifer, and the earth above cracking open.

AZPM
Geologists are warning about the ongoing threat of fissures in the Earth's crust in Avra Valley near Marana and other parts of Southern Arizona.
Avra Valley is one spot shown on new surface maps that reveal the latest known locations of fissures. They include spots in Cochise, Maricopa and Pinal counties as well as Pima County.

Earth fissures are large cracks that develop underground and eventually break open at the surface. Researchers say they are caused by pumping groundwater in rural areas, and the cracks can turn into geologic hazards for residents in the dry valleys of the state.
"One of the things we recommend is, if at all possible, keep water from getting into it," said Michael Conway with the Arizona Geological Survey. "A lot of times, these fissures will cut across drainages. Water will pour in, causing erosion of the sidewall. If you can keep water from getting in, you can perhaps keep the fissure from growing larger."
Fissures can be 15 feet wide and dozens of feet deep in some locations.
The Geological Survey is making fissure planning maps available free on its website. Click here.