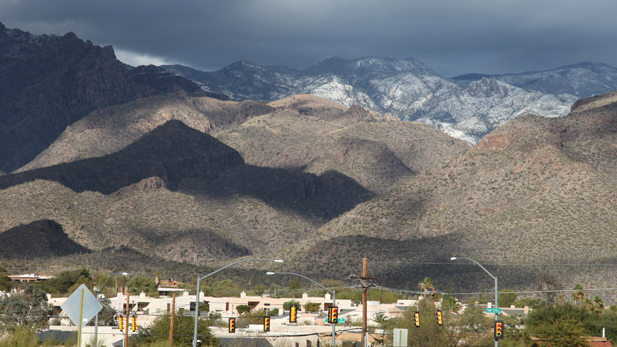 Snow covers the slopes of the Santa Catalina Mountains.

Mark Duggan
Listen:
This winter's snow pack in the Colorado Rockies is slightly below average, a relatively good sign for states, including Arizona, that use Colorado River Water.
Measurements taken in the mountain valleys of western Colorado, where the Colorado River originates, put snow pack at 90 percent of the long-term average. Officials from the U.S. Department of Agriculture, which runs the snow survey, said that's not spectacular – but not miserable either.
Mountain snow in Colorado is closely tracked because when it melts it feeds the Colorado River, which provides water to seven states, including Arizona.
Snow pack in other parts of the West is not looking as good as in Colorado.
The last measurement taken in the Sierra Nevada range put snow pack at 50 percent or less. There was no snow at all at several measurement stations.
And in the Pacific Northwest, warm temperatures have brought rain instead of snow, which means there won't be much water to refill reservoirs with come spring.
Other than Colorado, not spectacular but not miserable levels of snow pack have been measured in Montana and Wyoming as well.