Listen:
Snow and freezing temperatures continue in the Northeast, while in Tucson it's starting to feel like summer.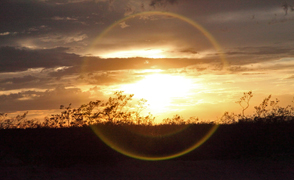 AZPM
But instead of enjoying the recent warmth, Tucsonans may be starting to worry about what it bodes for summer. Are record high temperatures in February a harbinger of sweltering heat to come?
"No not at all," said Emily French, a meteorologist with the National Weather Service in Tucson. "We just happened to be under a ridge of high pressure over the West, and we've just been in a really warm pattern right now. It doesn't mean anything for the summer."
French said while the upper 60s are the norm for this time of year, it is by no means unusual to reach the 80s.
Tucson temperatures are forecast to head closer to normal toward the end of the week, with some chance of rain. In the meantime, French's advice?
Enjoy the warmth.