Students at the University of Arizona add their hand prints to a banner that will be displayed at the United Nations Climate Conference in Paris.

Sara Hammond, AZPM
Listen:
By Sara Hammond, Arizona Science Desk
A University of Arizona professor will lead a delegation to the United Nations 2015 Climate Conference. The two-week event commences Monday in Paris.
Diana Liverman, a regent's professor in the School of Geography and Development, is co-director of the UA's Institute of the Environment and will attend during the conference's first week.
"Universities are a very important part of the conversation about climate change and the responses to it, and University of Arizona is arguably one of the leading research universities in the United States, if not the world, particularly in the area of climate adaptation," Liverman said.
Liverman said accreditation allows the delegation access to the main conference area where the climate negotiations will occur, and to other events surrounding the annual gathering.
"The conference is a turning point in our decisions globally about what to do about climate change. We already know that going into the conference that countries are making some of the most serious and deep commitments to reducing their greenhouse gas emissions that we have ever seen," she said.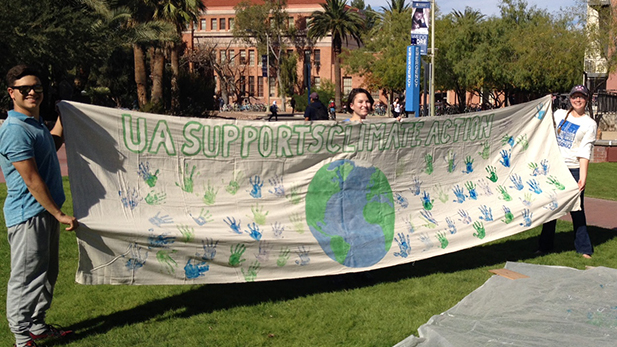 UA Students for Sustainability will show their support at the United Nations Climate Conference in Paris with a banner covered with handprints from the UA community.

Sara Hammond, AZPM
"Going into the Paris conference there is a lot of hope because there is a lot of serious commitment that being made and we have to hope that results in countries actually signing off on an agreement that they will come through with those commitments."
The goal of the climate conference is for nations to craft global agreements to reduce carbon emissions and slow warming.
"Even though there are some pretty serious commitments to reduce emissions going into Paris, they aren't deep enough," Liverman said. Current commitments exceed the goal to keep global warming under around 2 degrees centigrade.
Liverman said UA's delegation members will observe, network, conduct research and participate in scientific meetings. Four will attend the first week and another four the second week.
In addition to Liverman, UA faculty attending include Donald Falk of the School of Natural Resources and the Environment, and Valerie Trouet of the Laboratory of Tree-Ring Research, who will tweet during the conference's second week.
Liverman said the group also plans to blog about their experiences.
The Arizona Science Desk is a collaboration of public broadcasting entities in the state, including Arizona Public Media.