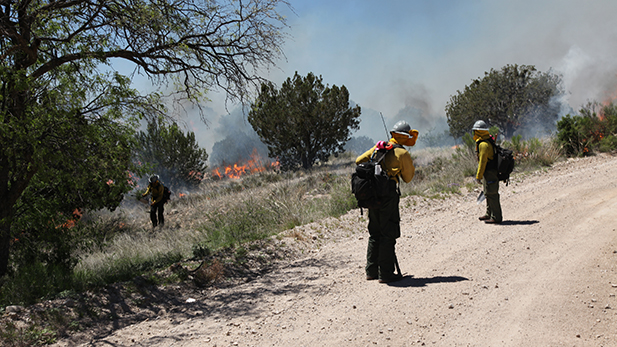 Members of the Globe Hotshots work a controlled burn near Reddington Pass in May of 2015. The Bureau of Land Management will form a similar crew and stationed it at Ft. Huachuca for the 2016 fire season.

Zac Ziegler
Listen:
The Bureau of Land Management announced plans to give Southern Arizona its first hotshot wildfire crew.
The crew will be stationed at Fort Huachuca in Sierra Vista, and is part of a partnership with the U.S. Army.
Hotshot crews are highly-trained groups that work to control wildfires by hand-cutting fire lines through rough landscape.
The hotshot crew will work to lower wildfire risk in the region year-round, not just when a fire is burning.
"This crew is going to be available for prevention activities," said BLM Spokesman Adam Milnor. "That means prescribed burns, fuel treatments, that allow us to get ahead of fires and hopefully reduce the chance for catastrophic burns down the road."
The new BLM crew will be the 12th crew in the state, most of which are based in the forested parts of northern and eastern Arizona.
It will be the only hotshot crew south of Phoenix in the state.
The crew will consist of 20 members, seven full-time members and 13 who are hired for the fire season.
Due to the unique partnership with the Army, BLM officials said a goal is to eventually have the entire hotshot crew be military veterans.