Listen: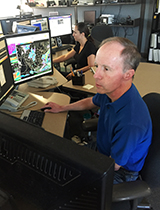 National Weather Service forecasters at work in Tucson. (PHOTO: Mitchell Riley)
The official dates of the monsoon are June 15 through Sept. 30, regardless of weather activity.
Overall, this year's monsoon showed normal rainfall totals for southeastern Arizona with some variability. Nogales reported an inch and a half above normal and Organ Pipe came in at half of normal rainfall.
The United States is in a strong El Niño weather pattern this year. That means southeastern Arizona could experience more winter storms.

El Niño is an oceanic phenomenon in which sea surface temperatures increase along the equatorial Pacific. The warmth makes its way into the upper atmosphere causing changes in weather patterns.

Emily French is a Meteorologist with the National Weather Service in Tucson.
"For southeastern Arizona that generally equates to above-normal winter precipitation and especially I believe that will be seen early next year," French said. "In February, March and April we could have some really significant rainfall."
National Weather Service data suggests low temperatures will be warmer and highs will be cooler than normal. Based on statistics gathered over about a 65-year period, southern Arizona has experienced only six strong El Niños and all of them measured higher than normal rainfall totals. The last strong El Niño was the winter of 1997-98.
Ken Drozd, a warning coordination meteorologist with the National Oceanic and Atmospheric Administration, says there might be snow at lower elevations.
"We'll have more winter storms going across our area than normal, so the chances of having one of those storms having cold enough air to produce valley snow would seem to be higher," Drozd. "So we can look forward to that for those who want to take pictures of snow on top of cacti."
*The forecast office for the National Weather Service will celebrate its 75th anniversary in Tucson with an open house Saturday, Oct. 17, from 10 a.m. to 3 p.m. There will be free parking in the 6th Street garage at The University of Arizona. The event is free and open to the public. *