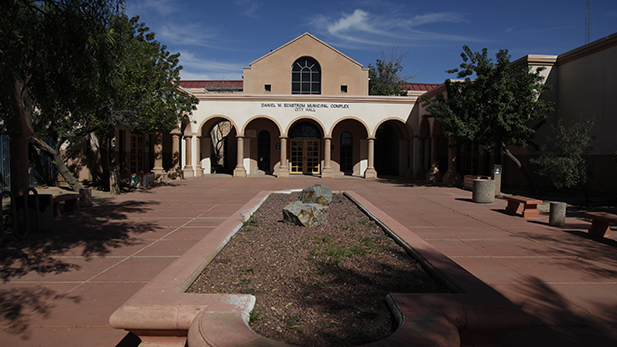 South Tucson City Hall is pictured on April 2, 2015.

Mariana Dale, AZPM
The City of South Tucson recently lost its trash collection contractor. Vanessa Barchfield reports on unintended fallout from Waste Management's departure.
Listen:
Residents of South Tucson lost residential recycling services last month when Waste Management, a private garbage collection company, severed its contract with South Tucson over unpaid bills.
The city of Tucson stepped in to provide trash pickup from homes in South Tucson, but recycling services were not included in the temporary agreement, said Angel Lopez, South Tucson's public works director.
"So we're back to step one again I guess," he said.
South Tucson first got a residential recycling program in 2011 when Waste Management started garbage collection there. Residents are now left with no option but to throw empty bottles and other recyclables into green bins with the rest of their landfill-destined trash, said Lopez.
Officials of the 1.2-square-mile city within a city are evaluating long-term options for trash pick up, and Lopez said recycling services will be included in the next contract.
"I think it's something that we need to put in place for once and for all."