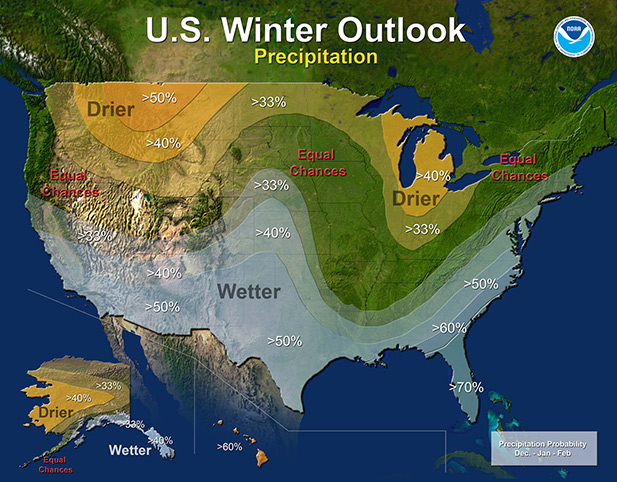 The West, South and mid-Atlantic are expected to have greater than normal precipitation over the 2015-2016 winter due to the effects of an El Nino.

NOAA
Listen:
By Sara Hammond, Arizona Science Desk
Expected higher-than-average precipitation in the West this winter from the impending El Niño will not wipe out Arizona's drought deficits.
National Oceanic and Atmospheric Administration's forecasters said Thursday the weather patterns are setting up to provide above-average temperatures in the West and northern-tier states, and above-average precipitation along the United States' southern tier, from California to Florida, and up the Atlantic seaboard to southern New England.
"While there is some optimism in (El Niño) helping with the drought in California, a full recovery is likely to be uneven across the West, and it's also likely to take more than one season of above-normal precipitation," said NOAA hydrologist Alan Haynes.
Mike Halpert of the agency's climate prediction center said the 2015-2016 winter is expected to be one of the three strongest El Niño weather events. The other two occurred in 1997-1998 and 1982-1983.
El Niño's activity is not expected to kick in until December or January.
The Arizona Science Desk is a collaboration of public broadcasting entities in the state, including Arizona Public Media.