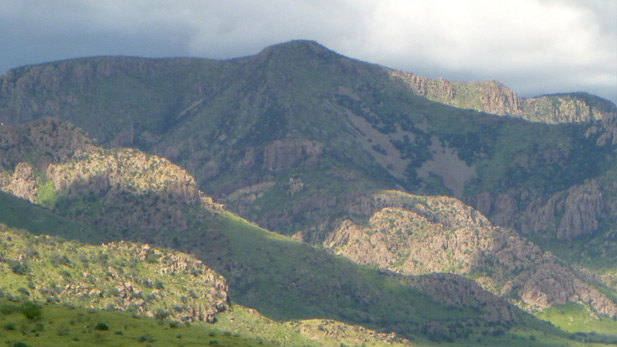 In the summer monsoon, grass carpets the Chiricahua foothills.

Aengus Anderson, PRX
Story by Aengus Anderson
PRX STEM Story Project

Listen:
The Chiricahua mountains are the largest and most biodiverse of Arizona's "sky islands," isolated ranges that are wet and cool enough to sustain forests that have more in common with Canada than the desert below. This isn't coincidence—sky island forests are relics from a cooler past, an entire ecosystem that fled to higher elevations as the planet warmed.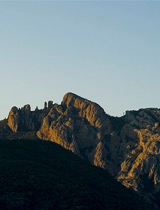 Cochise Head (PHOTO: Aengus Anderson, PRX)
The fragility of the ecosystem atop the Chiricahuas makes the range especially vulnerable to climate change effects—drought, heat, and high winds—all of which, coupled with a century of deliberate fire suppression, dramatically increase wildfire severity. In 2011, the Horseshoe 2 fire burned the entire Chiricahua range. The West has seen worse fires in recorded history, but never one that nearly wiped out an entire forest ecosystem.
University of Arizona researchers are studying fire ecology in the Chiricahuas to model different ecological futures. In popular accounts, climate change is often depicted as gradual, but the Chiricahuas reveal another story: catastrophic fire can make climate change immediate and permanent by replacing forests with radically different ecosystems. A single fire propelled the Chiricahuas deep into the future of climate change and forces us to ask what a "normal" forest looks like.
For more visit the PRX website.