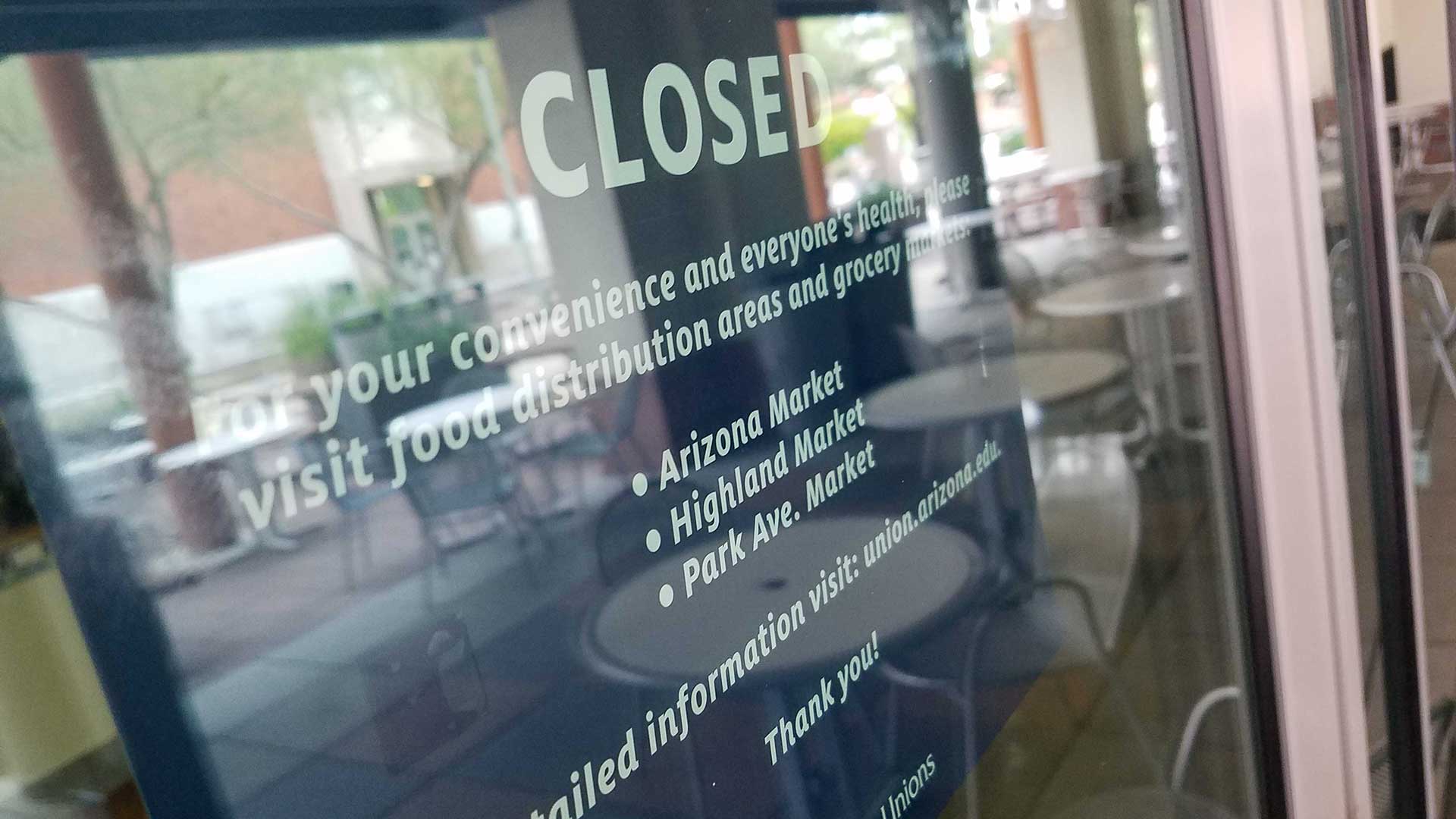 A closed sign at the University of Arizona student union. Classes have all moved online for the spring semester.
AZPM
Researchers at the University of Arizona are working to develop a blood test to determine whether or not someone has or has had COVID-19 by detecting antibodies.
The university is lining up financial partners to cover the cost of producing 50,000 of the tests. UA President Robert Robbins in a Wednesday telephone town hall said that is not a random number.
"My position on this is, we've got 45,000 students and 15,000 employees, ... the charge for Mike [Dake, vice president of UA Health Sciences] and his team is in the first run of this to produce 50,000 tests that are available to all of the University of Arizona community. And we want to test everyone. I think there is nothing more important we could do as we get the data back to help us decide about when to bring our students, faculty and staff back to campus," said Robbins.
Developing the 50,000 tests will cost about $3 million. Robbins said the university is working with financial partners to get the money. He also said, if the state or someone else comes forward with enough funding, the university could develop 500,000 tests in about 60 days.
Determining if people have the COVID-19 antibodies is important to understanding the sickness because right now medical professionals do not know how long the novel coronavirus antibodies will remain in the blood stream.
The presence of antibodies means that a person has been exposed to the virus.
"MERS was only about a year that when you had antibodies that you remain protected, SARS was three years, the common flu or influenza is very variable we don't have any idea how this is going to react to the novel COVID virus," said Michael Dake, vice president of UA Health Sciences.
As to when the university will reopen, Robbins said it may not be until June that administrators can determine whether or not in-person classes will be held in the fall.