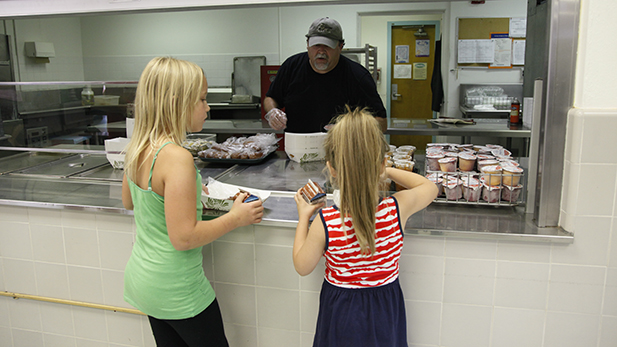 TUSD serves lunches at Annie Kellond Elementary School in 2015.

Mariana Dale, AZPM
Many schools in Tucson will continue to offer free meals during the summer. Tucson and Sunnyside Unified School Districts are providing free meals to children under 18 year of age.
Statistics show healthy meals during the day are vital to student success. During the school year, 70% of TUSD and 80% of Sunnyside students are on free-or-reduced meal plans. Sunnyside's Director of Public Information Victor Mercado says students don't stop developing over the summer and making sure they return from the summer break healthy and ready to learn is equally important.
"Schools provide very nutritious, well-balanced meal throughout the day and we would like to continue doing so while the kids are at home," he says. "When kids are on break, it is much easier to reach for potato chips or a high-calorie drink, such as soda."
Mercado says the program is also important help maintain the schools' relationship with their communities during the break and emphasize their value as important local resources.
"Schools are an integral part of our community, and here in the Sunnyside district that's even more so," he adds. "The cafeterias are not just where kids eat, they are a part of our ecosystem in our district."
In addition to the students, parents and other adults are welcome to purchase meals for a small fee: $1.75 for breakfast and $3.75 for lunch.
Between them, TUSD and Sunnyside will provide meals at nearly 100 sites.