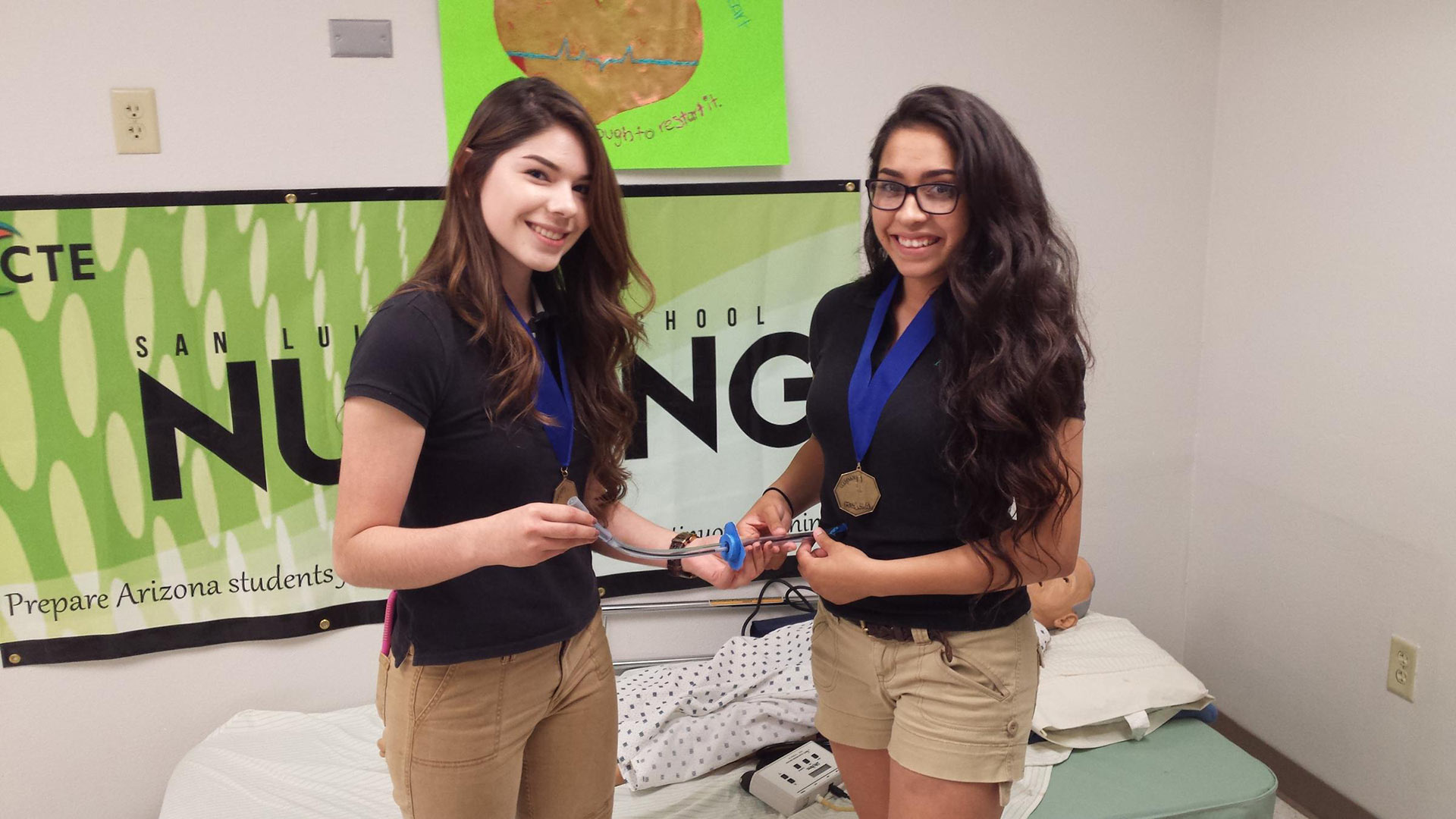 Kathy Angulo, left, and Alma Vizcarra hold their improved gastrostomy tube prototype (PHOTO: Maya Springhawk Robnett, Arizona Science Desk)
YUMA - Two high school students from the border town of San Luis are heading to an international competition this summer to help improve a medical device.
Seventeen-year-old Kathy Angulo and 18-year-old Alma Vizcarra are San Luis High School students. The two innovators are part of the Health Care Occupational Students of America, or HOSA, club at their school. This past April they won first place for medical innovation at HOSA's Spring Leadership Conference.
Medical innovation requires the students to improve upon an existing medical device. The students chose a gastrostomy tube, because Angulo's brother, who has cerebral palsy, lives with one.
"You push it back in [squeaks], you pull it and you take out the tube," Angulo demonstrated.
A g-tube is implanted into the stomach of a patient who has lost the ability to swallow food safely. Complications with a water-filled balloon that is used to anchor the device could send a patient to the ER. And Vizcarra said that's what they focused on.
"Okay, when you open an umbrella, you push it and it opens and you pull it and it closes," Vizcarra said. "So, what if we do the same thing and just put like an umbrella inside of your body instead of a balloon pump?"
The conference judges were so impressed by their prototype and design they encouraged the students to patent the device.
Angulo is working toward becoming a doctor, and Alma plans to join the military. The two are headed to an international competition June 20 in Orlando, Florida.