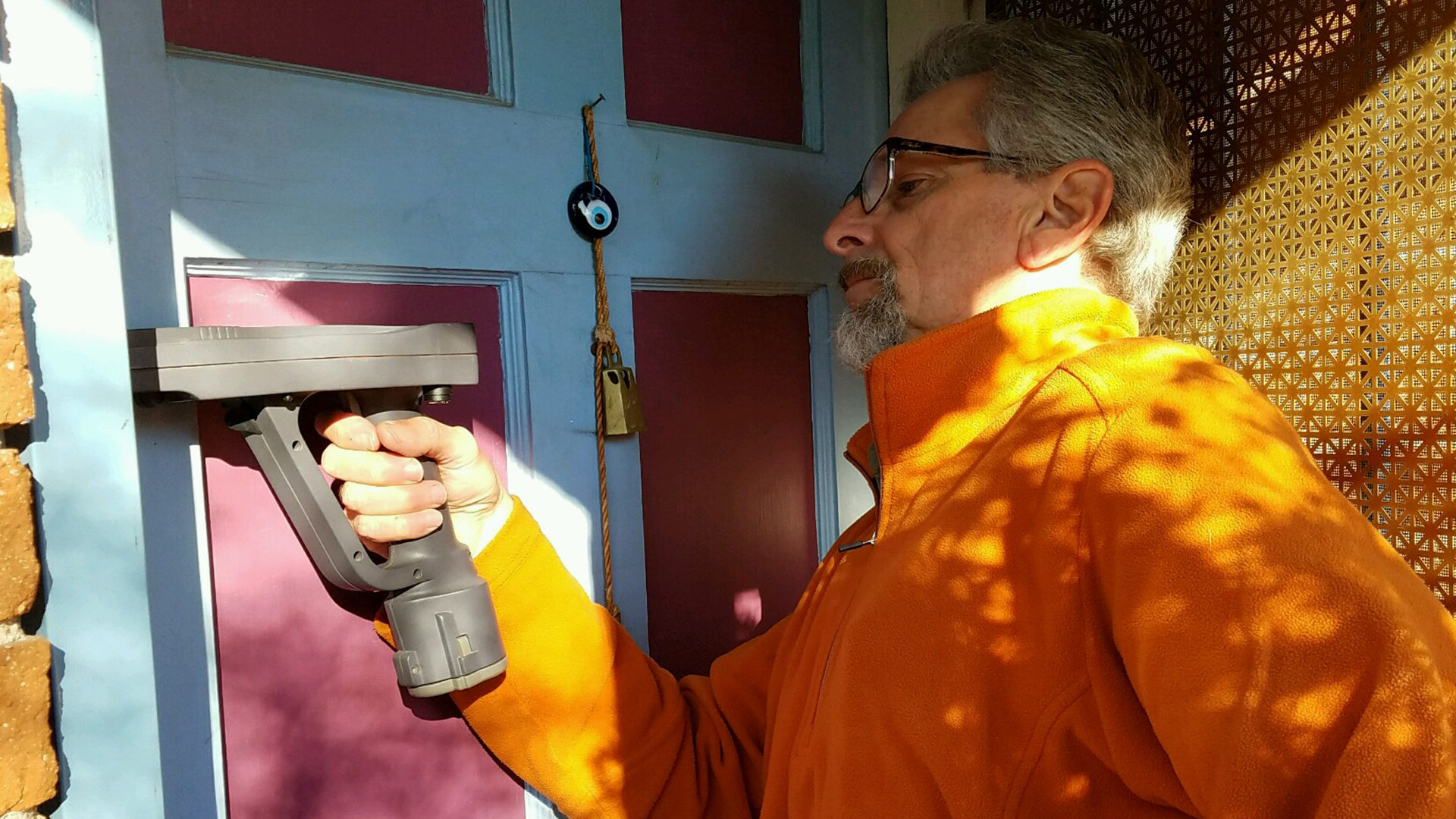 Chuck Phelan uses an XRF gun to test a home's door jamb for traces of lead. Homes are considered positive for lead if they test at a level of one milligram of lead per square centimeter. (PHOTO: Zac Ziegler)
Chuck Phelan often spends hours walking around homes with what looks like a science fiction movie prop.
He holds what looks like a laser-firing weapon up to homes that are 40-plus years old and waits for it to issue a series of beeps.
"So what it's doing is reading the surface to see if there's lead in the paint, and it takes just a second for the machine to do its job," he said.
The house he is visiting this morning was built in 1948, three decades before lead paint was banned from homes. It also sits in a ZIP code identified in an Arizona Department of Health Services report as being at high risk of lead poisoning.
The home is not unique. Almost two-thirds of Tucson's ZIP codes are on the list.
"These are ZIP codes for which we recommend that children get screened for lead by their health care provider at 12 and 24 months of age through a simple blood test," said ADHS Branch Chief of Public Health Awareness Jessica Rigler.
Arizona's biggest lead problems do not come from water contamination like that seen in Flint, Michigan, according to Rigler.
"We'll also have a lot of cases with elevated blood lead that we've linked back to traditional and folk remedies that folks bring back from their indigenous countries," she said.
Local health operatives think the most significant problem comes from the lead paint that once adorned many of Tucson's older homes.
"What we're primarily concerned with is old paint that's in poor condition and it's peeling or flaking, or if it's on a surface that gets rubbed a lot so you're creating dust, or when a homeowner is doing some type of construction and they're cutting through that old paint," said Ann Marie Wolf, president of Sonoran Environmental Research Institute.
And exposure could prove detrimental to children under six years old.
"Recently the health professionals have come out and said that no level of lead is safe for young children."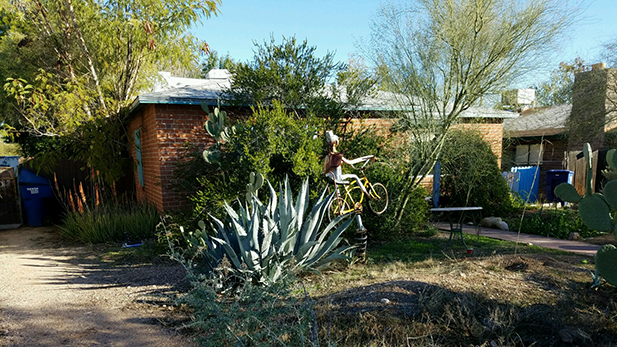 This home was built in 1948, thirty years before lead was banned from residential home paint. (PHOTO: Zac Ziegler)
Phelan ran lead tests on this home as part of a city of Tucson lead abatement program, scanning for lead with a tool that uses X-ray fluorescence to find traces of the contaminant in buried layers of paint.
He said in the past he has tested what appeared to be bare wood, only to have it come up positive. The wood had previously been painted, and even though the paint had worn off, the lead remained.
These tests are cleaner and quicker than old methods in which paint was scraped off the surface and sent to a lab.
The increased pace is good news for Phelan since he will test 250 surfaces on this home, not counting lab tests.
"I will be taking soil from the bare areas in the yard and dust samples from the window sills and the floors inside the house. Those go to a lab to be analyzed for lead content," he said.
Those tests will check for lead paint that has flaked off and turned to dust.
Lead paint is a common problem in Tucson's pre-1978 homes, according to SERI's Wolf, and there is help for those who cannot afford to fix the problem.
"The city of Tucson has a grant from the Department of Housing and Urban Development that can help low-income families with that: to get the home tested, to get the child tested and also then to make the home lead-safe," she said.
The program receives almost $1 million each year, enough to test and, when necessary, cover the cost of updates to 180 houses.
The tests do not include any examination of the water system.
While areas such as Flint, Michigan, are seeing concerns about lead poisoning from water pipes, that's not much of a problem for Tucsonans.
"A couple of decades ago, we did have some issues. It was a very isolated issue that we were able to control at that particular well," said Tucson Water's Fernando Molina.
He said Tucson's reliance on a stable water source has helped avoid issues of old pipes, pointing out that Flint's issues started when the town switched water sources.
"They switch from one source of water to a different source of water."
Not all of Southern Arizona is so fortunate. A bill recently introduced in the Legislature would support lead pipe abatement at San Manuel High School.
While the pipes are most likely clear, the same cannot be said of some exterior surfaces on the midtown house Chuck Phelan tested.
Shutters, doorjambs, eaves and windows on the house tested positive. It may sound like a lot, but Phelan has seen worse.
We've tested houses for the city of Tucson downtown that literally every surface on the exterior is covered with lead-based paint. It was much more common back in the old days," he said.
The city will recommend the children in the home get tested. In about two months, contractors will start work on the lead-positive areas.
Windows will be replaced and surfaces will be treated and repainted, saving future generations that live in the home from the worries of lead poisoning.
More information on the city of Tucson program can be found here.