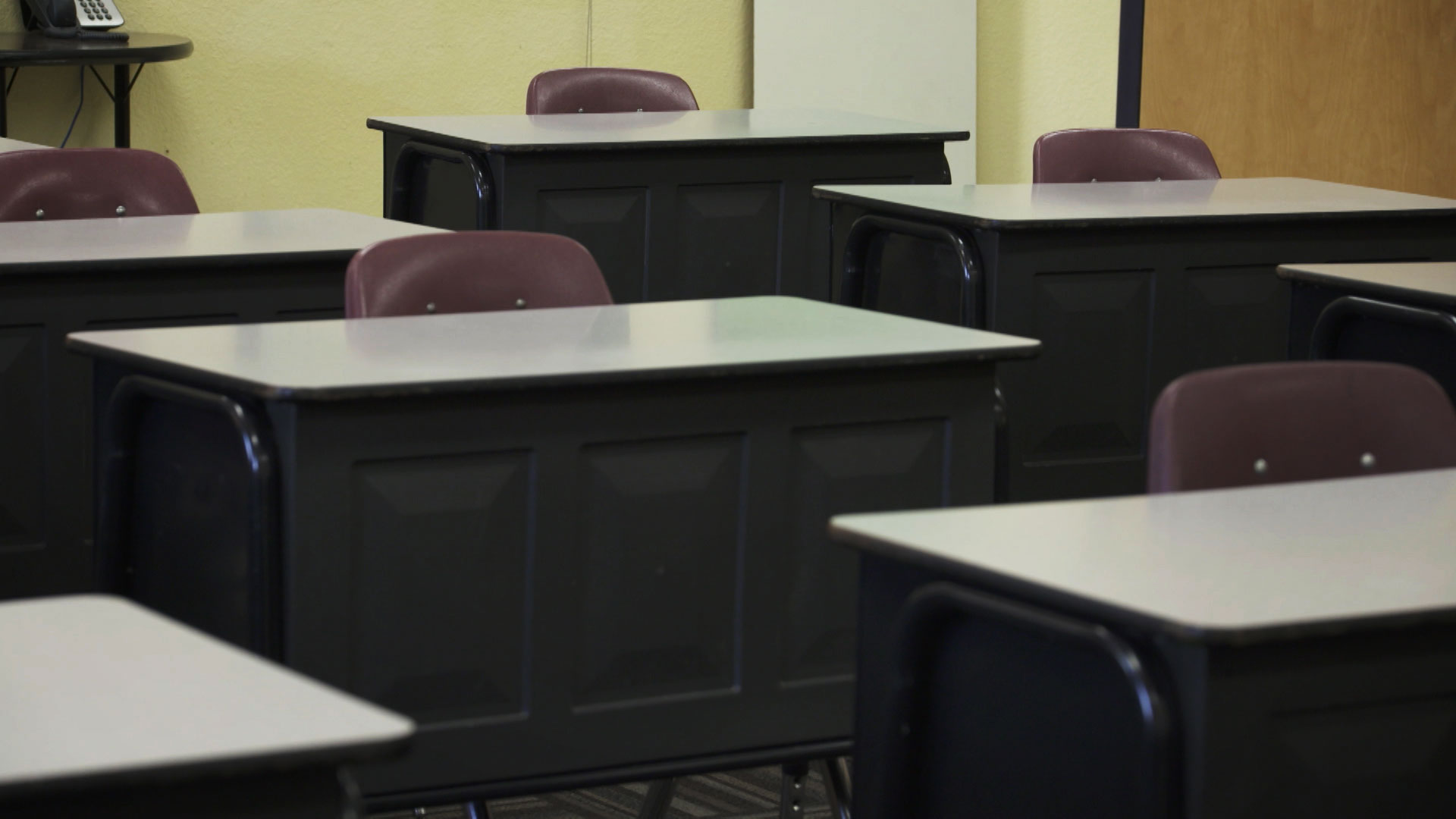 A row of empty desks inside a classroom at Mesquite Elementary on August 10, 2020. Students began the school year with at-home learning.
Robert Lindberg/AZPM Staff
A mentorship program for new teachers received a major boost in funds this week.
Arizona Superintendent of Public Instruction Kathy Hoffman pledged $2 million in federal relief funds toward a mentorship program for early-career teachers. Arizona 360 spoke with the head of that program.
Meanwhile, a nearly 50-year desegregation court order may be coming to an end soon for the Tucson Unified School District.
This week a senior U.S. district judge for the district of Arizona, recommended that TUSD be granted full unitary status. That's dependent on the district submitting a post unitary status plan for its transition out of federal court oversight.
Currently, the district can levy up to $63 million from local taxes to help fund the desegregation order. TUSD superintendent Gabriel Trujillo said part of the plan will include a gradual decrease of that tax levy.
---
Judge recommends TUSD be released form desegregation order
AZPM
Judge David C. Bury, senior U.S. district judge for the district of Arizona, recommended that the Tucson Unified School District be released from the federal court's supervision and that the district be granted full unitary status in regards to its desegregation order, according to a TUSD news release.
The recommendation is contingent on TUSD submitting a Post Unitary Status Plan, which will outline its transition out of federal court oversight, by May 19, according to district officials.
TUSD superintendent Gabriel Trujillo expressed pride over the ruling. He also said he expects the plaintiffs will appeal.
The district has been in the desegregation lawsuit since the 1970s and was granted Partial Unitary Status in 2018.
---
Mentorship program for new Arizona educators gets funding boost
Arizona 360
For teachers beginning their careers in Arizona, the office of State Superintendent Kathy Hoffman invested more than $2 million in federal relief aid toward a program designed to provide mentorship.
Northern Arizona University's Arizona K12 Center runs the program. Arizona 360 learned more about the services it provides from Professional Learning Director Danielle Brown.
---
Extended at-home learning potential source of anxiety in students
Arizona 360
A $21 million dollar boost for school counselors and social workers from the state superintendent's office will fund an additional 140 positions for two years. It comes as many students are readjusting back to in-person learning after months of attending classes virtually.
Arizona 360 discussed the role counselors and social workers play in their development with Rebecca Hartzell, an associate professor of practice at the University of Arizona College of Education. Hartzell's research focuses on social skills interventions for children with autism and emotional behavioral disorder.
She discussed how the transition from extended at-home learning back to in-person instruction has led to anxiety in some children.
---
Arizona governor vetoes strict sex education legislation
AP
PHOENIX — Arizona Gov. Doug Ducey has vetoed legislation that would have made the state's sex education laws some of the strictest in the nation when it comes to teaching about LGBTQ issues.
The Republican governor called the legislation overly broad and and said he was concerned a ban on sex education before 5th grade could limit sexual abuse prevention education. He also issued an executive order on Tuesday adopting some of the measure's transparency portions.
The proposed law would have barred all discussions about gender identity, sexual orientation or HIV/AIDS in sex education classes unless parents are notified in advance and specifically opt in for the instruction.
---
Navajo students describe pandemic struggles to Jill Biden
AP
ST. MICHAELS — Students on the largest Native American reservation spoke with first lady Jill Biden on Friday about challenges they've faced during the coronavirus pandemic, including poor internet access and feelings of isolation.
The hour long discussion took place at Hunters Point Boarding School, a small, aging grade school on the Navajo Nation. The handful of students were from schools in the surrounding area.
Lesley Tohtsoni teaches U.S. history at the Navajo Preparatory School in Farmington, New Mexico. She says the students talked to Biden about ways to combat isolation and maintain their mental health.
Biden told them help was on the way for broadband through her husband's administration.
---
Arizona Supreme Court questions new education tax legality
AP
PHOENIX — The Arizona Supreme Court appears to doubt whether hundreds of millions of dollars in new taxes collected under a voter initiative enacted in November can be legally spent when a provision of the state constitution caps school spending.
The justices raised the questions during a hearing Tuesday on an expedited constitutional challenge to the new tax on high-earning Arizonans designed to boost school funding.
Opponents of Proposition 208 say the spending cap means $600 million of the $830 million collected can't be spent. Backers say there are ways to spend that cash. The justices will issue a ruling later.
---
Arizona third-grader holds food drives to help in pandemic
AP
CHANDLER — An 8-year-old boy living in metro Phoenix has been staging food drives from his home in response to the pandemic.
Dylan Pfeifer says he is driven by his desire to help people.
He got the idea for the food drives after hearing on the news that some students around the U.S. were having a hard time accessing virtual learning because they didn't have internet. His family didn't know how to provide internet, so they devised food drives instead to help.
Pfeifer has hosted three since October and is thinking about having the next one in June when summer vacation begins.
---
UA students part of nationwide COVID-19 vaccine study
Arizona 360
Students at the University of Arizona are taking part in a nationwide study involving more than 20 college campuses that aims to understand whether people vaccinated against COVID-19 can still transmit the disease as asymptomatic carriers.
The study's principal investigator, Dr. Elizabeth Connick, explained how the study is being conducted and how the findings can serve the ultimate goal of ending the pandemic.
---
UA moving vaccination POD indoors
AZPM
On April 30, the University of Arizona will close the drive-through portion of its COVID-19 vaccine pod and move all operations inside.
The move is due to increasing temperatures. Other state-run pods and facilities run by Pima County are making similar moves due to the arrival of summer temperatures.
The change for the university will not mean a reduction in the availability of vaccines at the university.
The university, like many other vaccine sites, has seen a decrease in demand recently but there are no plans to allow vaccinations without appointments.
---
Appeals court rules against AG in suit over ASU hotel deal
AP
PHOENIX — The Arizona Court of Appeals has upheld a judge's ruling against state Attorney General Mark Brnovich in his lawsuit challenging a deal between Arizona State University and hotel developers.
Tax Court Judge Christopher Whitten had ruled that Brnovich's office didn't have legal authority to file the original lawsuit and expanded it later after a one-year statute of limitation had expired.
Building the hotel on university land would make it exempt from property taxes, and Brnovich argued the deal was an unconstitutional gift to developers.
The regents said the transaction wasn't one-sided because it provided rental payments and a needed conference center and hotel.
---
Mass Vaccination Of Mexican Teachers To Start Soon
Fronteras Desk
Mexico is set to start vaccinating several million education workers.
Starting April 20 and stretching through the end of May, the country hopes to inoculate more than 3 million education employees across Mexico, according to Hugo López-Gatell, a top coronavirus response official.
Teacher vaccinations in Sonora won't start until the third round, which is expected to last a week starting May 5.
Vaccinations in general have been speeding up in recent days in Mexico, with now several days in a row of more than 500,000 doses administered. Well over 13 million doses have now been given, though the rate remains substantially slower than in the neighboring United States.