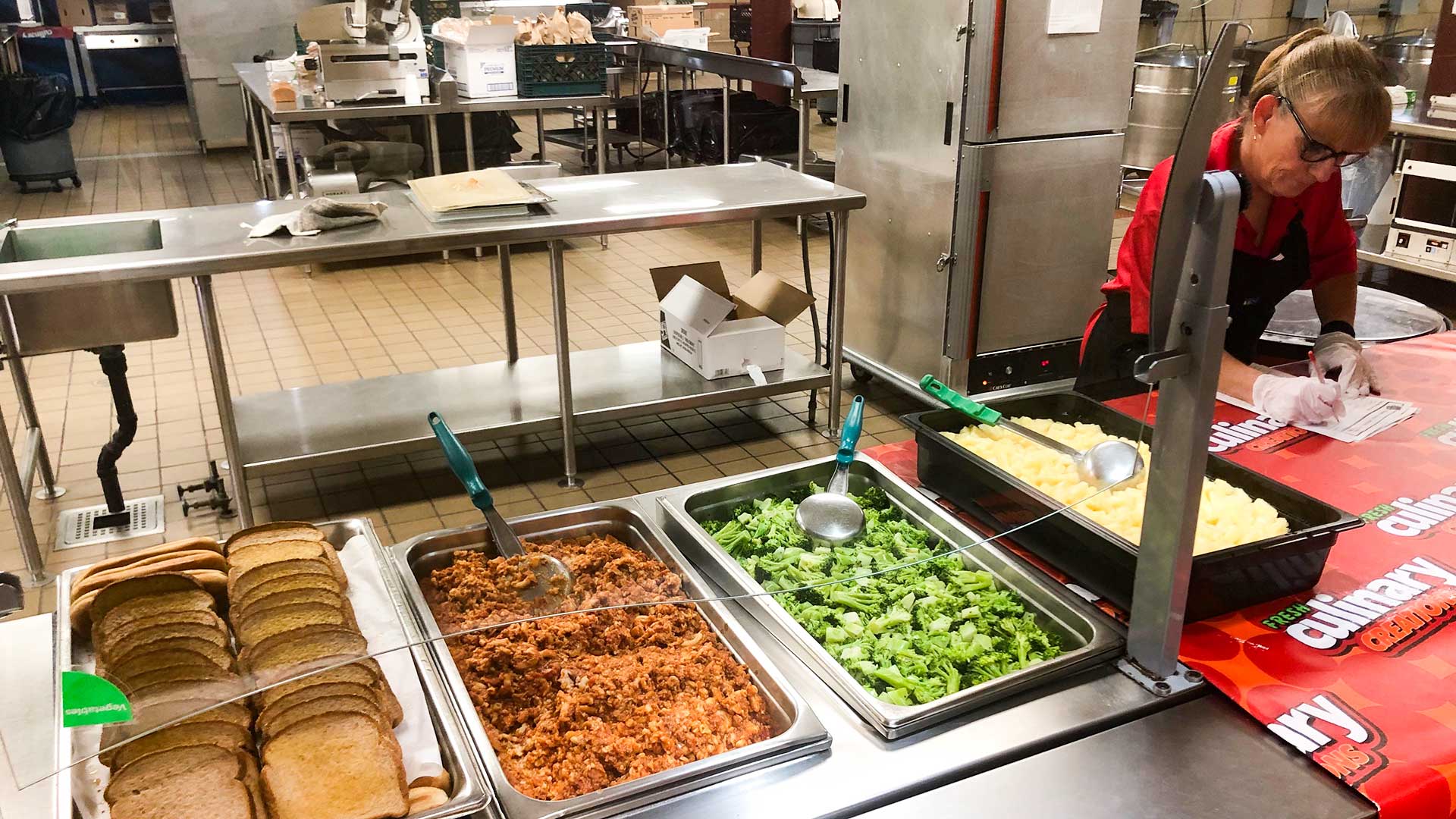 Free lunch and breakfast from the Sunnyside Unified School District fill a need for kids who rely on those meals during the school year.
Duncan Moon/AZPM
About 32 million children participate in the national school lunch program, at about 95% of the country's schools.
Mark Frantz is the director of school nutrition programs for the Arizona Department of Education. He told The Buzz the national school lunch program was signed into law by President Harry Truman in 1946 during the draft, after the military realized that high school students were malnourished and not ready for military service.
In 2010, President Barack Obama signed the Healthy and Hunger-Free Kids Act, which made the first real reforms to the school meals in 30 years — increasing the amount of fruits, vegetables and whole grains, and reducing the amount of fat and sodium.
---
The Buzz talked with two people responsible for getting those meals to students in Tucson.
Lindsay Aguilar is the administrative dietician for the Tucson Unified School District, which serves about 35,000 meals a day during the school year at 86 school sites, including breakfast, lunch and supper meals. She says budget cuts, rising food and labor costs, as well as declining enrollment in TUSD, all present challenges, even as they have to respond to the perceptions of school lunch among students, parents and the community.
Gulen Hicks is co-founder and CFO of Arizona College Prep Academy and the school's national school lunch director. She says she chose to participate in the national school lunch program, despite the administrative costs, because of the benefits to the students and community.
"Given our free and reduced [meal plan] percentage of students, if we do not participate, many of our students do not eat, or they eat incredibly unhealthy, ready-packaged, super cheap, super accessible food," Hicks said.
Both said they've seen positive changes in how students eat and perceive of healthy food and nutrition since the 2010 school meal reforms.
---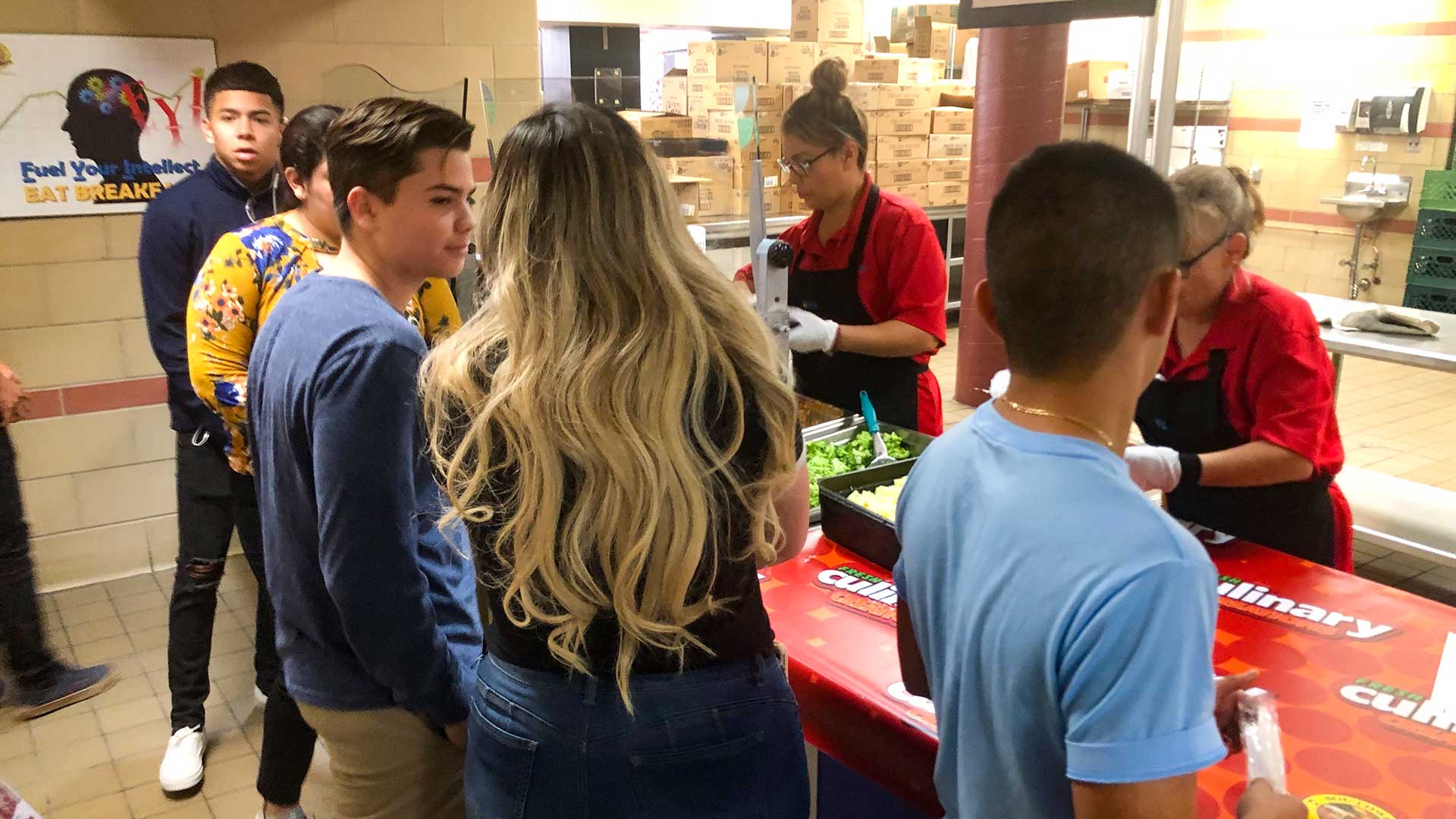 VIEW LARGER Students at Desert View High School getting a summer meal offered by the Sunnyside School District, June 2019.

Duncan Moon/AZPM
Research shows that getting proper nutrition is essential for students to learn. This summer, the Sunnyside Unified School District is again offering free lunch and breakfast to help bridge the gap for kids who rely on those meals during the school year. AZPM reporter Duncan Moon visited one of those schools, and brought us the perspectives of a few students on what they got in the daily hot line.
Below, watch a video created by Tucson high school students with the support of the Beyond Foundation about what they think of their lunch options:
---
For the last five years, Rani Olson has coordinated TUSD's farm-to-school program. She's also working on a new food literacy program as well as nutrition and food systems programs at the University of Arizona. She told The Buzz the farm-to-school program is a bigger effort than most people realize.
"I've noticed this misconception that the farm-to-school program is just about giving students an opportunity to know what a local carrot looks like. And although that's part of it, it's also about educating adults about our food system, about where food comes from, the challenges of growing food," Olson said.
TUSD's farm-to-school program has brought locally-grown lettuce, asian pears and broccoli to students at different grade levels.
Sunnyside Unified School District is working with the Community Food Bank of Southern Arizona on a feasibility study for its own farm-to-school program.

The Buzz
airs Fridays at 8:30 a.m. and 6 p.m. and Saturdays at 3:30 p.m. on NPR 89.1. You can subscribe to our podcast on
iTunes
and NPR One. See more from
The Buzz
.