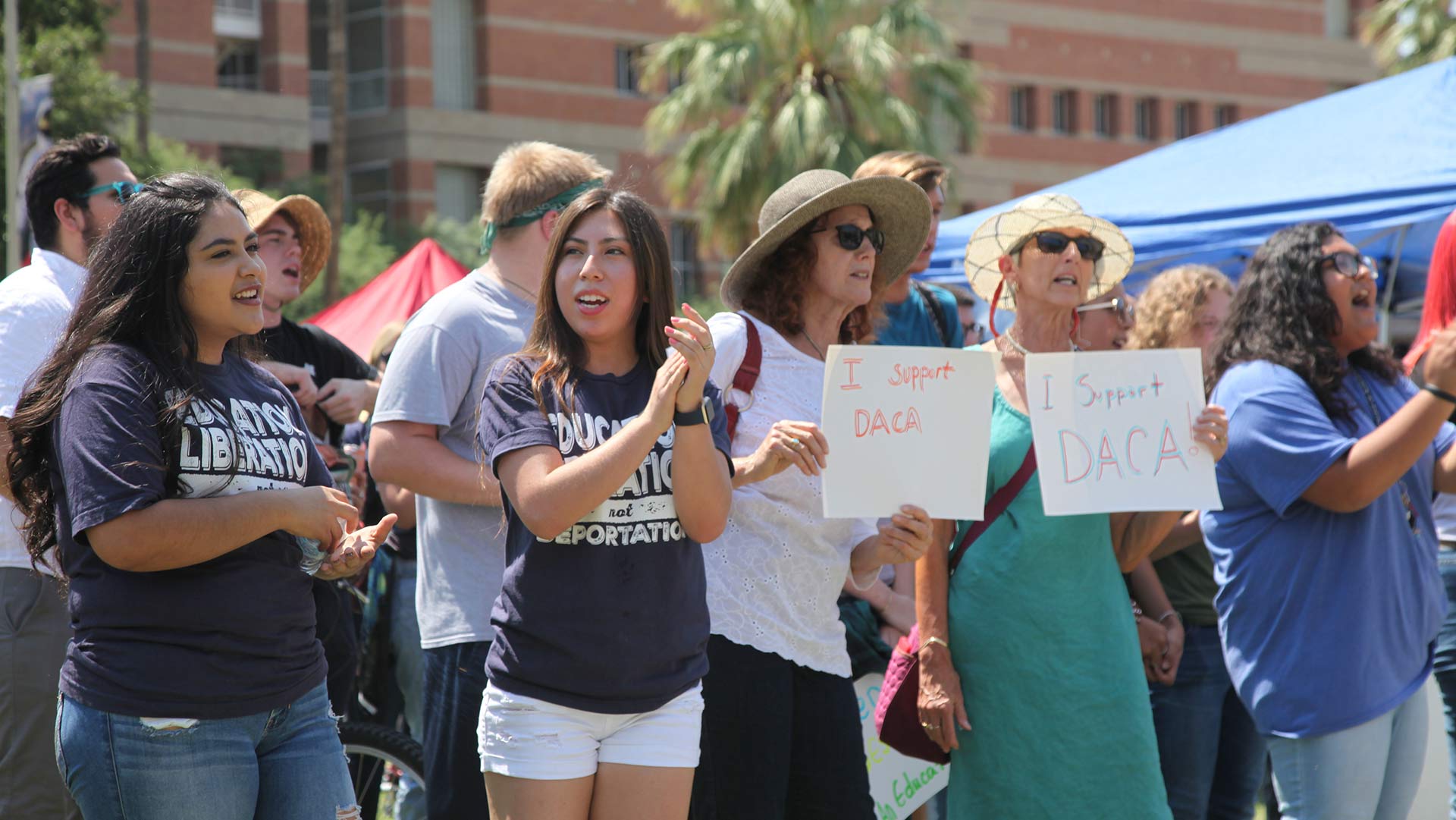 Demonstrators gather to protest President Trump's decision to end the DACA program, September 2017.
Zac Ziegler, AZPM
The U.S. House passed a bill this week that would provide a path to citizenship for undocumented immigrants who were brought to the country as children. A nonprofit focusing on social services for the Hispanic community is partnering with academic institutions across Arizona to raise college scholarship money for "Dreamers."
Students in the Deferred Action for Childhood Arrivals program used to qualify for in-state tuition in Arizona, but in April 2018 the Arizona Supreme Court decided that these students should pay out-of-state prices for their education.

"After this ruling, these students basically woke up to find that in some cases their tuition has tripled. Students are paying on average $6,000 more per year than when they were able to pay in-state tuition," said Veronica Carillo, the donor relations manager for Chicanos por la Causa.
She said to offset the added costs for students, the Keep the Dream Alive fundraiser will need to raise $9.6 million to get the 1,600 DACA students enrolled in the three public universities in Arizona, Maricopa Community Colleges and Pima Community College through one academic year.
A report by the Migration Policy Institute found that approximately 2,000 undocumented immigrant students graduate from Arizona high schools each year.
According to a press release from the group, the higher price tag prompted hundreds of students to drop out of school, and Carillo said she expects more students will follow. She said that one student told her that the higher cost of tuition makes her question whether a college education is still worth it.
"There's just a huge financial need. A lot of students out there who started to get their education are ready to finish, and they're just kinda stuck right now — just waiting to see what's gonna happen," said Carillo.
Though the DREAM Act passed the House Tuesday, it's unlikely to pass the Senate.