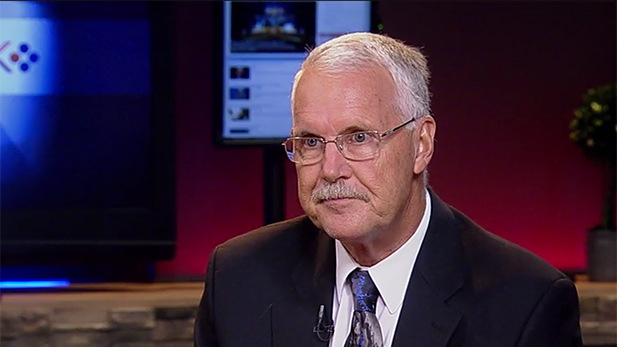 Then-Flowing Wells School District Superintendent Nicholas (Nic) Clement speaks to Arizona Week in 2011. (PHOTO: AZPM Staff)
The Tucson Unified School District Governing Board is moving forward with the search for a new superintendent with the appointment of an independent consultant, who will host community forums on Thursday, June 8.
Former Flowing Wells Superintendent Nic Clement was appointed by the board to facilitate the process, he said, and "bring on board the best-qualified candidates based on the profile developed by the board and the stakeholders."
That's part of an eight-phase board-approved plan, he said. He'll be working to build a profile of the ideal candidate by reaching out to community members and district employees, including via the June 8 "interactive sessions." Clement told Arizona Public Media he's met with more than 200 stakeholders in three days.
He's also tasked with making the whole process transparent while maintaining the confidentiality of applicants and following open-meeting laws.
He'll be receiving a fee based on the amount of time the process takes, he said. It is capped at $8,000.
The data he gathers will be analyzed pro bono by a researcher at Northern Arizona University, and Clement will present the themes from that analysis to the board at a June 13 meeting, he said. That profile will be used to help select a local or national candidate for the position.
The posting for TUSD superintendent will close June 30, according to Clement.
The search for a new superintendent was preceded by the resignation of H.T. Sanchez following pressure from a board majority. Sanchez took a $200,000 buyout of his five-year contract, which was set to expire next year. Assistant Superintendent Gabriel Trujillo was appointed as interim until June 30 with the option to extend.
Three two-hour forums will held in roundtable format on Thursday at the Duffy Community Center multipurpose room, 5145 E. 5th St., starting, respectively, at 10 a.m., 1 p.m. and 5 p.m.
You can also submit questions and feedback to clementn53@gmail.com.