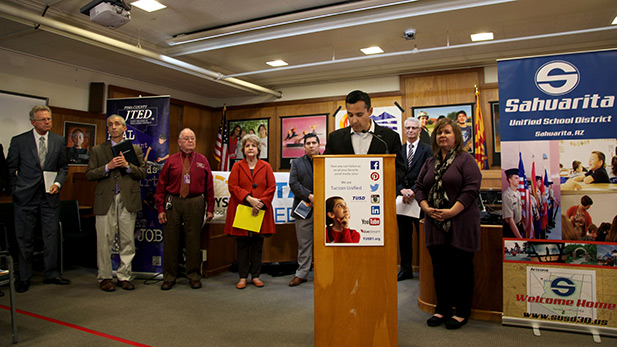 Former TUSD Superintendent H.T. Sanchez at joint press conference with other Pima County school leaders. (PHOTO: Fernanda Echavarri, AZPM)
Tucson Unified School District will hold another teacher recruitment job fair Saturday, with more than 250 teaching positions open, including more than 50 for the current school year, which ends in one month.
The district said in a news release Wednesday that qualified teachers will be hired on site at the job fair, which will be at Catalina High Magnet School, 3645 E. Pima St., from 9 a.m. to 1 p.m.
TUSD and many other public school systems in Arizona have struggled to fill teaching jobs. Teachers union representatives have said the state's low teacher pay is a key reason jobs remain vacant.
Starting salary for a teacher in TUSD with a bachelor's degree is about $37,000 a year.