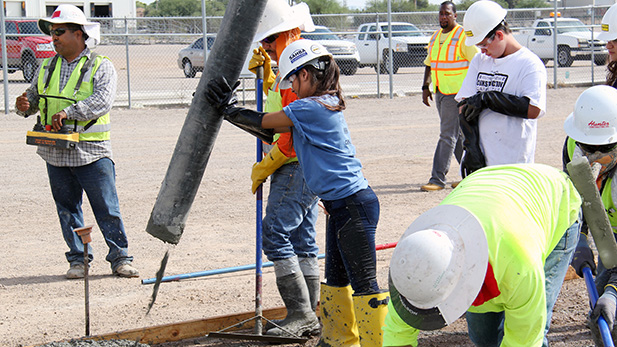 Participants working with concrete at Southern Arizona Construction Career Days, 2016.

Courtesy of Pima County JTED
The rollout of a new school A-F grading system in has been bumpy for the Arizona Board of Education, but Pima JTED officials have called it a "game changer."
The letter grades, currently in "preliminary" status pending a review, initially received criticism from some school administrators who came with a list of complaints, which included claims of improperly coded data and the use of criteria that unfairly penalize certain schools.
In spite of that, officials in the field of career and technical education (CTE) say the new A-F School Accountability Plan is a step forward.
That's due to a shift in the emphasis on "college and career readiness." For high schools, the new rubric weights this index at 20 percent. It awards points to schools for both "college-ready" criteria, like standardized test benchmarks or special diplomas, as well as "career-ready" measures, which include CTE credentials or courses.
Under the system, a school can earn points if students acquire credentials in trades like carpentry, cosmetology, welding and dental assisting. JTED officials say that is pushing the attention of schools toward their programs, which provide such technical education.
And the incentive for schools, in terms of their letter grades, is "significant," said Curt Bertelsen, director of professional development with Pima JTED. Officials there said they've seen increasing interest from public and charter school administrators.
"The idea from the [Arizona Board of Education] was that as many kids as possible leave both college- and career-ready so that they have as many doors open to them as possible," Bertelsen said.
The sweet spot is the push to provide students a well-rounded education, he said, but added that there are also students who will not go to a four-year college, for a variety of reasons. Expanding CTE programs offers more options for the students who will be looking for work right out of high school.
Pima JTED spokesperson Greg D'Anna said providing options for training in certain skills fills a critical need in industries like construction, which has faced a shortage of skilled labor in recent years.
A focus on CTE in the accountability plan is sound not only in terms of school assessment methods but also in terms of an education perspective with students at the center, Bertelsen said.
Standardized tests don't provide a "very well-rounded view of what's going on in schools, because there's so much more to what's going on in a student's education than just math and English," he said.