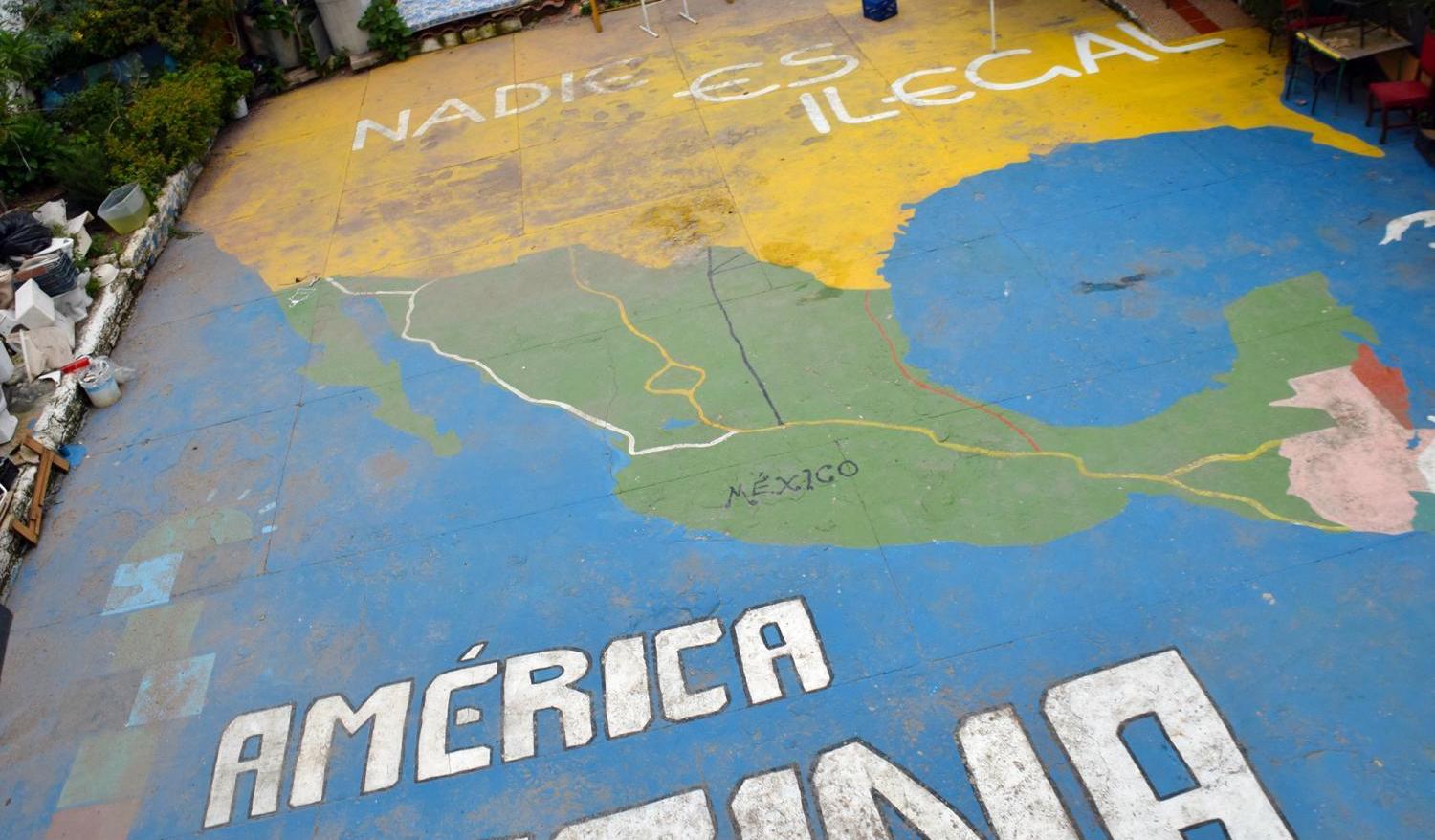 A map of North and Central America on the patio outside the El Refugio migrant shelter in Guadalajara, Mexico, says "Nobody is illegal."
Kendal Blust/KJZZ
The number of people applying for refuge in Mexico last year reached a historic high. But the country admits its refugee agency is struggling to keep up with the increasing number of asylum applications.
Last year, 131,448 people applied for asylum in Mexico. That's 87% higher than the previous record set in 2019, according to Andrés Ramírez, head of Mexico's refugee commission (COMAR).
For the first time, asylum seekers from Haiti made up the largest portion of applicants.
The increase in asylum applications comes as Mexico has ramped up immigration enforcement to prevent migrants from reaching the United States, and the U.S. continues to enforce hardened asylum policies.
However, Mexican leaders acknowledge the refugee commission is under-resourced for the increased demand.
"COMAR needs more personnel and it needs a greater budget," Foreign Secretary Marcelo Ebrard said during a press conference last month, adding that Mexico as receiving assistance from the United Nations to improve its asylum system.
Migrants and asylum seekers in Mexico face well-documented risks, including extortion, kidnapping, rape and assault. The deaths of at least 54 migrants and asylum seekers killed when a trailer crashed on a highway in southern Mexico last month highlighted some of the dangers people face traveling through Mexico.
Nearly 52,000 Haitians applied for asylum in Mexico this year — nearly 800 times as many as sought refuge in the country in 2020. Ramírez said on social media that significant increases in asylum applications from Chile and Brazil included large numbers of children of Haitian asylum seekers who had previously migrated to those countries. Many Haitians are seeking asylum as their country faces political and economic turmoil and repeated natural disasters.
People fleeing violence and poverty in Honduras made up the second highest number of asylum seekers in Mexico in 2021, followed by those from Cuba, as well as other parts of Central and South America.

Fronteras Desk
is a
KJZZ
project covering important stories in an expanse stretching from Northern Arizona deep into northwestern Mexico.