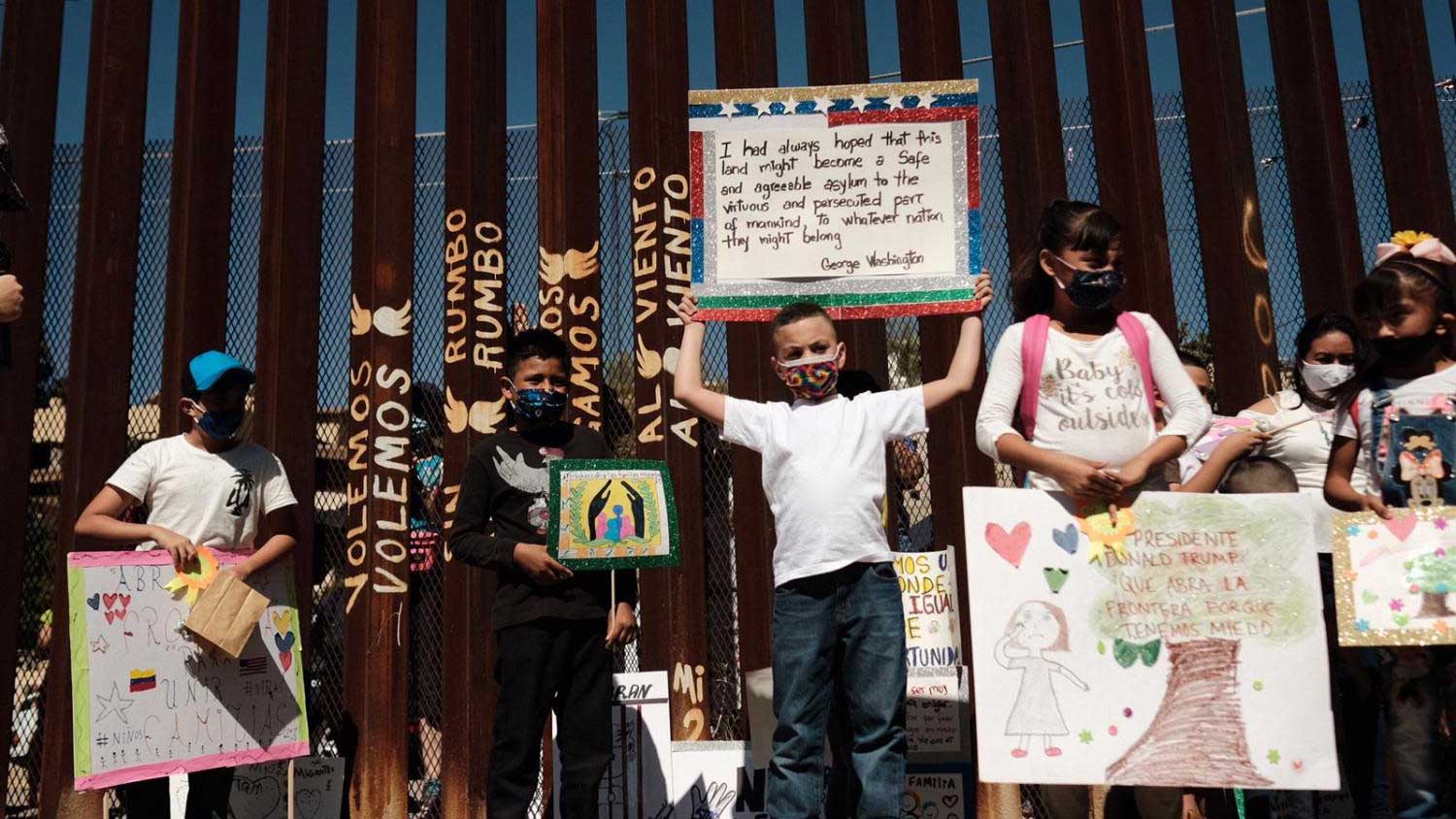 VIEW LARGER Children who are waiting for asylum in the United States with their families in Nogales, Sonora, marched to the border wall Wednesday, Oct. 21, 2020, to ask the United States to open the border to them.

Sara Ritchie
In a letter to the US Department of Homeland Security this week, Governor Doug Ducey raises questions about how President Joe Biden's new asylum processing protocols will impact Arizona.
On Friday, DHS began processing asylum seekers in San Diego who were part of the Migrant Protection Protocols, a controversial Trump administration policy that forced thousands of asylum seekers to wait in Mexico for immigration court dates in the US.
In his letter to DHS, Governor Ducey said Arizona border sheriffs and community leaders were concerned about how a possible influx of people would affect aid groups and resources — especially during the COVID-19 pandemic.
"My office has heard concerns from law enforcement and border communities that repealing MPP will result in a significant influx of unvetted individuals in the United States across the national border with Mexico," the letter read. "It is necessary and beneficial to consider the infrastructure and resources needed to monitor, care for and protect both the incoming individuals and the surrounding communities — especially as our country and state are still combating the COVID-19 pandemic."
Before MPP was in place, Arizona community organizations stepped in to help asylum seekers awaiting hearings. In a separate letter to DHS this week, southern Arizona Representative Raúl Grijalva asked the federal government to provide supplemental funds to allow the work of local organizations to begin again.
"As these organizations, cities, and counties continue to support asylum seekers and families, time is of the essence," Grijalva said in the letter. "Furthermore, any additional funds allocated to provide humanitarian relief, should only be used to support these efforts. I hope that you recognize the urgency and reply to this letter as soon as possible."
But so far, all of that is theoretical. That's because only asylum seekers in Tijuana, Matamoros and Juarez will be processed to start. Those waiting at Arizona border ports will not be processed right away — and aid groups say they're not sure when that will change.
MPP cases have been on hold since the onset of the pandemic last spring. Yvette Borja, a staff attorney with the ACLU of Arizona, said that's caused a significant backlog in legal cases and left migrants stranded. Now, as processing begins again, she said Arizona's leadership should focus on allocating resources to the aid groups waiting to assist that effort, rather than resisting the change.
If more resources need to be given to these community organizations then so be it," she said. "It can't just be, 'let's stick our head in the sand and act like this problem of migration just occurred because of people migrating, rather than all these causal effects that boil back down to Trump and his decisions."