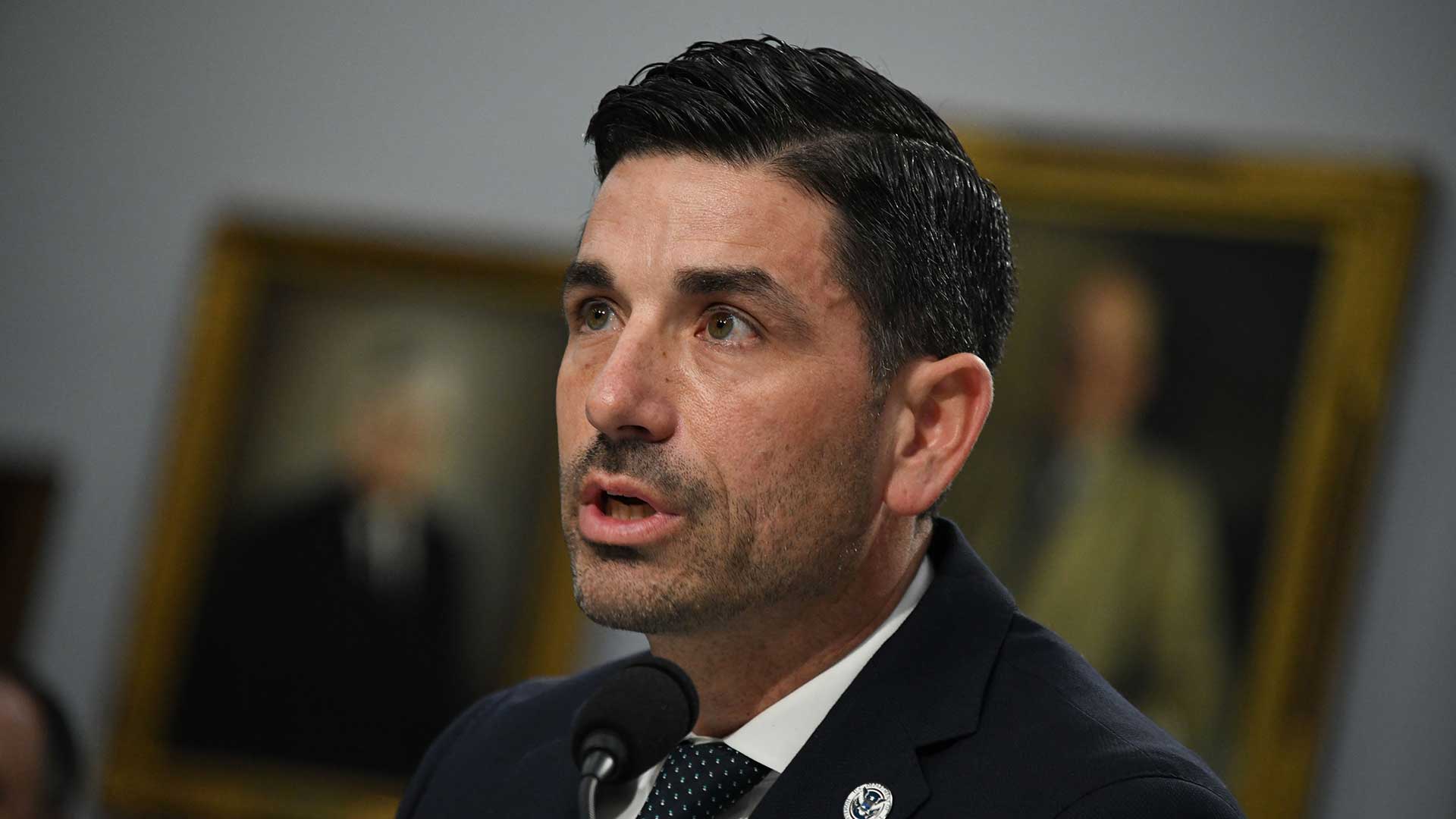 Acting DHS Secretary Chad Wolf, Feb. 26, 2020.
Tara A. Molle/DHS
During a visit to Arizona Tuesday, Acting Secretary of Homeland Security Chad Wolf saw a port in Nogales and took part in an aerial tour of the border wall before addressing the media at a Customs and Border Protection coordination center in Tucson.
Wolf discussed personal protective equipment for agents, the adoption of expedited deportations during the pandemic and new wall construction. He said a total 180 miles of new border wall had been built so far and 400 miles could be walled off by later this year. After Arizona, Wolf is scheduled to see more border wall segments in California.
Several environmental and civil rights groups have filed suits against the project. They say it damages delicate wilderness areas like Arizona's Organ Pipe National Monument and construction is slated for rugged areas where Border Patrol apprehensions have historically not taken place. Wolf said construction was continuing despite the opposition.
"[Customs and Border Protection], Border Patrol meets with these groups, we try to accommodate any concerns they have," he said. "But at the end of the day, I think the administration has been very clear on this front. Border security is national security is homeland security."
Border lawmakers and communities have also criticized the Trump administration for continuing work on the border wall during the coronavirus pandemic.
In a press release Tuesday, Southern Arizona Congressman Raúl Grijalva reiterated his call to halt construction and divert funds to address the public health crisis.
"Instead of focusing on the public health emergency raging across the country, the Trump administration remains hellbent on constructing the President's useless vanity wall," Grijalva said in a statement. "This shameful publicity stunt it nothing more than a pathetic attempt to deflect from Trump's failure to adequately address the COVID-19 pandemic and keep Americans safe."
Wolf said the agency recorded just under 17,000 border apprehensions in April — a record low he said was the result of several policy changes in the last few months. He also said as front-line workers, DHS personnel, including Border Patrol agents, are supplied with personal protective gear like N95 masks.
Wolf said TSA screeners are now required to wear masks at work. He said Border Patrol agents are "strongly advised," to do the same, but said it was still not a requirement. Border residents say agents they encounter at checkpoints are frequently unmasked and not practicing social distancing.
"Everyone I saw, even folks that really weren't coming into contact with me, were all wearing PPE, so I really don't think that's an issue at all," he said.
In a photo shared by the secretary on Twitter, he's seen unmasked with two agents, both of whom are also not wearing masks. Video shared by Customs and Border Protection shows Wolf without a mask during various parts of his tour.
Customs and Border Protection has reported around 340 cases of the coronavirus within its ranks, including six in Arizona.