Families seeking asylum await processing outside the port of entry in Nogales, Sonora, on Sept. 4, 2018.
AZPM
The Arizona Chamber of Commerce says the Trump administration's immigration reform plan doesn't go far enough.
Chamber president Glenn Hamer predicts that without addressing a solution for "dreamers" — those who were brought into the U.S. as children — or legal immigrants to work in agriculture or the hospitality industries, the president's immigration plan is dead on arrival with Congress.
At a news conference, President Donald Trump announced that his immigration plan would be "the best and biggest border security plan any country has ever proposed."
While there were few details, the president did say that more money is needed to finish his wall and to hire more Border Patrol agents.
Trump proposed a merit-based system which means that the best-educated and highly trained people would go to the front of the green card line.
Hamer says in Arizona there is an urgent need for workers in agriculture and the hospitality industry. In other words, he says, in fields and hotels.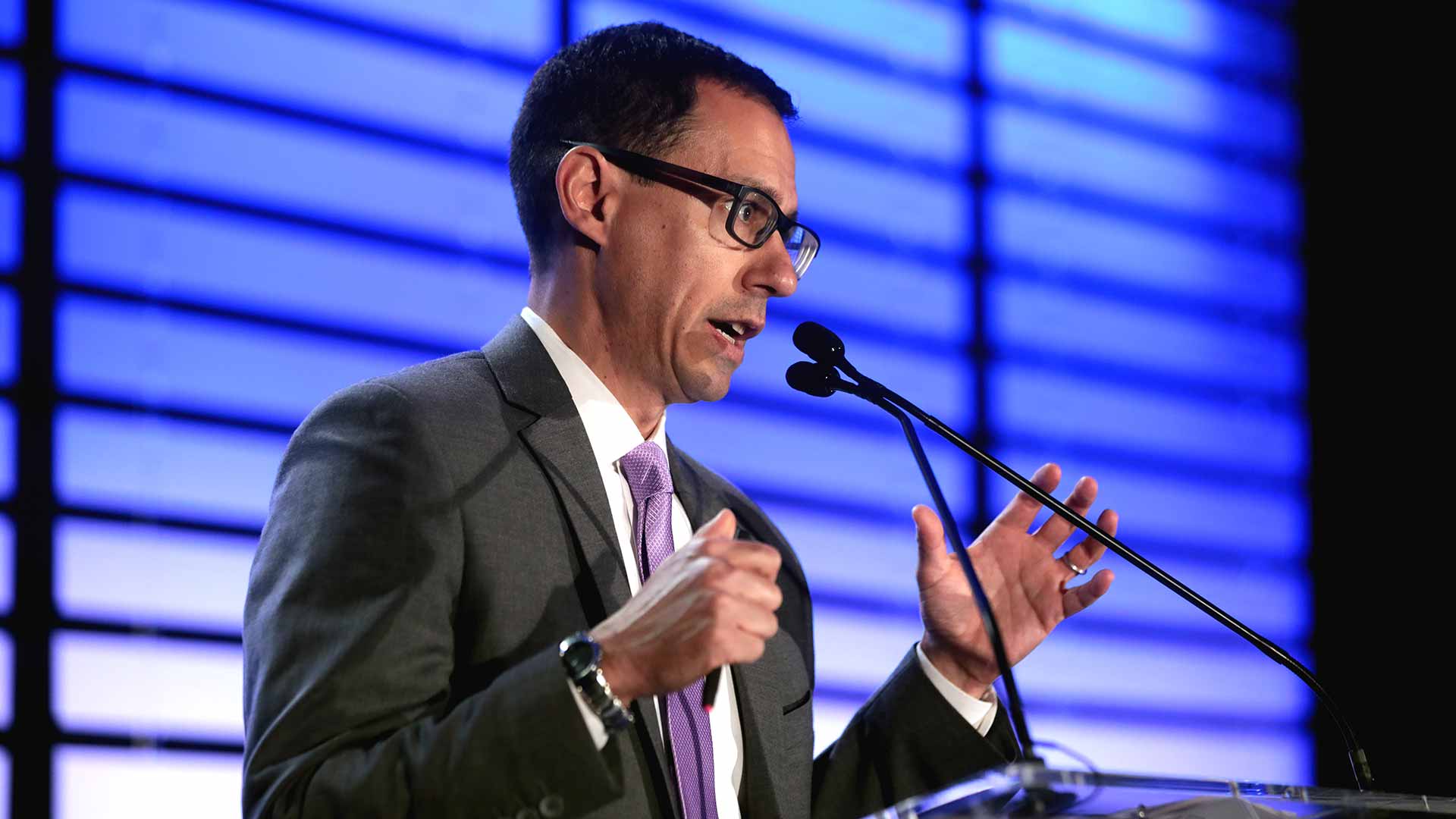 VIEW LARGER Glenn Hamer, president of the Arizona Chamber of Commerce, January 2019.

Gage Skidmore/Flickr (CC BY-SA 2.0)
"Agriculture in Arizona is an $18 billion industry. Tourism, depending on how you count it, has easily north of 200,000 jobs. These are core base industries for the state of Arizona that desperately need workable visa programs."
Congress will need to approve any immigration plan. Hamer warns that without addressing the need for workers to enter legally to work in agriculture or the hospitality industries the president's proposal will not be taken seriously by Democrats, moderate Republicans or independents.
Trump released his proposal Wednesday, and on the same day, his ally Sen. Lindsey Graham published his own plan to address the refugee crisis by allowing lengthy detention of families at the border, describing the separate White House proposal as a more general attempt to unify Republicans.
"The White House's plan is not designed to become law. This is designed to become law," Graham said during a video livestreamed from his Senate office.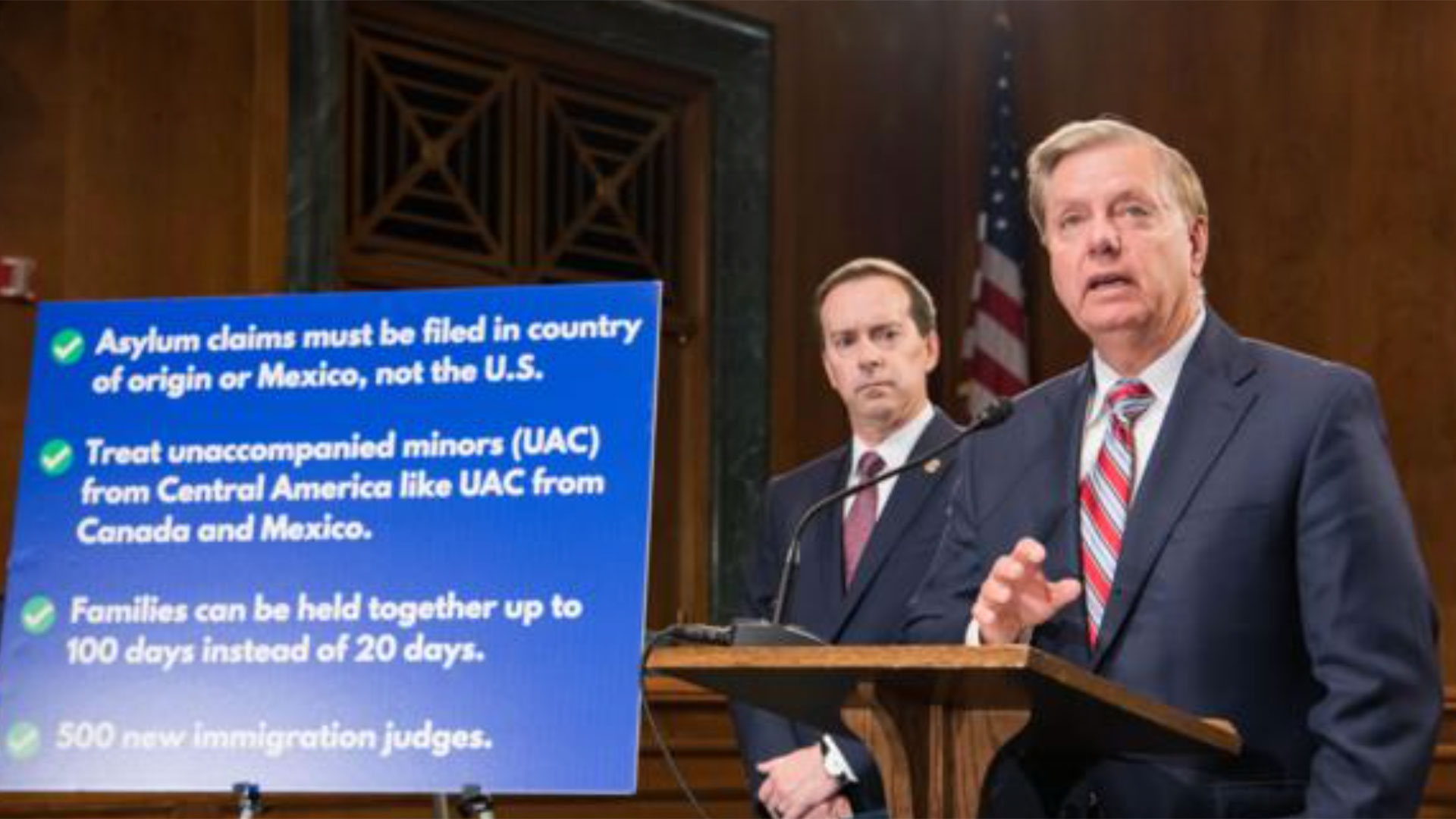 VIEW LARGER Sen. Lindsey Graham introduces his new immigration plan in this May 15, 2019 media release photo.
Graham's proposal is aimed at addressing the humanitarian crisis at the border and the issues of poverty and violence occurring in Central America. His bill focuses exclusively on immigration from Central America.
"A wall will not fix this," said Graham, the chairman of the Senate Judiciary Committee. At the news conference streamed from his office, he said, "No matter how high the wall will be built … no matter how many agents you put at the border, they'll keep coming because they want to get caught."
Graham proposed to outlaw asylum claims at the U.S. border and require asylum applicants from Central American countries of Guatemala, El Salvador and Honduras to apply for asylum at a U.S. embassy in their own countries.
Meantime, the Department of Homeland Security has requested U.S. troops build tents to house up to 7,500 migrant adults.
According to a news release from Homeland Security, Border Patrol processed 40,000 children immigrants in April alone. Right now, there are 13,000 minors in custody of the Health and Human Services Department. These are primarily older children and teens who travel to the U.S. without their parents.