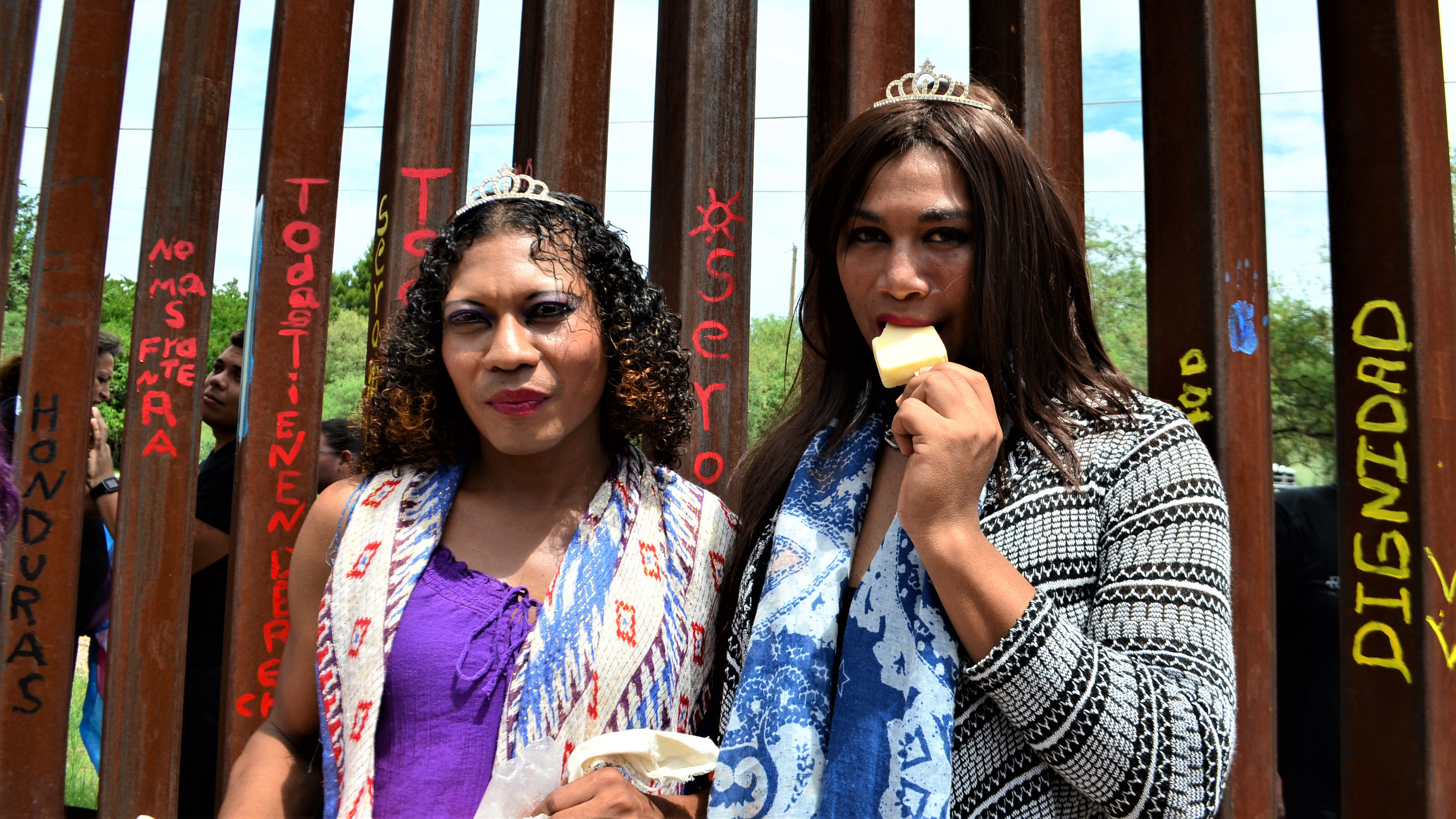 Joseling, left, and Estefany stand in front of the border fence, before walking to the DeConcini Port of Entry in Nogales, on August 10, 2017.
Maria Inés Taracena
Arcoiris 17, Rainbow 17
Estefany has many scars—some are visible on her face—lifelong reminders of the death threats and abuse she survived in Honduras. She has short, curly black hair. Her brown eyes are round and wide. She wears bright pink lipstick, and her lashes stretch all the way up to her eyebrows.
"We're made of flesh and bone. We have a heart, we have feelings. We want to be supported," she says. Estefany is a 22-year-old transgender woman. She's alive, nearly 2,000 miles away from her home country, after escaping violence that nearly killed her. "We are brave women. We made it here to México. There are things that happened to us in our home countries that we want to forget. The only thing that's left is to move forward and become stronger. What we saw was brutal, but something good will come out of it."
Estefany, along with 15 transgender women and gay men from Guatemala, El Salvador, Honduras, Nicaragua and México, arrived to Nogales, Sonora on July 25. One person joined the caravan days later. The Rainbow 17 — that's what supports have nicknamed the first trans-gay migrant caravan — crossed many borders, exposing the violence inflicted on LGBTQ people in Latin America, and the abuse and exploitation of Central American migrants in México.
On Aug. 10, they turned themselves in to immigration officials at the Dennis DeConcini Port of Entry near downtown Nogales, Sonora, to request asylum in the U.S. They were sent to immigration detention centers in New Mexico.
But before they requested asylum at the border, they stopped at the Home of Hope and Peace, or HEPAC, a shelter in Nogales, Sonora.

On one Sunday morning, they rest and cook breakfast there.
Kevelin Nahomi, also a transgender woman from Honduras, and her partner José sit across the table from Estefany. They have been together for five years, and wanted to get married in México so that they wouldn't be separated once on U.S. soil. They were unable to wed and as a result are currently in separate detention centers in New Mexico.
"I have lived through a nightmare this past year. I want to wake up," Nahomi says, as she tries to eat some breakfast at the shelter. She talks about her two children, who are back in Honduras. She also misses her mother. "It's so hard to hear them through a phone and not be able to see them." She begins to cry.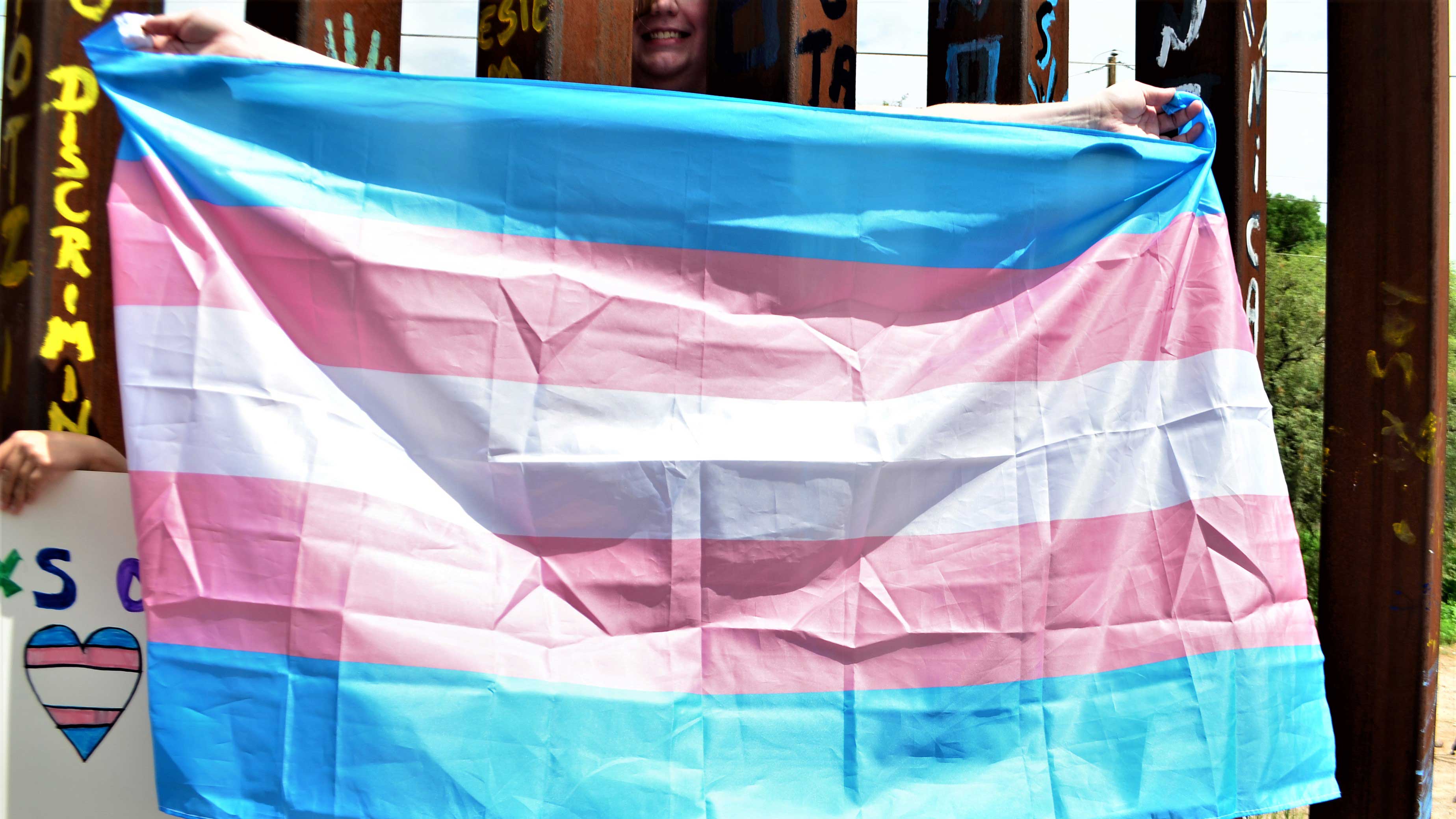 Maria Inés Taracena
Nahomi and José were granted political asylum in México in December. However, the violence and discrimination—not only for being transgender and gay but also Central American migrants—made México unlivable. They say the violence was constant. One day, they were beaten so badly that one of Nahomi's breast implants punctured. While Nahomi was in Nogales, she had health problems because the implant was leaking oil inside her body. It's unclear whether she received medical treatment in detention.
Jerson, a young gay man from Honduras, also eats breakfast.
"When you leave your country, you expect to be protected and want to feel like nothing bad will happen to you again," he says. Jerson fled to México, but he says it was just as bad as Honduras. "I would get a job and be exploited for hours, knowing sometimes I would only get paid a plate of food."
Many members of the Rainbow 17 met in migrant shelters in southern México. Others met when they reached Nogales, Sonora. Throughout the trip, they connected with Nakay Flotte and Irving Mondragón, co-founders of Diversidad Sin Fronteras, diversity without borders—a collective of LGBTQI activists, researchers and documentary makers who collect and expose human rights abuses against refugees and migrant people in North and Central America. Flotte and Mondragón helped organize the caravan. For the most part, they traveled together until they reached Nogales, Sonora on July 25.
"I have been fleeing for almost two years…I could have become an architect, I could have become someone who did something positive for my country," Jerson says. "My father was killed, my brother was killed. I have suffered torture…abuse. Even though I love my country, I don't have anything there."
The Fight Back Home: Guatemala
"I ran away without direction. I just wanted to go to a place where I thought I would feel safe," says Kataleya, a transgender woman from Guatemala. As Kataleya shares her experiences and the reasons she fled, she makes fruit smoothies in HEPAC's kitchen, and pours a glass to everyone in the room. "I never wanted to leave my mother or my siblings. I was forced to leave my country, because if I didn't, I would have been killed."
Kataleya lived in a dangerous slum in Guatemala City, known as El Gallito. Kataleya says that when a group of men found out she is a transgender woman, they beat her and sexually assaulted her. She woke up in a ditch. "I got up and went to see my mom…all beaten up," she says.
Kataleya and her mom left the city and headed to a northern region of Guatemala, close to the border with México. "I escaped to another part of Guatemala, and they did the same things to me. I escaped to Mexico, and they did the same things to me."
She escaped to México, where she eventually joined the caravan.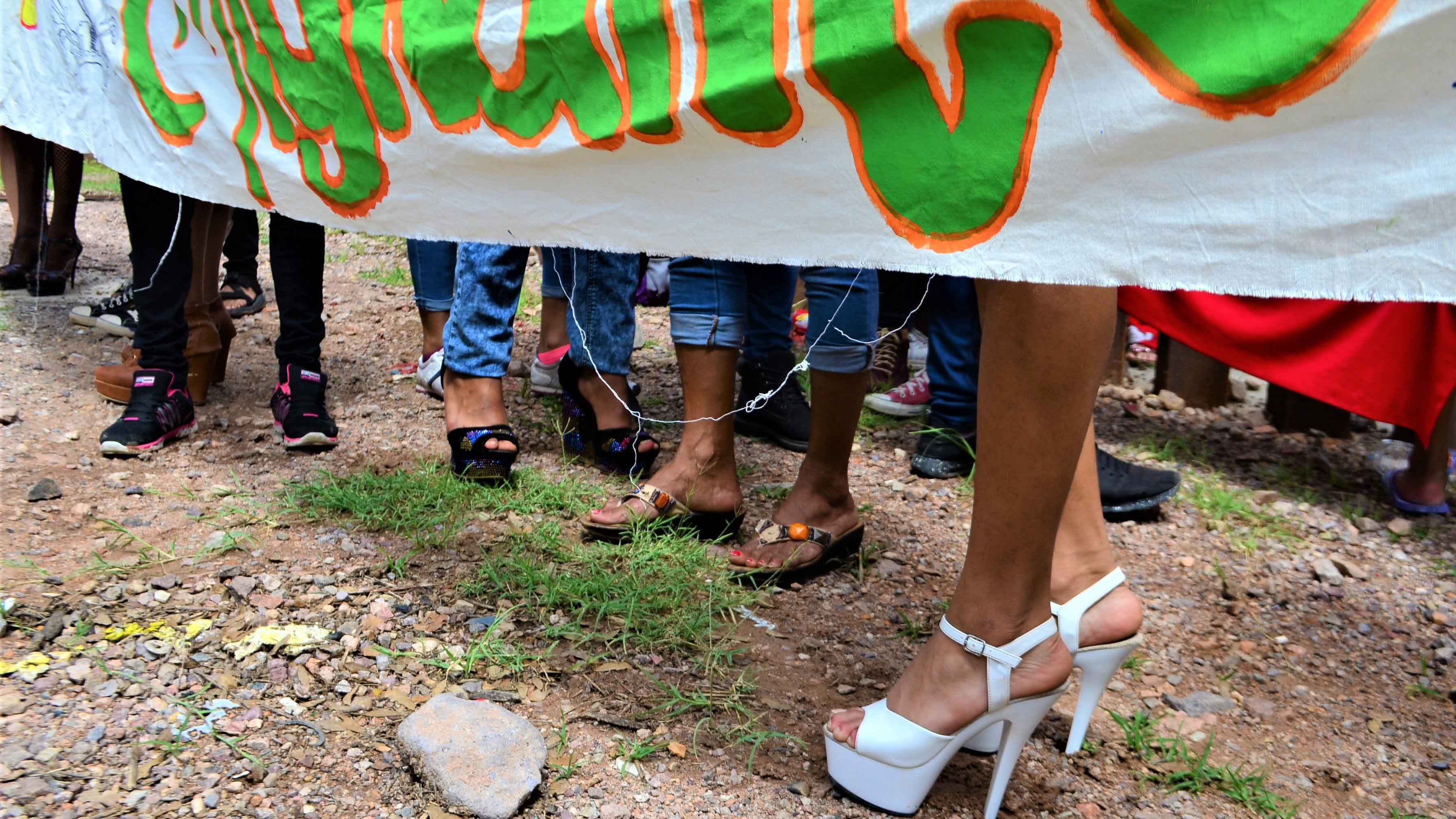 Maria Inés Taracena
In June, LAMBDA Guatemala, an LGBTQI human rights organization based in Guatemala City, in partnership with the Guatemalan chapter of the United Nations High Commissioner for Refugees, published the first report looking into the violent displacement of LGBTQI people in the Central American country. The report, titled Sin Raíz, or, without roots, also shared testimonies of LGBTQI people from Honduras, El Salvador, and other neighboring countries, who have fled to Guatemala or are passing by as they head north. Activists in Guatemala say that when people are violently persecuted, forced to leave their home countries, it shouldn't be referred to as migration—it is a refugee crisis, and they say LGBTQI people should be granted asylum.
"Healthcare, employment, education and justice for transgender communities are still Utopian ideas in Guatemala. There is so much work to do, and that's my fight," says Alex Castillo, a transgender man and activist in Guatemala City. He's the treasurer at LAMBDA and the founder of the first Central American transgender men collective, Colectivo Hombres en Trans-Formación.
"Central American countries function the same way: they are religiously conservative, heteronormative, and they are patriarchal," Castillo says.
The Sin Raíz report says violence against LGBTQI people begins at home and in school. "When I was 10 years old, my father, with a gun in hand, said: 'I'd rather have my son die than for him to be a homosexual,'" a gay man from Guatemala said in the report. There's also lack of job opportunities, because employers won't hire openly gay and lesbian people, or transgender men and women. Guatemala does not have a law that protects LGBTQI people from discrimination at the workplace, or any public realm. For years, activists have fought for an anti-discrimination statute, as well as a gender identity law.
Also, most of those interviewed in the report said they had suffered physical assault, and about one-third said they had survived sexual violence, and mentioned this as the reason they fled.
There have been some political wins through the years. For instance, transgender people can now change their legal name to a name that matches their gender identity. And, in June, during LGBT Pride Month, Guatemala's Attorney General Thelma Aldana placed the LGBT pride flag next to the Guatemalan flag outside her office, as a sign of support for the community. Some say these signs of solidarity, however, are merely on the surface of a society that is violently homophobic and transphobicin ways the Rainbow 17 have experienced.
"We want to build a country and a society that respects diversity," says Guatemala Congresswoman Sandra Morán, the first openly lesbian woman elected to public office. "We have taken a few steps forward. There is still a lot to be done, but we are building that future."
La Entrega/the Surrender
On the morning of Aug. 10, more than 50 people marched in solidarity with the Rainbow 17. It was sunny and humid in Nogales, Sonora, as the group walked on Calle Internacional, a street that runs next to the border wall. The caravan could see the homes in Nogales, Arizona through the slats of the fence. They were only a few meters away from the United States, yet still so far from calling this country their refuge.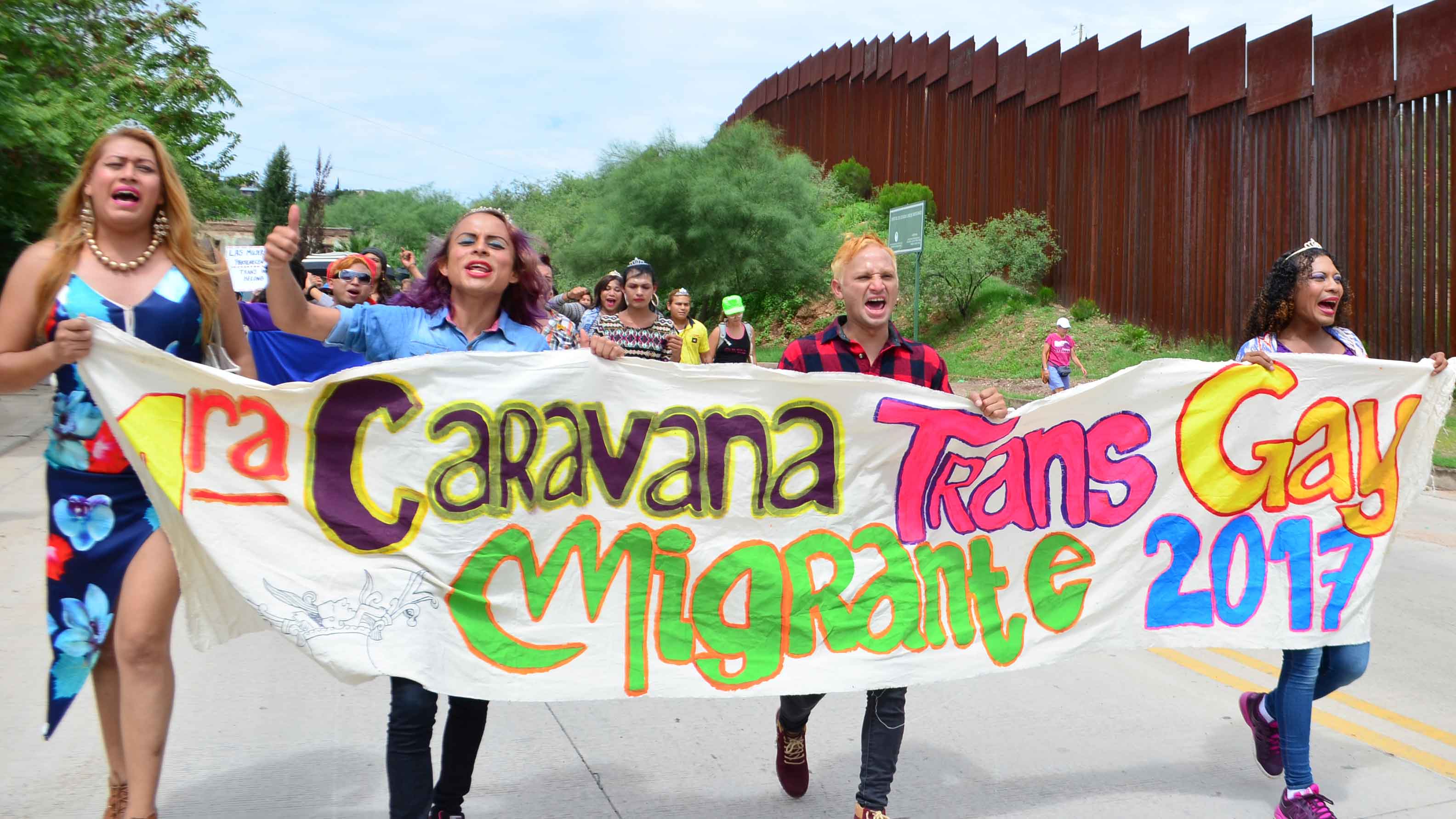 Maria Inés Taracena
By early afternoon on that day, as they held their thick asylum applications, the Rainbow 17 walked to the Denis DeConcini Port of Entry near downtown Nogales and turned themselves in to immigration officials.
Their tears were uncontrollable. They hugged and said good bye to those who took care of them through their journey. As the group entered through the metal revolving doors of the port of entry, supporters screamed words of encouragement.
One member of the caravan was released from detention earlier this week. She is now in New York City with her sponsors, waiting for her asylum case to be resolved. The rest of the Rainbow 17 are split between two detention centers in New Mexico, expect for the only minor in the group, a 17-year-old transgender girl from Guatemala.
The caravan's pro bono legal team—which includes the Oakland-based Transgender Law Center—continue to work with Immigration and Customs Enforcement to release the rest of the caravan on humanitarian parole, as LGBT asylum seekers in detention centers are often physically and sexually abused, according to the Transgender Law Center and other LGBT rights and human rights organizations. Transgender women account for one in five survivors of sexual assault in detention, according to a years-long investigation by FUSION. ICE has said in the past that the agency is committed to "providing for the safety and welfare" of all detainees, including LGBT, and that it takes allegations of abuse seriously.
"What we want is to be protected. We are humans, and we have rights just like everyone else," Nahomi says. "If one of us falls, we help pick each other up, we give each other strength to keep going. We want to be together so we can continue supporting each other."