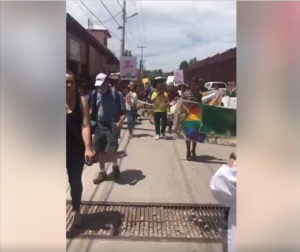 March to support transgender and gay individuals seeking U.S. asylum from Mexico and Central America. (PHOTO: National Transgender Law Center)
Earlier this month, 17 people from Central America and Mexico asked for asylum at the Nogales Port of Entry, saying their safety was at risk because of their sexuality.
Since then, the people helping them with their asylum cases say information about their wellbeing has been limited. The 17 call themselves members of the LGBTQ immigrant community.

Arizona Public Media has learned from their attorneys that all are being held in New Mexico at two different immigration detention facilities. Twelve transgender women are in one city, and the five gay men are in another.
Karen Zwick, from the National Immigrant Justice Center, is one of the attorneys representing the group. She said she fears for their safety.
"It's no surprise that are transgender or perceived of as a feminine gay men are more vulnerable to sexual and physical violence in custody than any other subpopulation of the detention community. "

Zwick said attorneys filed a motion to release the 17 while their cases are pending.
"These are all asylum seekers who have already been through traumatic events in their lives, often including physical and sexual violence and we don't think they should have to seek protection from us in the United States while being subject to conditions that they have experienced in their home countries."

Zwick said community members and organizations have stepped forward to sponsor and support each of the 17 asylum seekers. Immigration and Customs Enforcement is responsible for the asylum cases. The timetable for a decision is unknown. Right now, the U.S. immigration court system is backlogged with more than 600,000 immigration cases.