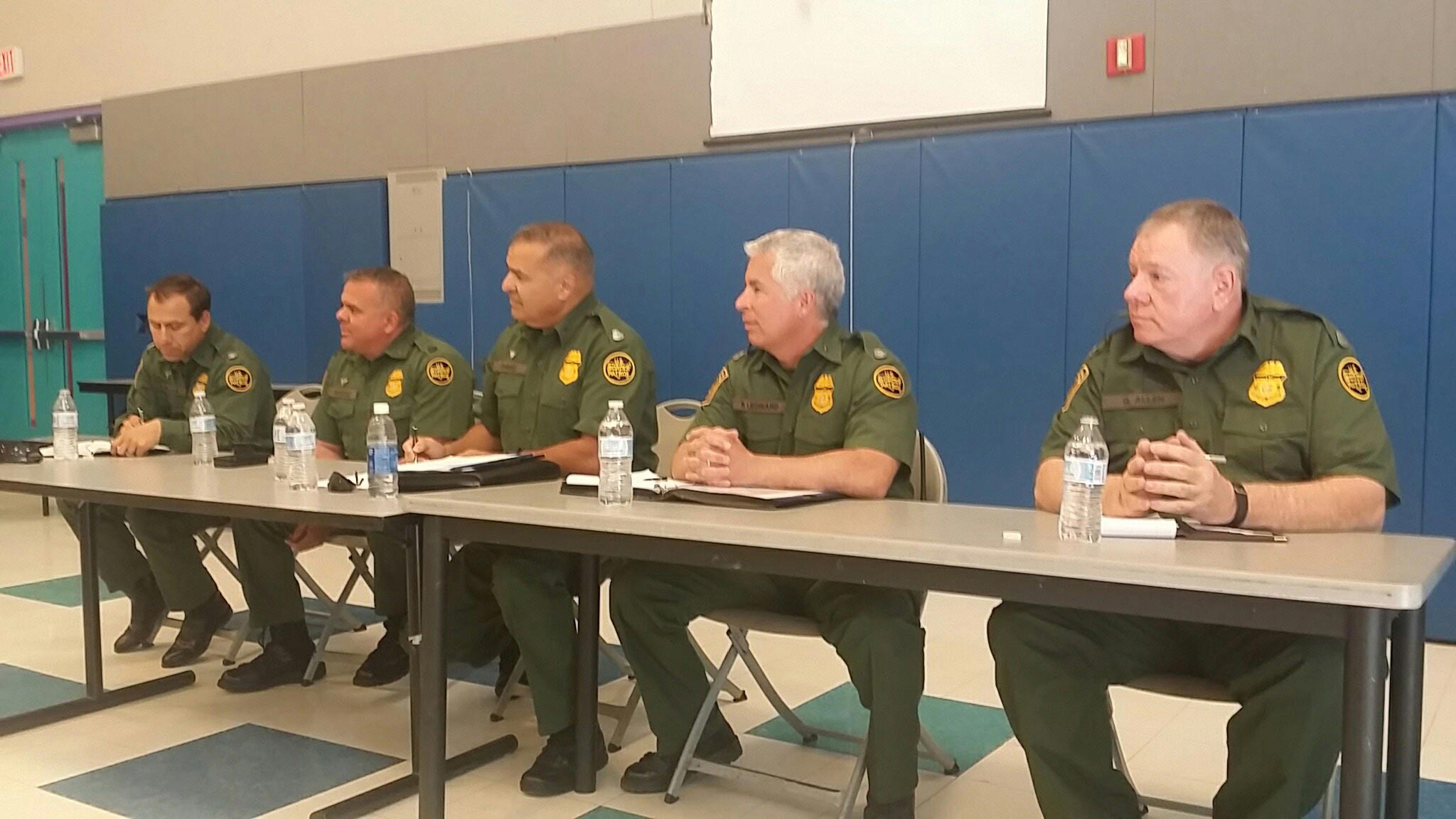 What happens when Border Patrol officials and immigration advocates get together?
Sparks fly, as was the case in a rare meeting in Tucson last week hosted by the Border Action Network.
Representatives from seven human rights groups faced off with the interim chief of the Tucson Sector of the Border Patrol, Felix Chavez, and several of his commanders.
"We're talking about people dying in the desert and the question is why?" participant Jim Marx asked. "To me, there is something radically wrong about a policy that you have to carry out."
O'Malley, a volunteer with Tucson Samaritans, a nonprofit that leaves food and water in the desert for migrants trying to cross in remote areas, was referring to the Department of Homeland Security's efforts, over the years, to bolster security and reinforce barriers near border cities.
The Tucson Samaritans and other human rights groups have said the governmental tactics have forced those trying to cross illegally into the U.S. into remote desert areas that have proven deadly.
"You're saying that the Border Patrol's policy, or DHS policy, or the president's policies are putting people in the desert," Chavez said in response. "I disagree with you. It's the criminal organization, these ruthless smugglers, who these people are turning their lives over to that is putting them into the desert, not the Border Patrol, not (Homeland Security) Secretary (John) Kelly, not the president."
Zaire Livier of AZ Equal Voice Action, which works with immigrants in custody, said immigrants have told of seeing Border Patrol agents destroy food and water left by the Tucson Samaritans for migrants in the desert.
"Many of us have seen videos of Border Patrol emptying out water for these immigrants, kicking them over, peeing inside of them, laughing about it. What is you reaction to that?" she asked.
Tucson Sector Deputy Chief Rolly Leonard responded.
"I saw that video, by the way, of the guy cutting up the water bottles, and I still bring it up in the staff meetings. It was appalling," Leonard said. "He's gone now. He retired from the Border Patrol, and I'm glad he's gone, because like the chief said, that doesn't represent this organization. That's not who we are.
"And if I hear about something like that, as acting deputy chief of the Tucson Sector, then I will initiate appropriate action against that person."
The meeting included some of the harshest critics of the Border Patrol, but participants said they were more frustrated with the U.S. government's failure to come up with comprehensive immigration reform.
"I've spent hours and hours in the desert, building and maintaining the water stations," volunteer Ned Nelson said. "These guys are law enforcement agents. Their duty is to enforce the law. They don't make the law; they just have to enforce it. Now, I can disagree with the law, but I can't disagree with law enforcement."
Some accused Border Patrol officers with having inhumane attitudes toward migrants. To that, Leonard pushed back.
"When we find children abandoned in the desert, young children, we are not emotionless," he said. "It's not like we go home that night and sleep like babies like that doesn't bother us. It has a tremendous amount of impact on us.
"When we find people who have died in the desert and you see pictures of their family members in their hand, it's traumatizing to us. We're human beings, just like all of you are human beings. So there is an emotional attachment for us, as we go about the work of securing the border."
While the meeting was contentious at times, both sides said they regarded it as a positive step.
"I want to thank everybody who took the time to show up here today," Chavez said. "I think the dialogue proves that there is a lot we have in common that we can work together on in order to make the community safer."