Click arrow to play slide show.
Listen to AZPM's Fernanda Echavarri's experience touring Nogales shelter, interviewed by Amanda Le Claire:
Members of the news media were allowed to tour the Nogales shelter housing about 1,000 Central American children Wednesday, for the first time since it was opened nearly two weeks ago.
Inside the approximately 120,000-square-foot warehouse, children and teens slept on 4-inch mattresses, covered up with foil blankets and without pillows.
A boy, who was probably around 10 years old, pressed his forehead against this fence, covered his eyes with his hands and cried. Other children looked tired and were very quiet.
During the tour, boys and girls, not much older than 4 years old, were escorted through one of the hallways, some using their feet to push themselves around tricycles.
Two teenage girls held hands as they sat in the middle of a crowded holding area, staring at about two dozen reporters who passed by.
There were portable showers and toilets outisde, and officials said the children receive three meals a day.
The children and youth were separated by gender and age using fences.
The kids are from El Salvador, Guatemala and Honduras and were apprehended crossing alone into the United States illegally in Texas.

Reporters were not allowed to interact with the children or ask questions. Arrangements were made for one photographer and one videographer to provide their recordings to other news media. The Department of Homeland Security set the same rules for media in Nogales and at the facility in Texas.
DHS did not allow cameras, sound recorders, or cell phones inside the facility which opened a few weeks ago when the Border Patrol began transporting youngsters from Texas, where they had crossed the border illegally unaccompanied by adults.
The U.S. Department of Health and Human Services, through the Federal Emergency management Agency, is running the shelter inside a Border Patrol compound in the border city of Nogales.
The exact number of minors at the Nogales processing center was unavailable but there have been about 1,000 kids there at any given moment since the beginning of the month. Officials with Border Patrol said there is a constant flow of kids coming in from Texas every day and leaving to go to military bases in Oklahoma and California that have been turned into shelters.
After Border Patrol processing, many of these kids will be sent to other shelters or reunited with any family members authorities can locate in the U.S.
From October to June 15 there have been 52,000 unaccompanied minors apprehended at the border, according to senior White House officials.
Liduvina Magarin, the equivalent of Sub-secretary of State for El Salvador, toured the Nogales facility a day after talking to kids at the facility in Texas and said conditions in Arizona are much better than Texas.
"But there are things we still thing could be done better for the kids," she said in Spanish outside the facility.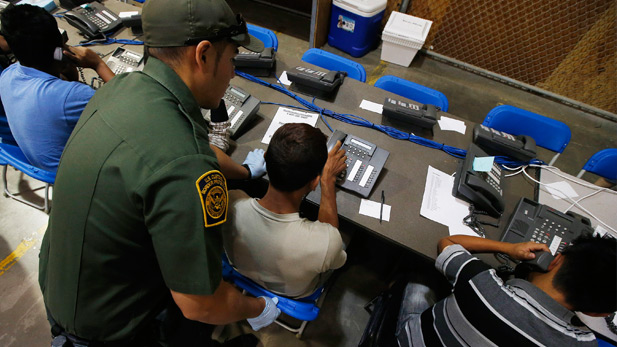 Border Patrol officials say the warehouse has 40 phones available to the kids.

AP