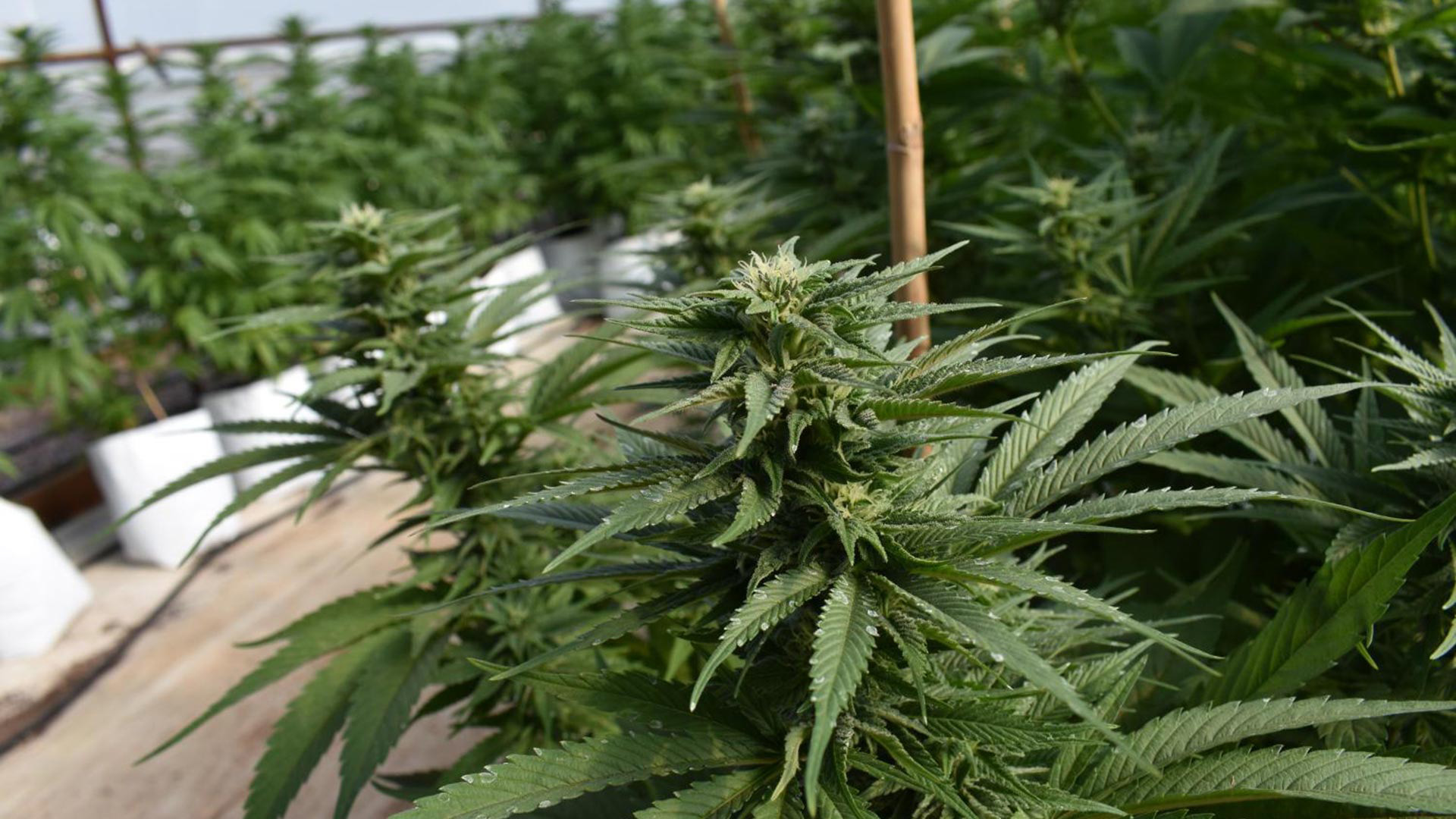 Organic marijuana being grown at an Arizona farm for processing into medical marijuana.
Michel Marizco/Fronteras Desk
When voters head to the polls this November, they'll decide on a marijuana legalization initiative that's appearing on the ballot in Arizona for the first time since 2016.
Medical marijuana has been legal in Arizona since 2010. More than 250,000 Arizonans are medical marijuana card holders today.
This year's Smart and Safe Act, or Proposition 207, looks to decriminalize recreational use. If passed, adults 21 and older could legally use and buy the product, and possess it in limited quantities.
A similar measure narrowly failed in 2016. Prop. 207 spokesperson Stacy Pearson said the new bill is informed by criticisms of its predecessor.
"The most important example [of that] is the criticisms from the business community, who thought that the 2016 initiative did not go far enough in allowing employers to prohibit use by their employees," she said.
This year's bill states employers in Arizona will retain their rights to a drug- and alcohol-free workplace. Pearson said that means if employers were drug testing employees before, they can still do so under Prop. 207.
The proposition also lays the groundwork for a recreational marijuana industry in Arizona. If passed, the initiative would have the Arizona Department of Health Services regulate licensing for recreational storefronts and production facilities. Products would carry a 16% tax — the same as alcohol and cigarettes.
Pearson said revenue from those sales will translate into more money for the state, beefing up funding for institutions like community colleges and the Arizona Teacher's Academy, and public services like fire departments.
Amid record cannabis sales last year, Pearson said the bill is about regulating a product already available in abundance.
"Our opponents seem to think that there's an option three, where the product goes away forever and disappears. That's not an option," she said. "Voters understand what they're deciding — do you want marijuana sold in a store where someone is checking an ID, and it's regulated, and you know what's in it and it's tested and it's taxed, or not?"
But those who oppose the proposition argue the medical marijuana industry already supplies users who need the product for health-related reasons.
Prop. 207 prohibits direct advertising to children and teens. Driving, flying or boating under the influence will remain illegal. Opposers argue those protections don't go far enough.
"It does nothing to address the increased dangers on our roads and actually weakens current DUID laws," said Cindy Hamill, a spokesperson for Arizonans for Health and Public Safety, the leading campaign opposing Prop. 207.
The marijuana industry is a major funder of the initiative. Hamill said medical marijuana operators will have an immediate monopoly on recreational storefronts.
She also argues the bill is not explicit enough about employers' rights or advertising parameters, and doesn't establish a baseline police can use to determine whether a driver is dangerously intoxicated. There's currently no roadside device to test THC levels on the spot.
Pearson said law enforcement officers speaking with her campaign are in the final stages of developing such a tool, and she said the bill is designed to leave room to implement it.
But Hamill argues that, and other changes, would be hard to put into practice because of Arizona's Voter Protection Act, a 1998 state law meant to prevent the Legislature or governor from repealing or changing a law passed by voters.
"If they wanted to just decriminalize recreational marijuana, they could have written a one page doc," Hamill said. "But they wrote 17 pages of changes to Arizona law that affect almost everyone."
Arizona is one of four states across the nation with recreational use bills on the ballot this year. Washington and Colorado were the first to pass legalization bills in 2012. Nine other states have followed.
Seattle-based travel writer and long-time legalization proponent Rick Steves says the last decade has given states time to work through the kinks.
"When we legalized in 2012, we had hunches, we didn't know how it would play out, but we assumed it would be good," he said. "Now there's no question about it."
Steves said at first Washington leadership was opposed to the bill. But current Gov. Jay Inslee feels differently.
"He's glad we've taken a $1 billion market and turned it into a $1 billion legal market, that's providing employment especially rural parts of the state where we need more employment," he said.
In Arizona, proponents also argue Prop. 207 will bring about other important changes in criminal justice.
The bill stipulates at least 20% of recreational storefront licenses go to owners from communities negatively impacted by drug policy.
The bill would also provide a pathway for an estimated 200,000 people with felonies for low-level marijuana use to have those charges expunged. Proponents of the bill like the ACLU say that would help reduce racial disparities in drug charges.
Polls show it will be a close vote, with one September count from Phoenix-based OH Predictive Insights showing support at 46% and opposition at 45%.

Read more coverage of national, Arizona, and local elections at our 2020 elections portal,
Your Vote 2020
.