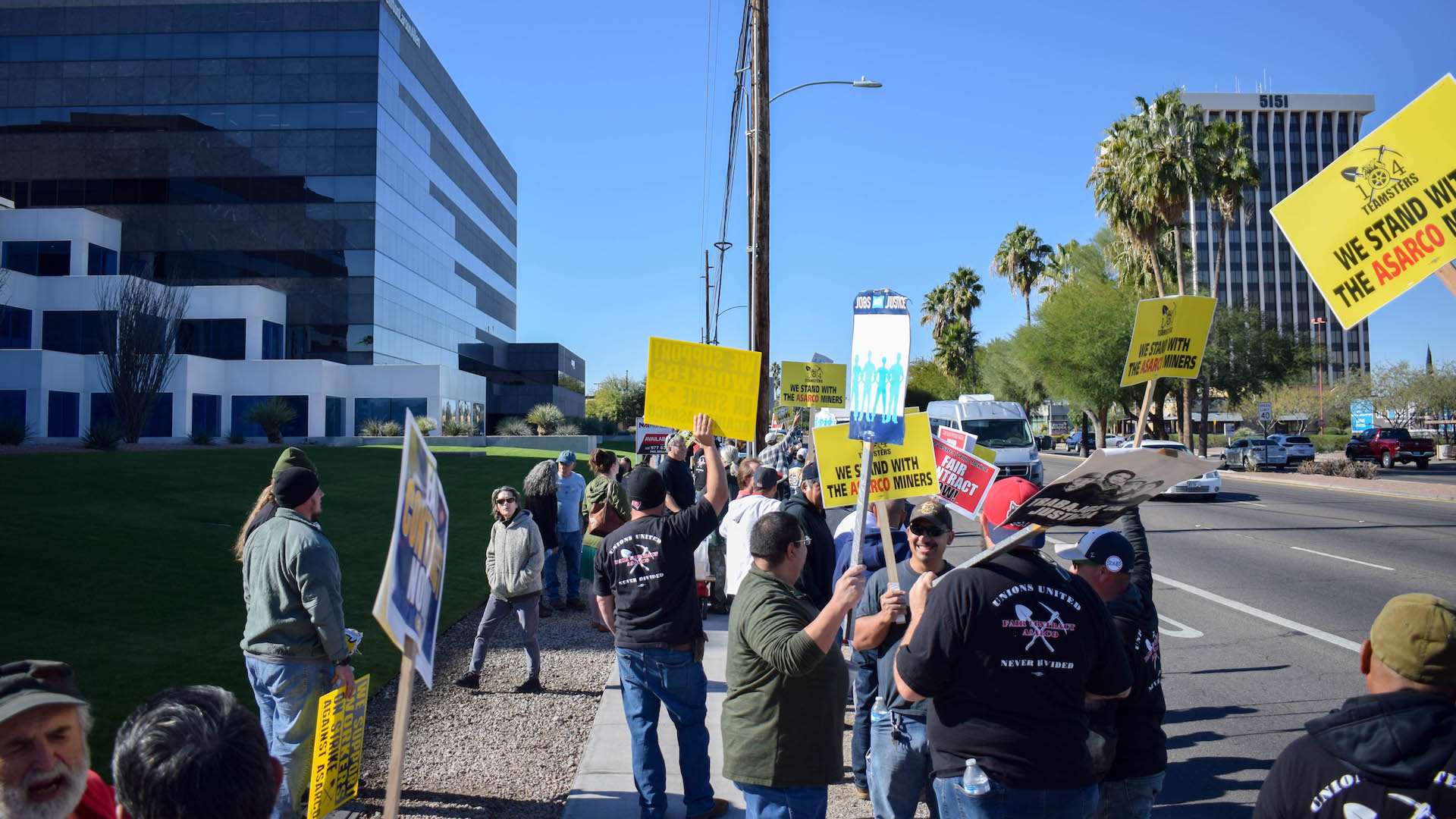 Mine workers striking in front of Asarco's Tucson office on Dec. 16, 2019.
Jake Steinberg/AZPM
Over 150 people protested outside of the Tucson office of the copper mining company Asarco Monday. Most were mine workers who have been on strike since October.
The protest was organized by unions representing around 1,800 mine workers in Arizona and Texas, who went on strike after seeing a four-year contract proposed by Asarco. It would have included no wage increases for most workers, frozen pension plans and more than doubled health care deductibles.
The company and the unions resumed negotiations in November. The unions filed charges of unfair labor practices against Asarco earlier this month, in response to the company's best and final offer.
The protest was part of a national day of action organized by the labor unions against Grupo Mexico, a Mexican conglomerate with holdings in mining, railroads, energy and shipping. There were also protests at the Grupo Mexico-owned CMX Theaters in eight states.
"Grupo Mexico is a rogue company that believes it can ignore U.S. labor laws, violate international labor standards, recklessly exploit the environment and abuse U.S. workers and their communities like they do in Mexico," said Karla Schumann, secretary-treasurer of Teamsters Local 104, in a statement.
The unions are urging lawmakers to intervene ahead of the upcoming ratification of the United States-Mexico-Canada Agreement.
Carlos Moreno has worked for Asarco for 15 years. He said the company's offer was "insulting."
"The type of work we do, it's just not worth doing for that type of pay and for what they want to cut out of this contract," he said.
He took part in the unions' last strike against the company in 2005. Back then, Asarco was in bankruptcy and that gave the unions leverage in the negotiations. He said this time the company, and its owner Grupo Mexico, are digging their heels in.
Alex Terrazas, president of United Steelworkers Local 937, said the union has been able to help striking members as the strike enters its 10th week, and is almost certain to last into the new year.
"With our assistance, committees that each union has, we're taking care of all of our people, making sure that none of them are going without electricity, food, losing their homes or anything like that," he said.
Ben Lucero, a Steelworker who works as a haul truck driver at Asarco's Mission Mine in Sahuarita, said the union has been helping pay his bills and has provided gift cards for gas and for food. "That's a big relief, a big help around the holidays," he said.
Asarco did not respond to a request for comment.