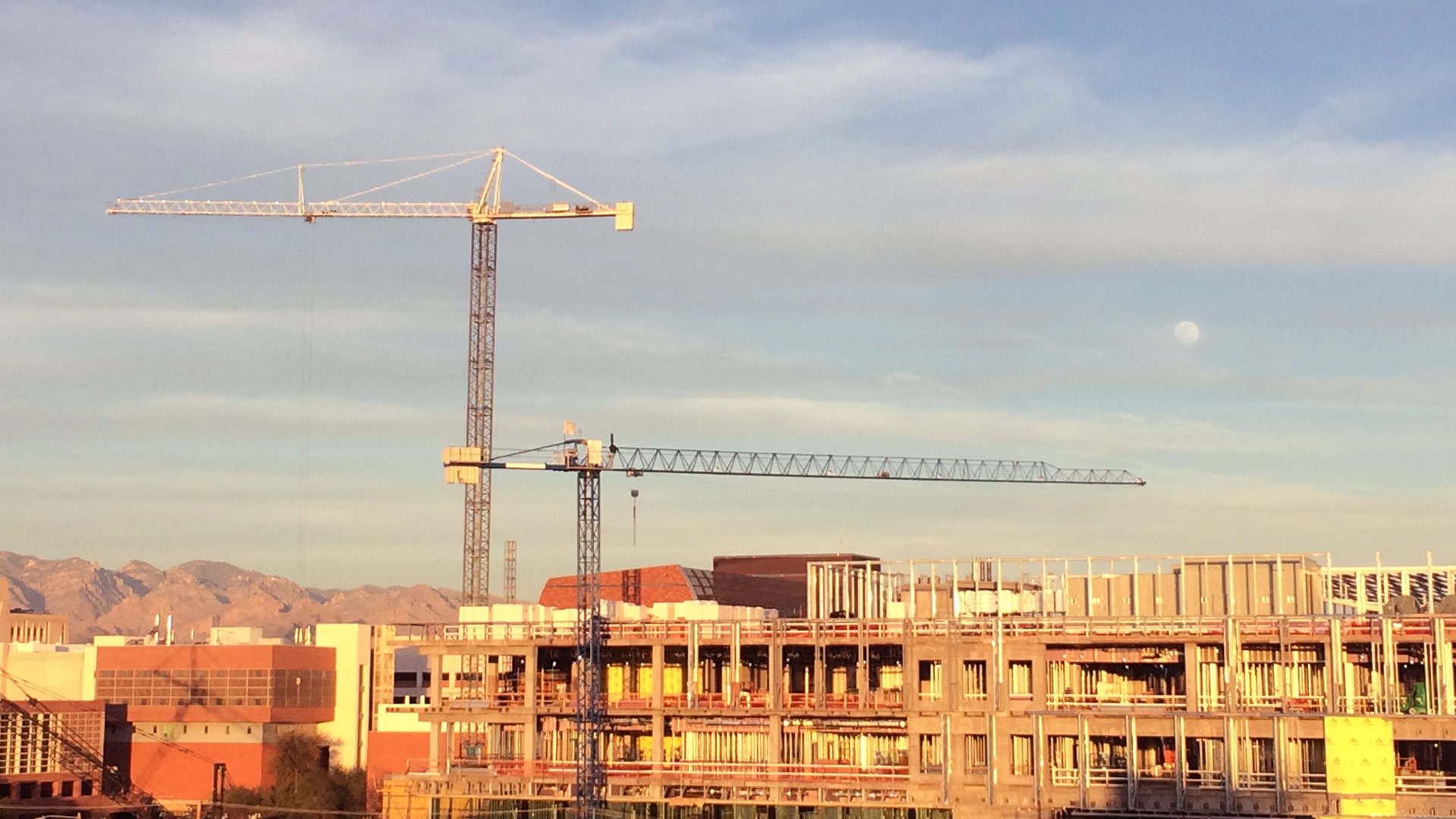 Cranes tower over the construction site at Banner University Medical Center, February 2017.
Colleen Greer, AZPM
A survey by the Associated General Contractors of America found Arizona's construction companies are having issues finding skilled laborers.
Three-quarters of respondents said they have a hard time finding people to fill craft positions.
An executive for the group's local affiliate said there are multiple causes for the problem in Tucson.
One problem is the loss of baby boomers to retirement, said Tom Dunn, the vice president for Southern Arizona at the Arizona Builders Alliance.
A second problem is that young people have been told to head into higher education instead of construction trades for decades.
"Back in the 1980s, we were pushed not to go into skilled labor. You'd go to college," he said. "They've been pushing that for about 30 years or so now. And it's really decimated our workforce throughout the whole country."
There is also another pair of causes exacerbating the problem locally.
The first came when the housing bubble crashed, and skilled laborers left Tucson due to a lack of work. Many also switched industries, Dunn said, ending up in jobs such as natural gas production in the Midwest.
Then, as Tucson's economy recovered and large construction projects in downtown and near the University of Arizona picked up, smaller projects were left by the wayside.
"What has happened is a lot of the skilled workers have been drained by those projects, and it's put more pressure on basically the whole job market," said Dunn.
Dunn said the local industry has focused on training new workers rather than enticing old workers back. They seek to increase the number of people taking part in apprenticeships, and some companies are taking on unskilled laborers and training them on the job.
MORE:
Arizona
,
Business
,
Pima County
,
Downtown Tucson
,
Economy
,
Jobs
,
News
,
Real Estate
,
Tucson
,
University of Arizona
,
U.S.