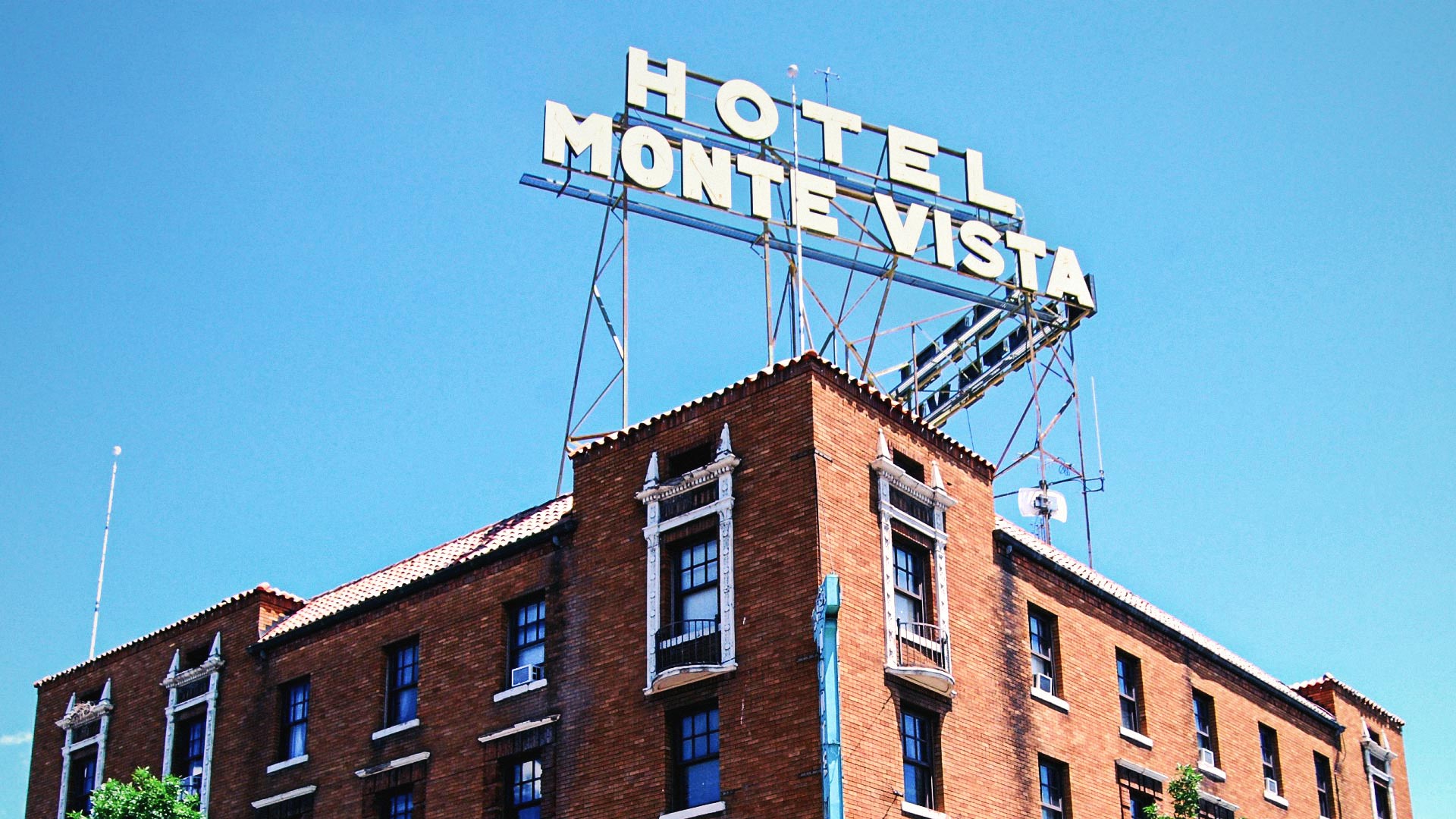 The Hotel Monte Vista in downtown Flagstaff, Arizona.
Paul Lowry
Jo Jaeger keeps coming back to Flagstaff.
"I tried a bigger city and I tried even a smaller town," said Jaeger, an assistant manager and barista at Firecreek Coffee Company. "And we just got a mountain right there and a lake over there and a creek over there. It's just got everything that you could want if you are a fan of the environment."
But she said the cost of living has always made it difficult to live in the northern Arizona city.
"The wage gap between what we're paying (for) downtown rent or around Flagstaff rent and what we're getting paid has always been a lot bigger than other cities," Jaeger said.
It is one of the largest gaps in the country. Workers in Flagstaff earn, on average, $19 an hour, 14 percent below the national average, while paying on average more than $1,200 a month for rent. Many work two or three jobs and have roommates to stay in Flagstaff.
In November, Arizona voted to increase the state minimum wage from $8.05 an hour to $10. It will gradually rise to $12 by 2020.
Flagstaff voters incteased it to $15 by 2021 and approved keeping the minimum wage in Flagstaff at least $2 higher than the state minimum. The Arizona increase took effect Jan. 1, while Flagstaff's higher increase will go into effect July 1.
"We have rich tourists that come for our mountain and they come for the Grand Canyon," Jaeger said. "The money's coming; we just need to roll with it."
But many business owners, especially smaller businesses with lower profit margins, are having a tough time.
Jamie Thousand owns Satchmo's BBQ and Roux 66 restaurants. He was already paying above minimum wage before the legislation passed and said he is trying to figure out how to raise his wages this high without hurting his customers.
"We're all a little nervous," Thousand said. "And looking at a 50 percent increase on base pay is a pretty daunting piece. As we say in the restaurant world there's an old rule of thumb that's a 30-30-30 rule and 30 percent of that is labor. When you increase that base so dramatically, it does change the way you do business."
Thousand has had to cut two of his part timers. At least two other restaurants have closed, with the owners saying they could not afford the minimum wage increase.
"I'm afraid that the community doesn't understand the number of price increases," Thousand said. "It's not just going to be when you go to restaurants. We're seeing it across the board. We're already seeing it ourselves our wholesalers as well."
Thousand said it is groceries and retail, too. He said those retailers are competing with online stores. They can't raise their prices.
Thousand and others tried unsuccessfully for a special election to ask voters to reconsider the wage increase.
Ronald Gunderson, an economics professor at Northern Arizona University, said this is not the boon employees might think.
"The workers may be made worse off," Gunderson said. "They'll find themselves working fewer hours. And even though they have a higher pay the money won't go as far if it's going to cost them more to eat out, to buy food, to buy clothing."
Gunderson said it is unfair to make business owners take on the burden. Instead he suggested redistributing income through unemployment, welfare, veteran and student benefits.
"Some businesses and some nonprofits may simply just disappear altogether and then the services that they provide just won't be here," he said.
One such nonprofit is the Hozhoni Foundation, which provides care for people with intellectual and developmental disabilities. Hozhoni runs 21 group homes in Flagstaff and Prescott and several day programs.
We're just playing a waiting game right now," said Monica Attridge, the CEO of Hozhoni.
Attridge has asked the state Legislature to help with funding and is waiting to hear how much the state will provide. She employs 150 people in Flagstaff and Prescott, and it will cost more than $1 million to increase staff wages.
"Worst case scenario: If we were to get no funding for next year, we would be out of business shortly after July 1, as would the other eight providers of these services in Flagstaff," Attridge saion.id. "These clients cannot live on their own so this could be truly devastating if the Legislature doesn't come through with funding."
The Flagstaff City Council could vote as early as next week on a proposal to extend the compliance date beyond July 1. That would give employers more time to come up with the increased wages. The council needs a super-majority vote for the extension.
Without that, Flagstaff's minimum wage will go to $12 an hour July 1.