Attendees at a Climbing Association of Southern Arizona heard presentations on the Indigenous perspective on rock climbing.
Monika Damron
A Southern Arizona climbing group is addressing the long-standing contention between rock climbers and the peoples whose land they climb on by exploring the sport through an Indigenous perspective.
At the first event of a summer education series, the Climbing Association of Southern Arizona invited fellow rock climber Ashleigh Thompson, a University of Arizona anthropology doctoral candidate and a tribal member of the Red Lake Ojibwe, to present on how climbers can build good relationships with Indigenous tribes
Respect, good stewardship practices, giving back to Indigenous communities, and staying away from cultural appropriation or cultural insensitivity are all ways to cultivate good relations, Thompson said at the first event in CASA's summer education series.
But for her, it is vital that climbers recognize Indigenous peoples' connection to place.
"As climbers, I think we need to understand that Indigenous people view the land as vitally important to their cultural identities, their histories, and to their current ceremonial life," she said.
She asked the attendees of the CASA summer education series how many have been to Cochise Stronghold, a National Forest located to the west of Sunsites, Arizona, in the Dragoon Mountains, and many agreed that they had or at least had heard of it.
Cochise Stronghold was named after one of the great Chiricahua Apache leaders. In the Dragoon Mountains, Cochise and about 1,000 of his followers were able to evade capture from the United States military for more than a decade.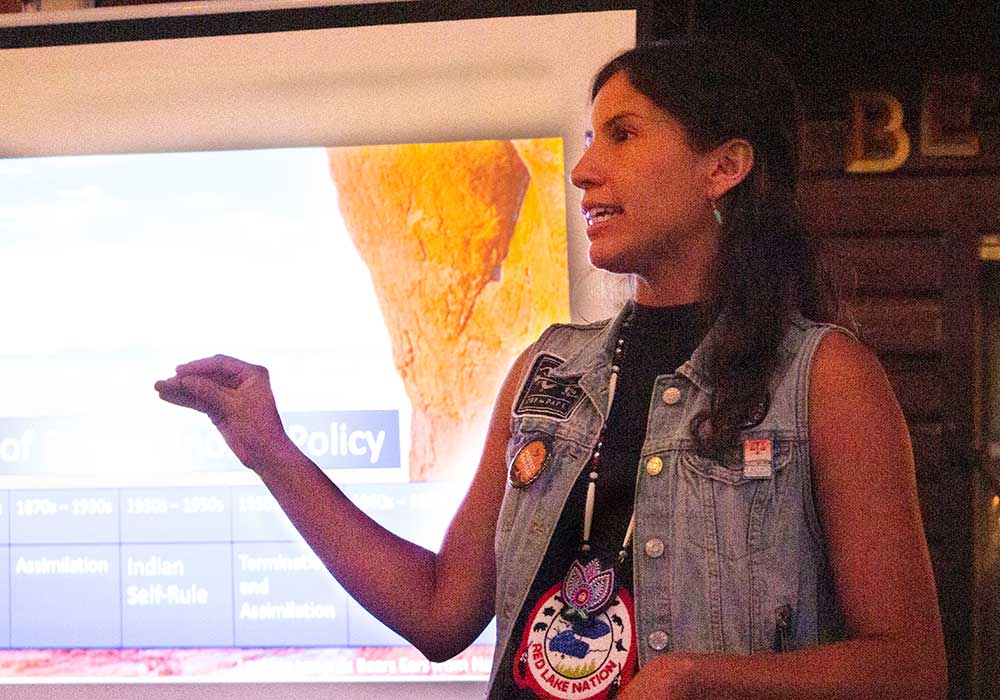 VIEW LARGER Ashleigh Thompson speaks at a Climbing Association of Southern Arizona event.

Monika Damron
"[Cochise's] grandson says a lot of the Indian tribes, [such as] the Apache people, have a special blessing or special saying that goes with being attracted to any land area where they may call home. There's a spirit there. There's a strength and from that they are given power," she said.
Many Indigenous people view rocks, peaks or bodies of water as alive or possessing a spirit, and as such should be treated respectfully, said Thompson.
She also addressed the issue of when climbing on Indigenous lands is even allowed.
The answer: It depends.
There are close to 600 federally recognized tribes within the U.S. There are 22 tribal nations in Arizona alone. When it comes to recreation on Indigenous lands, each tribe has its own laws and cultural protocols regarding climbing.
"I have climbed on tribal lands where it's been accepted by the tribe. For instance, with the Tohono O'odham Nation, they ask you to fill out a waiver if you're going to use their trail or stay at the base camp at the peak," said Thompson.
On the other hand, climbing on the Navajo Nation is illegal.
She told the CASA that climbers need to respect tribal protocols and find ways to give back to the Indigenous cultures whose lands they are using for recreation.
"I think you just have to do your due diligence. You have to research the area and reach out to people if you have questions of whether or not you can," she said.
Thompson also spoke to another issue she has personally witnessed in the climbing community.
"I've come across a lot of offensive and insensitive things and one big one that I've noticed is route names," she said.
Thompson presented to the CASA audience maps of common climbing routes. One route, located in Colorado, was named the "Trail of Tears."
"That is the most, like one of the most, egregious acts in American history. … Over 5,000 American Indians died as a result of that event. So, to name a climbing route after such a horrific event is just completely offensive," she said.
According to Thompson, naming routes after culturally insensitive acts or even sayings contribute to the erasure of Indigenous people and is something climbers need be aware of.
The regional outdoors coordinator from the Sierra Club, Sergio Avila, also spoke at the CASA summer education event.
"We have implemented land acknowledgements to all public events and outings and all activities to state the fact that we know that we're not changing history, but we're not erasing Indigenous people anymore, and we will acknowledge that this is their land," said Avila.
This year is the centennial of the Grand Canyon becoming a national park, but Avila reminded the crowd that the Grand Canyon has been around for more than 100 years.

"People who were removed in order to create a national park are still around, and those people don't see the Grand Canyon as the playground that other people see it. This is not about outdoor recreation, this is about life," he said.
Avila encourages climbers to do their homework and learn about the original occupants of a land. If there are certain protocols, climbers should ask local people or use local guides.
"If there's anything to learn about Indigenous lands, [it] comes from Indigenous people, that we gather knowledge from the source and not give the voice to those who write history, but are not part of it," he said.
The CASA plans to invite tribal government representatives to share their views on climbing on Indigenous lands in an upcoming summer education session.
---
Monika Damron is a University of Arizona journalism student and an Arizona Public Media intern.